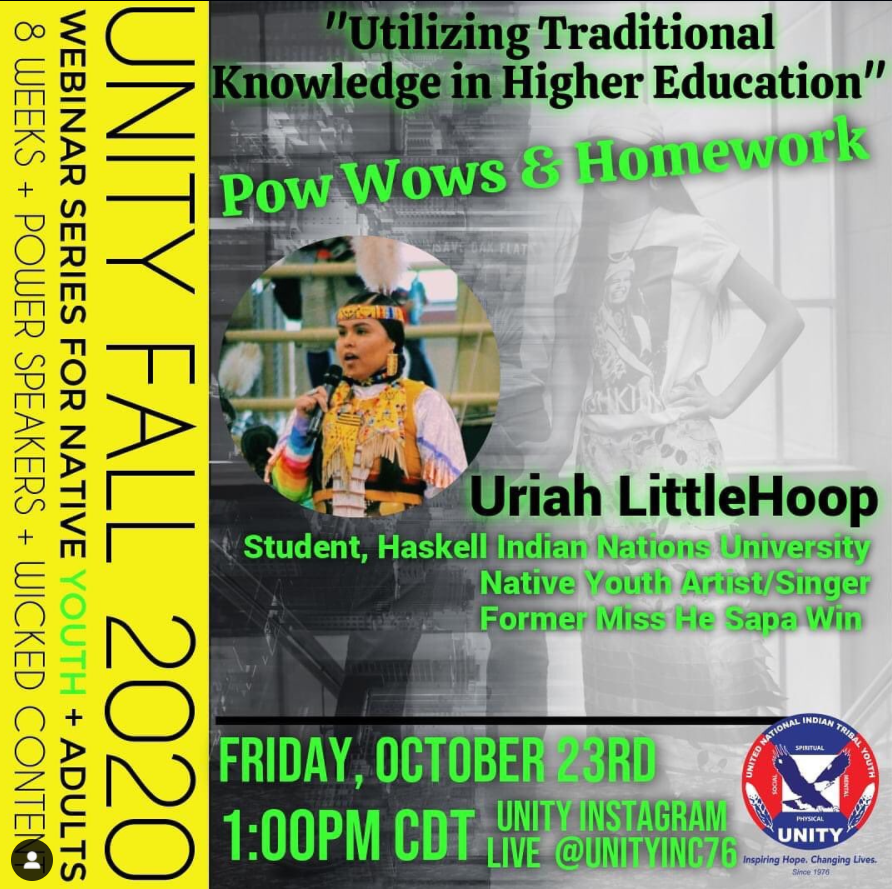 UNITY Fall 2020 Webinar Series – Eps. 3. Youth Track! Join us Instagram for a LIVE Q&A session with Native Youth Uriah LittleHoop. She'll be sharing her knowledge and experiences of balancing her traditional way of life while pursuing higher education. Uriah is also a talented artist and will be singing a couple of traditional songs during the virtual event. Join us this Friday!
View this post on Instagram
The eight-week webinar series will be sponsored in part by Comcast NBCUniversal and Nike N7. A November webinar will be sponsored by Nike N7 as part of their commitment to National Native American Heritage Month. The remaining webinars will take place on Tuesdays (youth-focused topics) at 1 p.m. PST or 3 p.m. PST, and Thursdays (adult-focused topics) at 12 p.m. PST, and will be conducted via Zoom or Instagram. Click below to Register for the upcoming online learning opportunities.
Youth Webinars:
Tuesday, October 27, at 1 p.m. PST / 4 p.m. EST– Applying Traditional Knowledge in STEM Fields click to register in advance
Tuesday, November 3, at 3 p.m. PST / 6 p.m. EST– Engaging with Native Youth Through Social Media on Instagram
Tuesday, November 10, at 3 p.m. PST / 6 p.m. EST – Taking Your Game to the Next Level – Tips and Advice on Becoming a Collegiate Student Athlete click to register
Tuesday, November 17, at 3 p.m. PST  / 6 p.m. EST– Nike N7 Collaboration – An Athlete Discussion with Nike N7 Ambassadors – Native American Heritage Month – click to register in advance
Tuesday, December 1, at 3 p.m. PST / 6 p.m. EST – Native Youth Perspectives on the 2020 Elections on Instagram
For more information on this Fall webinar series and the Youth track registration links visit: https://unityinc.org/unity-announces-series