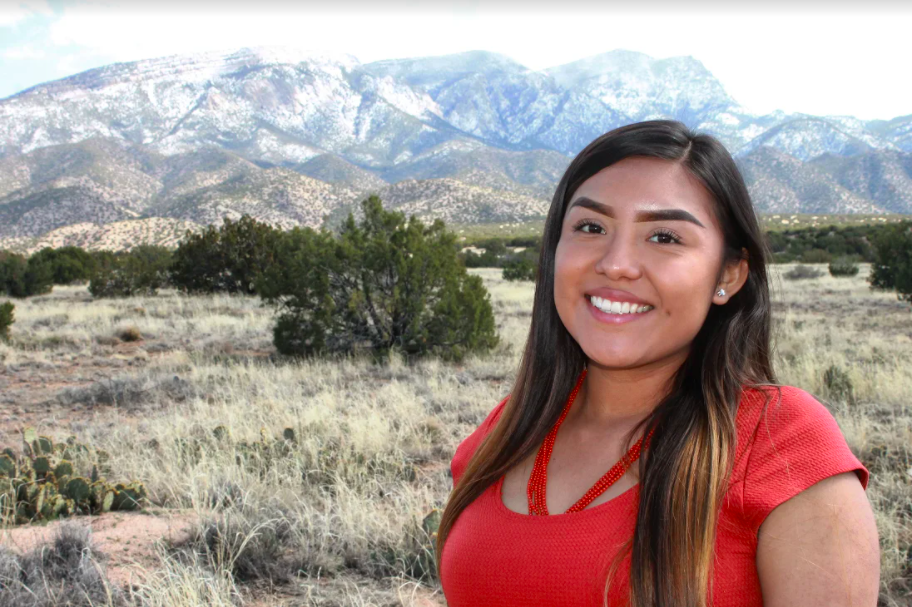 "To me, being an environmental ambassador means advocating for my tribal sacred pueblo lands.  I believe the communities needs come before my needs, and without our lands we would not have a place to call home. In Santo Domingo, we face many environmental issues like: drought which affects our river and farmers; invasive species like salt cedars which have taken over the Rio Grande valley; and illegal dumping which results in pollution of our lands. My home lands are what made me who I am and who raised me to be the woman I am today so I cannot imagine life without my Pueblo environment. Being an active advocate for the environment allows me to be the voice for my community, school, and my relative who can't speak for themselves." – Lanell Chavez, Santo Domingo Pueblo, New Mexico
How can Native Youth Help the Earth??
The ways that I've been addressing environmental concerns within my local area is by getting involved in my community youth group called Kewa Truth Council. In KTC, we discuss the many issues affecting our community along with environmental issues. I also belong to a youth council at my school called Hahn Youth Council where we discuss the different issues our native youth face at our school. In both these councils we have discussed environmental issues but have also done things like trash clean up to combat illegal dumping in our community. The most important issue that I am passionate about is addressing or calling attention to the contamination and pollution from Los Alamos National Lab that goes in to our Rio Grande River and then comes to our Pueblos where we use it for cultural and ceremonial purposes. I've also attended many protests regarding supporting environmental issues and my most recent protest was outside the Sandoval County courthouse protesting fracking in the Rio Grande River basin.
Speak Up, Be Humble
When I'm advocating for my community, I am as humble as possible, and very much respectful as can be. I do a lot of this work because my family has a history of supporting the community's needs and I try my best in living up to the respect of my ancestors. With that being said I hold myself accountable for my actions in addressing these concerns and will do my best to respectfully speak out about this issues.
UNITY is Challenging Native Youth to do projects during April to Celebrate Earth Day, what is one example of what youth can do?
I would like to begin an environmental awareness project within Santo Domingo Pueblo as well as surrounding schools. This environmental awareness project will be based on discussing environmental issues that affect our community, ways these issues impact our community, and how community members and youth can help these issues. I would like to go to different schools to talk with other students about the environmental awareness project and encourage school students to begin environmental youth councils, attend protests, and start recycling in schools. I would also try to start a social media campaign encouraging youth to be more active in environmental awareness and even maybe start a hashtag or social media page about these issues as well as how youth can get involved.