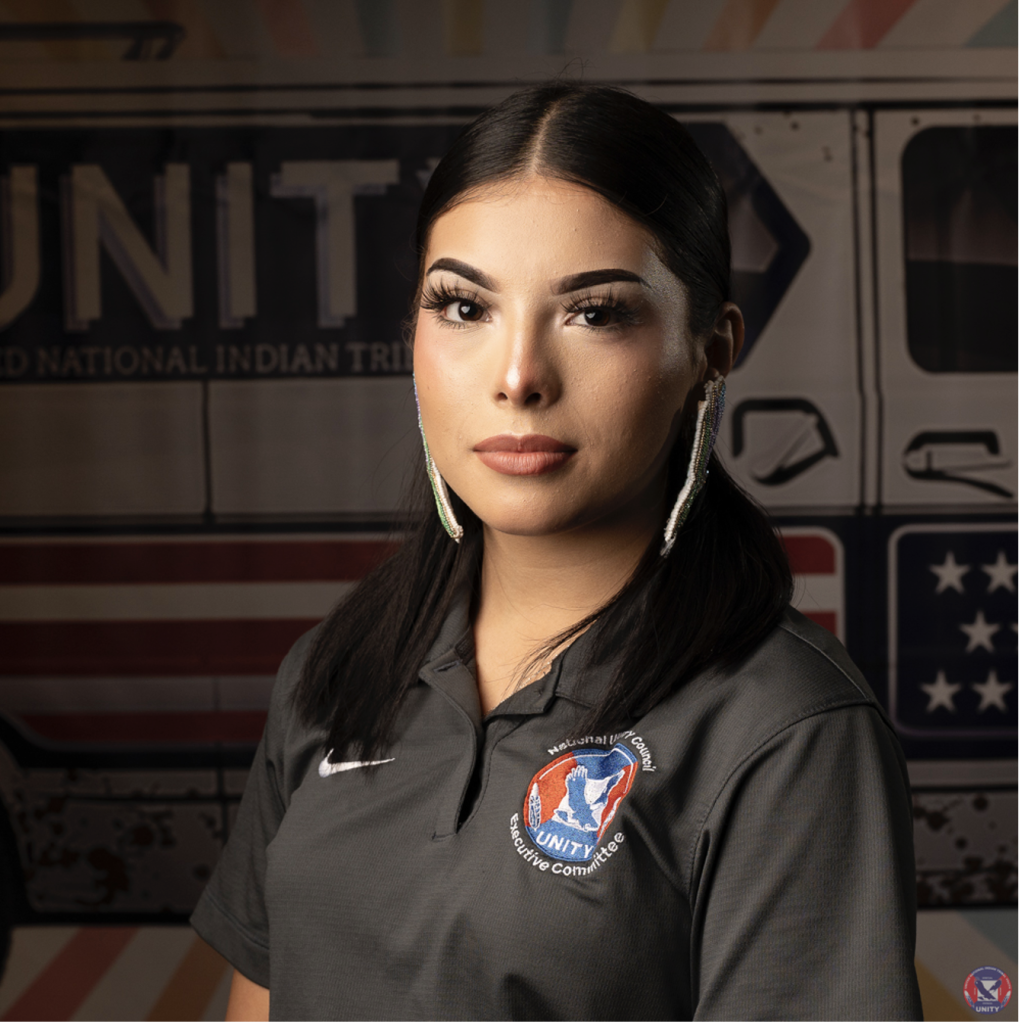 Kaytlynn Johnston, Co-President
Bishop Paiute Tribe, California
 
CONTACT:
National UNITY Council Executive Committee
Email: fco-president@unityinc.org
Manahuu ii-na-nia-nai Kaytlynn Michelle Johnston   nuumu nuu, paya hupuu-wei nuu kima-du
Hello everyone, my name is Kaytlynn Michelle  Johnston I am Paiute, I come from where the water flows in Bishop California. I'm currently the United National Indian Tribal Youth Female Co-President 2023-2024. I am the daughter of Carrie Brown, and Tony Brown and I have (4) siblings. I am the middle child, my older sister is Leticia Gonzales, my older brother was Carlos Gonzales Jr., my younger sister is Ashley Johnston, and our youngest sibling is our brother George Brown. I am 18 years old, and I graduated Bishop Union High School in Bishop, CA in June of 2023. I will be attending Orange Coast College in Costa Mesa, California. I will be majoring in Broadcast Journalism. Part of what has been an inspiration for me to pursue this major is that I was the first ever youth DJ for our Bishop Paiute Tribal Radio station KBPT. I am a lifelong resident of Bishop California and a proud member of the Bishop Paiute Tribe. Bishop California is 4 hours away from Los Angeles, 4 hours away from Las Vegas and 4 hours from Reno, Nevada. I live on the Bishop Paiute Reservation which is a one mile by one mile plot of land. Today the Paiute people are the fifth largest California Tribe, with 2,000 members and one of the smallest land bases. I am currently the Bishop Tribal Youth Council Female Co-President and Miss Nevada Day Powwow Princess 2022-2023. I was also the past Pacific Area Representative from 2020-2023. I am very honored and humbled to be the newly elected Female Co-President for The United  National Indian Tribal Youth. I hope to serve native youth in the best way I can. I want youth to feel acknowledged, welcomed, and loved while being involved with UNITY.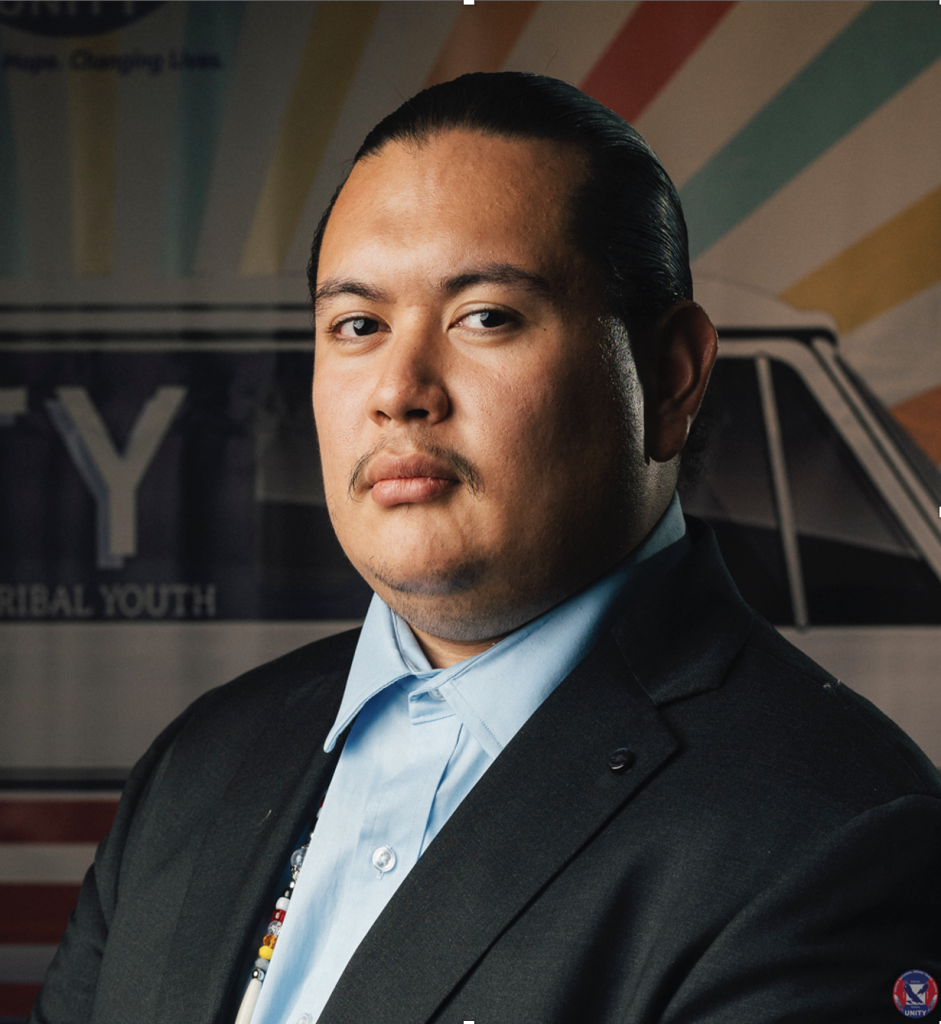 Jonathan Arakawa, Co-President
Lower Elwha Klallam, Washington
 
CONTACT:
National UNITY Council Executive Committee
Email: mco-president@unityinc.org
Jonathan Arakawa is an enrolled member of the Lower Elwha Klallam Tribe. He currently attends the        Evergreen State College where he is studying for his Bachelor's degree in Tribal Governance. He has served in various elected and appointed positions in non-profit organizations, tribal governments, educational           institutions, and state agencies throughout the United States. Mr. Arakawa began his leadership journey at age 12. His leadership journey taught him to uphold his   instilled values of leadership, organization, culture,   spirituality, and traditional teachings in pursuit of his service to Indian Country. He currently serves as Male Co-President on the National UNITY Council Executive Committee. He previously served as Secretary and Northwest Representative for 2 years. In addition, Mr. Arakawa works as a certified Klallam language teacher, teaching students at the middle school, high school and college level. His policy platform involves having the full and accurate tribal history taught in public schools across the United States, ensuring an equitable and inclusive educational system is in place for Native American students. Mr. Arakawa is committed to working with Tribal Nations' counterparts at the local, regional, state, and federal level to address issues that affect Native youth and Indian Country. He believes everyone has a place, every single person is a leader, and when Tribal Nations come together as a Native America, Indian Country's collective strength is impactful and immeasurable. Some of Mr. Arakawa's proud honors include UNITY's 25 Under 25 National Leadership Recognition and NCAI-IGA Chairman's Youth Leadership Awards.
 National UNITY Council EXECUTIVE COMMITTEE
Members of each UNITY-affiliated youth council appoint two individuals (one young woman, one young man) to serve as their representatives on the National UNITY Council (NUC). Native youth throughout the United States, who are UNITY affiliates, elect individuals to serve as Area Representatives on the National UNITY Council Executive Committee. The ten geographical areas are as follows: Great Plains, Midwest, Northeast, Northwest, Pacific, Rocky Mountain, Southeast, Southern Plains, Southwest, and Western. Two youth leaders (one young man, one young woman) are elected by the NUC membership each year to serve as National UNITY Council Co-Presidents.
Past National UNITY Council CoPresidents
NUC Co-PRESIDENT COMMUNITY OUTREACH AND MONTHLY REPORTS
After 4 long years, Tribes throughout the Northwest came together for their Annual Canoe Journey. This year, canoes from Canada,…
2023-24 National UNITY Council Executive Committee BIOGRAPHIES Jonathan Arakawa, UNITY Co-President Tribe: Lower Elwha Klallam, Washington Jonathan Arakawa is…
UNITY Concludes Successful National Conference in Washington, D.C. Highlights included prominent speakers and workshops, as well as the election of…
The 2023-24 National UNITY Council Declaration of Candidacy Petition Online Application process is now open. This petition is for National…

The National UNITY Council's Executive Committee invites all youth within the network to sign up for one of the four…
Your UNITY Executive Committee (EC) has been hard at work these past six months within their regions. Explore each youth's…
UNITY is hosting regional meet-ups for the purpose of bringing youth councils and Native youth together. At these meetings, UNITY-affiliated…
National UNITY Council Executive Committee Members focused on communications, team building, networking, mind mapping training January 13-15, Mesa, Arizona  –…
OJJDP PUBLICATIONS & RESOURCES AVAILABLE TO NATIVE YOUTH In Focus: Mentoring Youth OJJDP Produced, February 2022. This fact sheet reports…
"Healing Circles are becoming the new wave! As they should be, they offer kids a platform to express their feelings…
The environmental stewardship program which was started in the 1990s, engages Native American and Alaska Native youth in training sessions…
Click here to Read the full article on OJJDP News @ a Glance When Colby WhiteThunder first joined the Alabama-Coushatta…
FOR IMMEDIATE RELEASE Contact: Sherrie Catanach, NM Indian Affairs Department Sherrie.Catanach@iad.nm.gov UNITY Mary Kim Titla, (480) 718-9793 mk.titla@unityinc.org    Mesa,…
As we continue to find ways to heal our mental and emotional health, we learn to utilize various means to…
In the U.S., suicide is the 3rd leading cause of death for young people 10 to 24 years old. Suicide…
"I always love UNITY and the renewed energy it gives me," said newly elected Female Co-President, Chenoa Scippio. "UNITY is…