NORTHEAST REGION
Rory Wheeler, Vice President/Northeast Regional Representative
National UNITY Council Executive Committee
Northeast Region Description
The UNITY Northeast Region is home to tribes, youth councils, organizations and individuals from Maine, Massachusetts, Connecticut, New Hampshire, New York, New Jersey, Pennsylvania, Ohio, Maryland, Rhode Island, Delaware, Vermont, Indiana, and the District of Columbia. 
How can we help?
If you are interested in learning more about UNITY, information on forming a youth council, or getting involved as an individual, or about our programs reach out to Northeast Representative, Rory Wheeler, of the Seneca Nation at northeast@unityinc.org
Biography of Rory Wheeler, Vice President and Northeast Regional Representative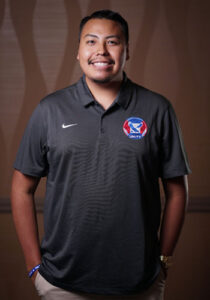 Rory Wheeler is a citizen of the Seneca Nation and serves as the Vice President and Northeast Representative for United National Indian Tribal Youth, Inc. (UNITY). He previously served as the Youth Commission Vice President and President for the National Congress of American Indians from 2016-2020, where we worked with tribal leaders, youth leaders on the pressing topics that impact Native youth on issues such as advancing the government to government relationship with the United States, climate resiliency, juvenile justice, education, and representation. He presently serves on the Board of Directors for the Association on American Indian Affairs, Community Advisory Board for the Roswell Park Comprehensive Cancer Center. 
Previously, Rory was a White House Tribal Nations Youth Ambassador during the Obama Administration, a Health Policy Fellow with the National Indian Health Board and was the Youth Ambassador & Government/External Affairs Fellow for the Seneca Nation. In 2020, he helped lead the Biden-Harris presidential campaign's Native American Policy Committee as co-chairman of the Native youth subcommittee. He received his Bachelor of Arts, cum laude, from Niagara University in Political Science/Pre-Law and has been an active member since 2010 of the Cattaraugus Indian Reservation Volunteer Fire Department where he serves as a volunteer firefighter. emergency medical technician, and rope rescue technician.