This page is dedicated to the program and a resource where those interested may learn about the application process, program activities, and upcoming events, and meet the current/incoming class of Ambassadors.
---
United National Indian Tribal Youth, Inc. (UNITY) has announced that the application process will open in December for the 2023 class of its Earth Ambassadors Leadership Program. The environmental stewardship program (which was started in the 1990s) was re-established in 2015 with the support of the Shakopee Mdewakanton Sioux Community.

This program is brought to you in part by the generous support of the Shakopee Mdewakanton Sioux Community. Through their ongoing partnership, Native youth are able to travel to the National Recognition awards ceremony and attend vital leadership training during the Native youths' term.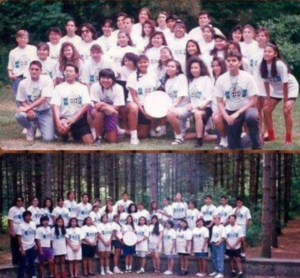 The 2023 class will attend training sessions and informational workshops to increase their knowledge of environmental issues affecting Native America, learn to serve as an ambassador to increase awareness of the issues affecting the environmental quality on Native lands, and promote efforts to address environmental concerns within the nation's Native communities.
Recent projects range from "the return of planting foods using native seed banks and traditional seeds as an exercise of Native sovereignty, and by growing it exercises an act of environmental sovereignty" says Earth Ambassador Gabriella Nakai (Choctaw/Navajo) from Phoenix to creating "business sustainability within her tribal community through the promotion of greener businesses, less waste, recyclable products, recycling, and making the San Carlos Apache Tribe a greener mindset" explains Earth Ambassador Lauren Pino (San Carlos Apache), a recent graduate of Penn State University.
Each Earth Ambassador will host their community service project showcasing the new skills and leadership tools they have gained throughout the year. Topics can focus on but are not limited to, recycling, conservation, sustainability, regeneration, and restoration. In addition, the ambassadors will be provided special opportunities, coordinated through UNITY, to take their message to tribal and government agency representatives, and lawmakers. Earth Ambassadors will present their projects at UNITY-hosted events and submit written reports on their progress throughout the year.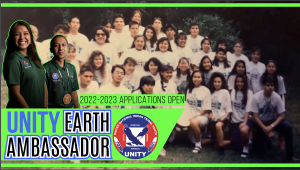 APPLY TODAY! 
The Earth Ambassador Program is an environmental steward cohort. Participants learn to serve as national ambassadors to increase awareness of the issues affecting Native lands and promote efforts to address environmental concerns. The competitive selection process is based on the youth's purposed platform and knowledge of environmental issues and passion for being a caretaker of Mother Earth.
Eligibility:
Native youth must be between the ages of 14-24 years old. Prior involvement in UNITY is not required.
Apply here:
(UNITY has a two-step online application process below)
Step 1 – Nomination Form https://forms.gle/Xa5CmCaDbgojYV4M7
Step 2 – Youth Personal Statement https://forms.gle/BQtcqW4iVig1i2R48
Upon completion of Step 1 (Nomination Form), please contact the youth to submit Step 2 (Youth Personal Statement).
Deadline: March 31, 2023 at 5:00 pm MST
APPLY EARLY – make sure to take your time and answer each question thoughtfully and in complete sentences.
Selection Announcement: Earth Day, April 22, 2023
For questions, please contact Greg Mendoza, Youth Programs Director at g.mendoza@unityinc.org or call our National UNITY Headquarters at (480) 718-9793.
Learn More about the Earth Ambassadors' Community Impact: