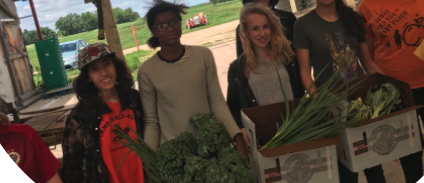 October 15, 2021 – October 17, 2021
Do you love great food? Want to spend time with friendly goats and discuss economic justice? Would you like to meet farmers and activists working on creating solutions to poverty, disease, climate change, and racism? Want to spend time on a diverse 200-acre farm and gain leadership skills to bring back to your community empowered to advocate for positive change?
If Yes, then apply now for a chance to become a part of the Nature's Farm Camp Teen Leadership Summit! Fill out this form and, if chosen, you'll spend two days on the farm. We'll harvest, cook and care for animals while engaging in interactive workshops on food, wellness, leadership, and making a difference.
Nature's Farm Camp will choose a dozen female Teens to explore issues of food, farming, and justice while at Angelic Organics Learning Center. Consider applying today!
ELIGIBILITY
Youth applicants must be aged 16 – 19. This inaugural summit will be limited to females, living within 150 miles of Caledonia, IL. We hope to expand the scope for future summits. Participants are not required to be enrolled in school. No need to show grades, GPA, or immigration status.
DEADLINES
Applications must be completed and submitted by 5:00 PM CDT on Thursday, August 12. Note: Your reference must also submit us a note that tells us about you by this date and time. More information is below.
ZOOM INTERVIEW CALL & ANNOUNCEMENT DATE
On August 18, we will narrow the applicant pool to a group of finalists. We will schedule a 30-minute Zoom Interview call with finalists to take place between August 25 – September 1. Note: if you do not have access to WiFi, there is a chance to tell us in the application below.
COMMITMENT
Summit participants must all commit to a pre-Summit Zoom call and must be available for the 3-day and 2-night Summit, which begins at 6:00 PM, October 15th, and ends at 2:00 PM, October 17th.
STIPEND
Youth participating in the 2021 Food Summit will receive a $300 payment for participation in the program. All meals and lodging will be provided at no cost to participants.
Nature's Farm Camp welcomes ALL female and female-identifying young people apply and HIGHLY encourages BIPOC and/or undocumented youth and youth with disabilities to apply.