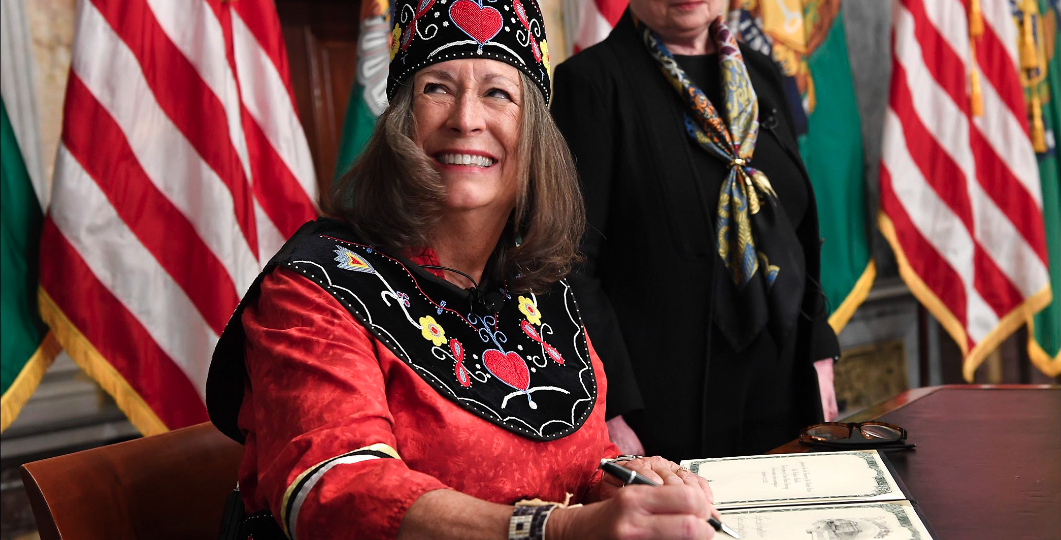 Native women continue to break new ground in the nation's capital
WASHINGTON, D.C. — It's been a banner week for Native women trailblazers at all levels of U.S. government.
On Monday, the White House announced Elizabeth Carr, a citizen of the 
Sault Ste. Marie Tribe of Chippewa Indians
, as the first-ever Tribal Advisor to the Director of the 
Office of Management and Budget
. The creation of such a position has long been sought by Indian Country as part of the government's trust and treaty obligations.Also on Monday, Lynn Malerba, the lifetime chief of the
Mohegan Tribe
, was sworn in as Treasurer of the United States. She is the first Native woman whose 
name and a signature will be appearing on U.S. currency
.
Then on Tuesday,
Mary Peltola
 became the 
first Alaska Native woman to serve in the U.S. Congress
. The Yupi'k trailblazer was celebrated well into the evening as crowds in the nation's capital cheered her swearing-in to the 
U.S. House of Representatives
.
"We've had a terrific run, right, in the past couple of years in terms of breaking, you know, the glass ceiling for for women and and being led by indigenous women," Holly Cook-Macarro, a citizen of the Red Lake Nation who has worked in Indian law and policy for three decades, said on the ICT newscast on Wednesday.
"But every time, it gets me personally just right there to watch and to see," Cook-Macarro stated. "And the historic nature of it is also, I think, added to by everyone's personal stories about how they got there, what the representation means."
"So it has been really just a terrific week," she observed.
Elizabeth Carr, Office of Management and Budget
The White House Office of Management and Budget (OMB) is one of most powerful parts of the U.S. government, playing a major role — and in some cases, final say — over everything from the federal budget to personnel matters.
But for decades, even as tribes made inroads in getting federal agencies to uphold their trust and treaty obligations, they found closed doors at this particular White House entity. That is finally changing with the selection of Elizabeth Carr as the first-ever Tribal Advisor to the Director at OMB.
The announcement was made by OMB Director Shalanda Young on Monday. She said Carr will help ensure President Joe Biden and his administration lives up to their commitments, especially when it comes historic increases in the budgets for the Indian Health Service and the Bureau of Indian Affairs.
"It's an honor and a privilege to serve the Biden-Harris administration and Indian Country in this historic and critical role," Carr said in a statement provided to Indianz.Com by the White House. "The establishment of this position reaffirms the unprecedented commitment of President Biden, Director Young, and the entire administration to uphold and strengthen the government-to-government relationship between the federal government and tribal nations."
"I look forward to building on the accomplishments of this administration in partnership with tribal leaders from across Indian Country," Carr said of her new role.
Carr first joined the Biden administration in 2021, as a senior adviser at the IHS, where she has led strategy and implementation of policy for Indian Country. Previously, she worked as a senior Native affairs advisor for the National Indigenous Women's Resource Center, a Native-women led organization.
Department of the Treasury: Secretary Janet Yellen Swears In Chief Lynn Malerba as U.S. Treasurer
Lynn Malerba, Treasurer of the United States
Lynn Malerba, a citizen of of the Mohegan Tribe, was named as the first Native woman to serve as the Treasurer of the United States back in June. The announcement was made by Secretary Janet Yellen in what was the very first visit from the leader of the Department of the Treasury to Indian Country.
The pair were back together in Washington, D.C., on Monday for another historic event. Friends, family and other well-wishers watched as Malerba was formally sworn into her position.
"On every step on the trail of life, I have been blessed with people who have believed in me and encouraged me," Malerba said at the ceremony. "It is only for that fact that I am here today. My parents, siblings, husband, children, sons in law, grandchildren, colleagues, my dear friends, my Mohegan tribal leaders and Mohegan family are those people. They are and will always be my enduring motivation."
The ceremony also saw Malerba sign her name to the currency that will be used by hundreds of millions of people across the nation. It was a defining moment in what has already been a long career of advocacy for the Native woman leader.
"I am emotional about signing this currency," Malerba stated, as she noted that Yellen is the first woman to serve as Secretary of the Treasury, during which a historic level of COVID-19 era resources have gone to Indian Country as part of the American Rescue Plan Act.
Malerba used her maiden name — Roberge — as part of her signature on U.S. currency. She reflected on her family's personal story in doing so.
"My parents raised seven children with so much love but a lot of financial hardship, and they struggled so greatly to provide for us but they did an amazing job," Malerba said. "Imagine, now their name is on the currency when they found it so difficult to have any in their lifetime and so they are with me today."
Malerba's position as Treasurer of the United States is more than symbolic. In her role, she will oversee the newly created Office of Tribal and Native Affairs at the department. She also serves as a key adviser to Yellen on a range of matters at Treasury.
"We will build on the successes of these past two years to ensure that policy reflects Native voices and Native communities," Malerba said at the ceremony. "We know that one size does not fit all. We know that when tribal leaders determine their priorities in concert with their communities, we serve our people properly with respect for our cultural traditions."
"We know that when barriers to economic development are eliminated, tribal communities will thrive and prosper," she added. "We know, when there is tribal economic development, our local and state communities prosper as well."
Mary Peltola, U.S. Congress
Rep. Mary Sattler Peltola (D-Alaska) is only serving in the 117th Congress for a short time. Having won a historic special election in Alaska last month, she has just until the end of the year to carry on the work of the late former Congressman Don Young, a Republican who passed away in March at the age of 88.
"Like all Alaskans, I mourned his passing," Peltola said after being sworn in on the floor of the U.S. House of Representatives on Tuesday evening.
In paying tribute to Young, who served Alaska for almost 50 years, Peltola shared a word in her Yup'ik language that is used when people lose a loved one. The phrase — Tua-i-ngunrituq — helped recognize the work the new lawmaker is inheriting, as well as the promise of the future.
"This isn't the end," Peltola said as she was surrounded by fellow women colleagues in Congress, including Rep. Sharice Davids (D-Kansas), a citizen of the Ho-Chunk Nation who was one of the first two Native women in the House.
For Peltola, it is indeed a beginning. She's already staffed her brand new office with experienced aides and has landed a seat on the powerful House Committee on Natural Resources, the legislative panel with jurisdiction over Indian issues that also oversees a number of areas of significance to Alaska and Alaska Native people.
"It is the honor of my life to represent Alaska, a place my elders and ancestors have called home for thousands of years, where to this day many people of my community carry forward traditions of hunting and fishing," Peltola observed.
"I am humbled and deeply honored to be the first Alaska Native elected to this body, the first woman to hold Alaska's house seat," she continued. "But to be clear, I represent all Alaskans. I will work every day to make all Alaskans proud that they have entrusted me to carry their voices here."
Judging by the huge crowd that showed up to a reception in D.C. following the historic swearing-in, it's not just Alaskans that are proud of Peltola. Everyone from Rep. Nancy Pelosi (D-California), the first woman to serve as Speaker of the House, to Secretary Deb Haaland, the first woman to lead the Department of the Interior, attended the event.
Also joining the celebration were more than a dozen members of Peltola's family, including her spouse, Eugene "Gene" R. Peltola, Jr., and their seven children. Her husband, who is known as "Buzzy" in Native circles, is Yup'ik and Tlingit and recently retired as director for the Alaska region of the Bureau of Indian Affairs. Two of Peltola's grandchildren and two of her sisters were in town as well for the occasion.
"I couldn't do this without their love and support," Peltola said on the floor of the House. She closed her speech with words of gratitude — Quyana cakneq.
But as Peltola, whose Yup'ik name is Akalleq, carries out her duties in the nation's capital, she also must continue her campaign at home. She's on the ballot in Alaska this November, hoping to secure a full term in office as the state's sole delegate in the House.
For now, the chamber counts a record six Native people in office for the remainder of the 117th Congress. In addition to Peltola and Davids, the Democratic majority includes Rep. Kai Kahele (D-Hawaii), who is Native Hawaiian.
The Republican side consists of Rep. Tom Cole (R-Oklahoma), a citizen of the Chickasaw Nation, Rep. Markwayne Mullin (R-Oklahoma), a citizen of the Cherokee Nation, and Rep. Yvette Herrell (R-New Mexico), also Cherokee.