UNITY wishes to thank the 97 UNITY Youth Councils, 47 Advisors & 60 Individual Members who participated in the recent Accessibility Survey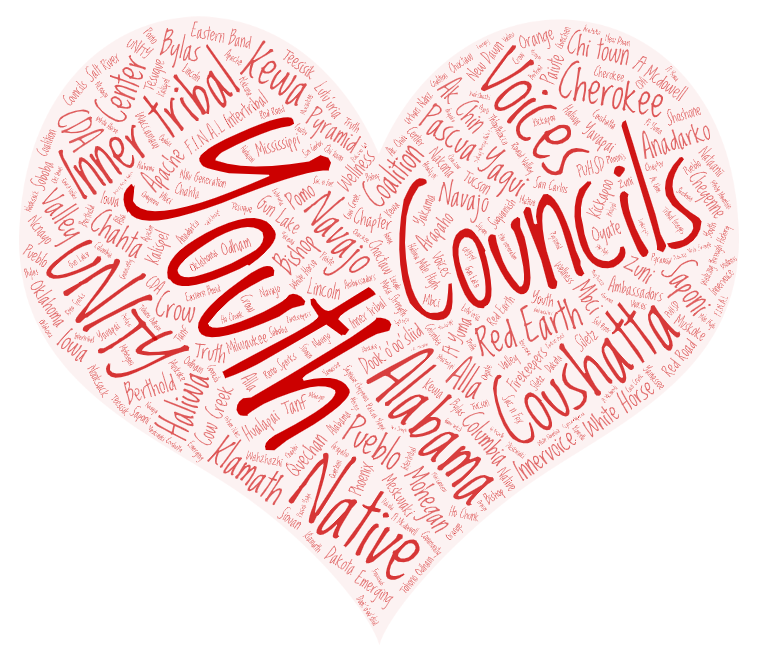 Congratulations to the following 5 Raffle Winners,  who will receive a $100 Visa Gift Card. Participants sent in their survey feedback online, via text or by U.S. mail:
Shaileen Gonzales, Hualapai female youth council representative, Western Region
Colby WhiteThunder, Alabama-Coushatta InnerVoice youth council male representative, Southern Plains Region
Toni Sandoval, Individual Member, The Klamath Tribes Youth Council, North West Region
Debra Toya, Sac & Fox Nation Youth Council Advisor, Great Plains Region
Jordan Gilman, Female Youth Council Representative for Thlopthlocco Tribal Town, North East Region

UNITY Inc. values youth feedback. During these difficult times of social distancing, we understand that it is hard to connect to our community. We appreciate all of the efforts that Advisors and Native youth serving organizations are doing to continue offering services remotely. UNITY youth evaluations have helped shape many decisions on how best to proceed with the upcoming 2020 Virtual Conference. Below are some findings from the recent UNITY survey, inquiring how best UNITY can serve the Native youth from afar.
Representation Matters. Here are the UNITY Regions that took part in the survey:

UNITY inquired about youth council accessibility through sending out surveys in the mail, creating a text survey option as well as sending the online survey to contacts.

After reviewing the results, UNITY will be offering a complimentary USB drives, with the Virtual Conference recorded trainings on them, to be mailed (upon request) to those who do not have access to the internet or a personal computer.

Overall, participants expressed their sadness about not being able to meet in person, but still supported UNITY's efforts to reach youth remotely.   
After careful consideration, the UNITY Board of Trustees have postponed this year's National UNITY Council Executive Committee Virtual Elections, at the request of the current 2020 Executive Committee. The Elections will occur during the next in person 2021 National Conference Business Meeting.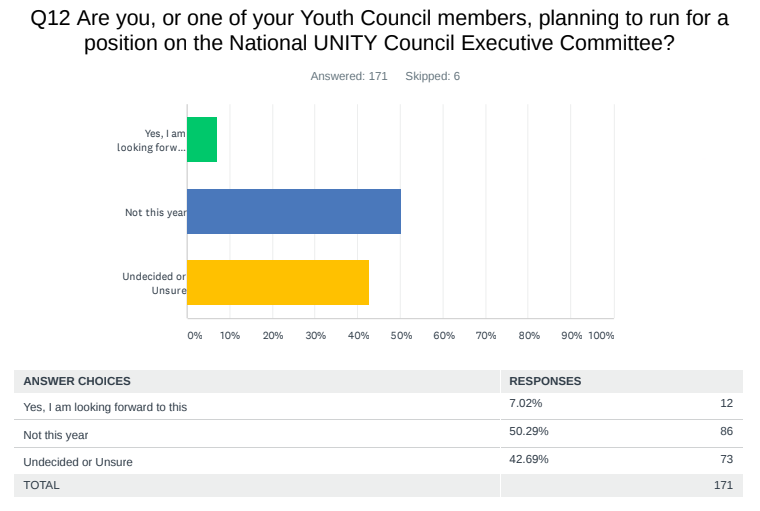 Thank you again to all of the Youth Councils and Individual members who gave their feedback on how UNITY can better support Native Youth remotely. Representatives and Advisors were part of the:
Ak-Chin Youth Council
Alabama-Coushatta Tribe Inner Voice Youth Council
Anadarko UNITY Council
Bishop Tribal Youth Council
Bylas Youth Council
CDA Tribal youth council
Cesar Chavez High School Youth Council
Chahta Alla Youth Council
Cherokee Youth Council
Cheyenne Arapaho Youth Council
Chi-Nations Youth Council
Columbia river youth council
Cow Creek Tribal Youth Council
Crow Youth Council
Current Miss Pascua Yaqui
District #17 Youth Council
Dook'o'oo'sliid Youth Council
Earth Ambassadors
Eastern Band Of Cherokee Youth Council
Emerging Leaders Youth Advisory Council
Firekeepers Youth Council
Fort Berthold Unity Chapter
Fort McDowell Yavapai Nation Youth Council
Ft. Yuma Quechan tribe
Gun Lake Tribe Youth Council
Gila River Youth Council
H.O.O.P.S
Haliwa Saponi Tribe
Hualapai Tribal Youth Council
Inner Voice Youth Council
Intertribal Youth of Orange County
Iowa Tribe of Oklahoma UNITY Youth Council
Kalispel Youth Council
Kewa Family Wellness Center Youth Coalition
Kewa TRUTH Youth Council
Kickapoo Youth Group
Klamath Tribes Youth Council
Lincoln Youth Council
Lutu'uria Youth Group
MBCI
Mesa Strength
Meskwaki settlement
Mile High UNITY
Mississippi Band of Choctaw Indians
Mohegan Tribe Youth Council
Mvskoke (Creek) Nation Youth Council
N8V Generation
Nakona Dakota Oyate Youth Council
Native American Youth Council
Navajo Nation Youth Advisory Council
Navajo Preparatory Nataanii Youth Council
Haliwa-Saponi Indian Tribe
New dawn Youth Council
Nooksack Tribal Youth Council
North Carolina Native American Youth Organization
Northland Community Schools UNITY Council
Page High School UNITY Club
Pascua Yaqui Tribal Youth Council
PBPN Youth Council
Phoenix Indian Center Future Inspired Native American Leaders Youth Council
PHS Unity Youth Council
UNITY Peer Guides
Pueblo of Zuni Youth Council
Pyramid Lake High School Unity
Pyramid Lake Jr High School
Red Earth Youth Council
Reno-Sparks Indian Colony UNITY
Riverton High School UNITY Council
Round Valley UNITY council
Sac & Fox Nation Youth Council
Saginaw Chippewa Indian Tribe Youth Council
Salt River youth council
San Carlos Apache Tribe Youth Council
SCIT Youth Council
Sherwood Valley Band of Pomo Indians
Shoshone Paiute Tribal Youth Council
Siletz Tribal Youth Council
Soboba TANF inter Tribal Youth Council
Suquamish Youth Council
Teesisik Milwaukee Ho-Chunk youth council
Tesuque Pueblo Youth Coalition
The Klamath Tribes Youth Council
The Mohegan Tribe Youth Council
Thlopthlocco tribal town youth council
Tohono O'odham Nation Youth Council
Tribal images youth Council
Tucson Native Youth Council
Tulalip Youth Council
Urban Ndnz youth council
Waccamaw Siouan Youth Circle
WahZhaZhi Youth Council
White Mountain Apache Tribal youth council
White Horse Schools Unity youth council
Walking through our history youth group (Pascua Yaqui)
Yakama nation youth council
Yamassee Youth Council


For more information on these findings please email: headquarters@unityinc.org