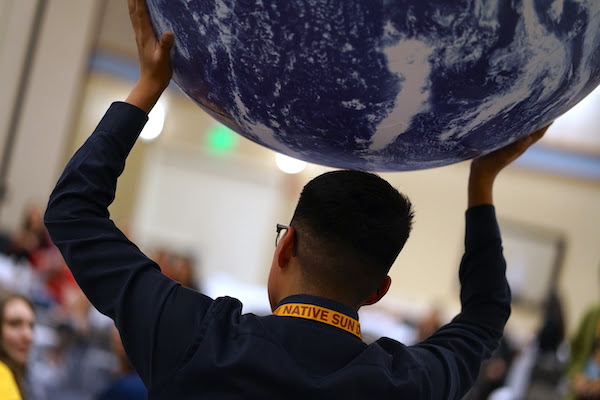 The UNITY Earth Ambassadors know that the time to address Climate Change is Now. Our people have always been earth protectors and caretakers. What better way to revitalize our cultural environmental teaching than on the 50th Anniversary of National Earth Day! Your Earth Ambassadors passed a Resolution for the NUC each host a UNITY Day collectively celebrating Earth Day together this April 22, 2020!  Learn more about UNITY Incentives for Youth Council and Individuals, contest details and project ideas amid social distancing. 
UNITY Earth Day Project Contest – 
The goal is to have many Youth Councils and Individual Members to take part in Earth Day celebration. UNITY Earth Ambassadors will lead the campaign for UNITY Earth Day Projects.
UNITY Earth Day Incentive Registration prizes
Youth Councils 1st Prize – 3 Conference Registrations,
2nd Prize – 2 Conference Registrations,
3rd Prize – 1 Conference Registration
Individual Members 1st Prize  – 2 Conference Registrations,
2nd Prize – 1 Conference Registration
UNITY Earth Day Project Steps 
#1 SIGN UP

Youth Councils and Individual Members

Sign up HERE!  
#2 SHARE 

EARTH DAY April 22 – during, before & after

Share pictures & videos on Facebook, Instagram, etc.

#UNITYEarthDay

 

Send pictures & videos Jared Massey

j.massey@unityinc.org

#3 REPORT

Project & Complete Survey by April 30

UNITY will send a follow up Project Report & Survey Form

 Submitted by April 30
Winners will be announced Friday May 8, 2020    Sign up HERE!  
TIP SHEET – Developing a project amid Social Distancing
Social Distancing People & Projects
Youth Council members, as individuals, are encouraged to carry out Earth Day projects

Youth Councils may form small groups of 2 to 10 people to volunteer with Earth Day projects, if your community allows
Avoid close contact
Project Ideas
Awareness and Call to Action Campaigns, Personal Pledges, Advocate Individual Impact or Imprint
Zero Waste Lifestyle 

Recycling in the community

Indigenous / Clean Eating Lifestyle

Water preservation / restoration

Cultural learning / sharing to preserve Mother Earth 

Community Clean up

No Dumping Campaign 

Indigenous and traditional food 

Sharing knowledge and information,

Sharing Recipes, 

Gardening and harvesting 
Who are you Targeting?
Community Leaders and Organizations

Families, Elders and Community members

Friends and Peers
Plan to reach out to those youth in your community that may be loners or have few friends. They may catch your passion to get involved as an Earth Protector.
Personal Pledge Thoughts and Questions
When will I get started?

What Steps do I need to take?

How will I impact the environment as one person?

Who can I challenge to partner with me?

(UNITY Buddy System)
How to Campaign
Get the Word Out: Share Awareness and Call to Action
Campaigns, Personal Pledge Challenge
 Invite People to

Virtual Online Meetings 

Google Hangouts (Free), BlueJeans ( Free 14 day trial), 

Set up a Phone conference line and schedule a call

Stream live on Facebook, Instagram, YouTube

Facetime – Facebook, other video shares 

Record video messages to share  

Create a Facebook Group or Facebook Campaign page

Create a Group phone Texts or Facebook messenger

Email
Stay Connected as a Youth Council
Use the ways listed above to during this time and until in-person meetings can resume.