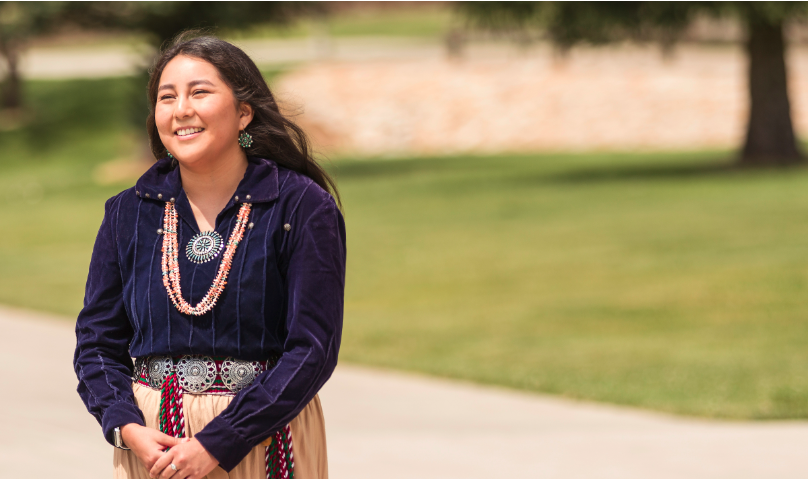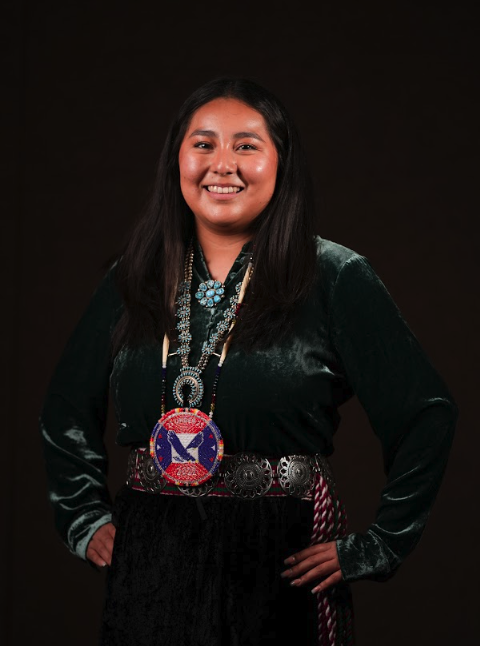 Written by: Ally Gee, Navajo UNITY 25 Under 25 Awardee
I was fortunate enough to be invited to a sunrise ceremony by a friend of mine who is from the San Carlos Apache tribe. I learned so much from this experience. Being able to witness such a sacred and spiritual moment was one of the highest honors I was given. I learned so much about the San Carlos Apache people and their customs. I also realized how many similarities are held between this tribe and my own. Specifically, within the roles of womanhood and how we celebrate initial menstruation. Our puberty ceremonies are intimately tied to our stories of the women in our communities. I met so many wonderful women who treated me like their own family through their teachings, encouragement, and wisdom. It highlighted the kind of woman I hope to be for other people.
It truly demonstrated that women hold Native communities together and that our existence is worth celebrating. This experience also made me grateful that I had a puberty ceremony and highlighted all the work and love that goes into planning one for someone. My parents poured time, money, and effort into ensuring that I had a ceremony done so that I could be instilled with strength and resilience. Seeing the girls dance throughout the day into the night filled me with so much hope for our next generation of people. I saw how interwoven our indigenous communities are and the way we uplift one another when needed. We consciously devote our time to molding our youth into strong members of our tribal societies. Through my time at this ceremony, I saw a new group of women that would carry on our stories, our dances, and our teachings. I saw a ceremony that has been conducted for thousands of years, carried on through acts of love for our new generation of women. I was truly honored to have been able to witness such a beautiful ceremony and I will carry what I learned for the rest of my life.
My platform for the UNITY 25 Under 25 Award is to address the lack of access to affordable menstrual products and indigenous wellness teachings about menstruation/womanhood. We are in need of educators who could speak to young women about reproductive health and why menstruation is important in our culture. Our local supermarket charges well above market value for necessities like pads, tampons, or liners. It would be great to have funding available to provide free or discounted menstrual products. With these products, a pamphlet could be offered to guide youth on how to use these products and what menstruation means. There could be events where knowledgeable tribal members speak to the role of what young women represent in our culture. This project would be both a physical product and the ability to ask questions about menstruation to a health provider and someone knowledgeable in our cultural practices for women.
Menstruation was/is celebrated in many Indigenous societies, and Diné in particular, with a kinaaldá (a coming-of-age ceremony) where families and communities gather to cook, dance, laugh, tell stories, and pass on knowledge through celebration. Although not all people who menstruate are women, these ceremonies are intimately connected to Diné concepts of womanhood. Settler colonialism has changed the way many Native communities view womanhood and menstruation. Norms from heteronormative society and Christianity have shifted the topic of menstruation to be taboo and seen as "dirty" or "unworthy of celebration." As a matrilineal society, this change in norms has influenced poor body images, internalized misogyny, and a lack of reproductive health knowledge. Additionally, access to menstrual products on reservations is often limited and expensive. The goal of my project is to increase access to a variety of menstrual products while strengthening and emphasizing Indigenous values around menstruation. Combining my public health and Indigenous knowledge, I plan to bring a comprehensive coming-of-age reproductive health program to Dinétah (Navajo Nation). This project is not centered around the products alone, as I seek to empower Diné women and celebrate Diné values, stories, and cultural knowledge. My vision for this project is to be grounded in traditional knowledge. Along with provided products and sex-positive STI prevention, access to reproductive technologies, and hygiene will become more accessible. Menstrual products can range anywhere between five dollars to fifty dollars monthly, even more on the reservation where products are limited.
I aim to connect Diné values of menstruation with public health practices to provide an affordable menstrual kit that will promote culturally relevant, sex-positive STI prevention, access to reproductive technologies, and hygiene. Overall, my aim is to celebrate Diné values, stories, cultural knowledge, and pride regarding women and their physical, mental, and spiritual health. Public health has taught me to view health holistically, and that all parts of a person could impact their overall being. Being unable to access affordable menstrual products is important to a person's mental and physical well-being. Having access to a basic necessity would drastically improve the wellness of my community. From personal experience, it is very detrimental to one's self-esteem when you cannot afford to buy yourself tampons or pads. Being forced to use alternatives is embarrassing and I know that this experience is not one that is unfamiliar to most women. If able to carry out this project, I know that this would improve the lives of many. Women and people who menstruate should always have access to needed hygiene items.