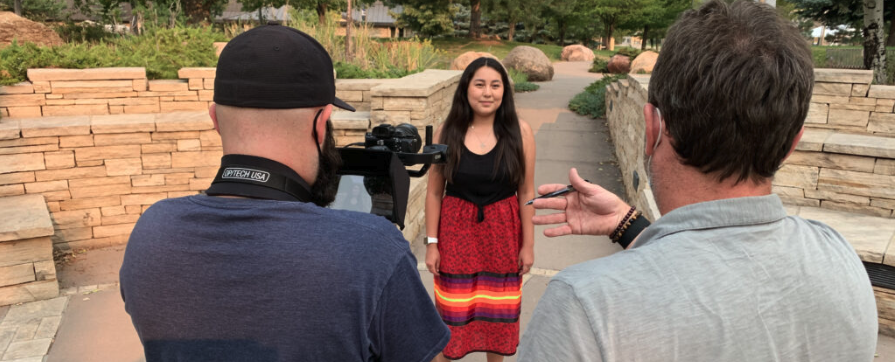 Click here to read the full article The College Tour – A Powerful TV Series and More… By Lisa Hennessy
As a seasoned TV producer and showrunner for over 25 years, I've had the pleasure of telling people's stories from all around the world. It is a responsibility that I do not take lightly.
Over the last two years, those stories have grown in impact and importance – I've had the honor of helping to tell the story of higher education through the very powerful lens of current college students. It was something special right from the start.
Our very first episode of The College Tour TV series was filmed at Fort Lewis College in Durango Colorado in September 2020.  The very first student segment we filmed was of a young woman named Ally Gee.  Ally, a member of the Navajo nation, talked about diversity on campus.
Two years later, we have now told the story of 82 colleges (across 35 states) and almost 1000 students from all backgrounds.  By the end of 2022, we will have filmed 100 colleges!
For us though, it's not just about telling incredible stories. It is also about listening. Over the course of filming our show, we have heard from many colleges that there is a need to have an option to produce episodes in Spanish language…. so we did. We hear from counselors daily that authentic stories are important to students so we expanded the features of our website so it can be a robust tool for students starting their college research.  We also heard from counselors that they would like a class to support their first-generation students… so we created it!
We are excited to share our new and improved website and TCT classes.
The classes were created to inspire students to continue their higher education journey.  All are video-based, using segments from The College Tour TV series. The videos in the class are led by students currently attending colleges. The classes are for all ages, from middle school to high school students to adult learners.
In the Core Class, we cover four key pillars for students to start thinking about: College Location, Campus Culture, College Type, and Majors.
When finished with the class, we send the students their answers and a certificate of completion. The students can also add their counselor's email or parent(s) so the answers can be shared with them as well.
There is NO cost for the classes.
Features on the newly launched TCT website include:
 "Watch Now" to view all episodes of the TCT TV series (6 seasons/70 eps with more dropping weekly). Episodes also stream on Amazon Prime.
"Tour Now" – a tour page for every 4-year college/university (2,500) and every community college in America (900) to make it easier for students to do their research.
and "Take a Class" – free video-based classes which use segments from the TV series to help students from all backgrounds with their college search.
We are two years in and we are just getting started! Our goal is to inspire and support young people from all backgrounds with their higher education journey and to one day tell the story of every college in America!
Lisa Hennessy
Co-Creator and Executive Producer of the College Tour.
Connect with me on LinkedIn