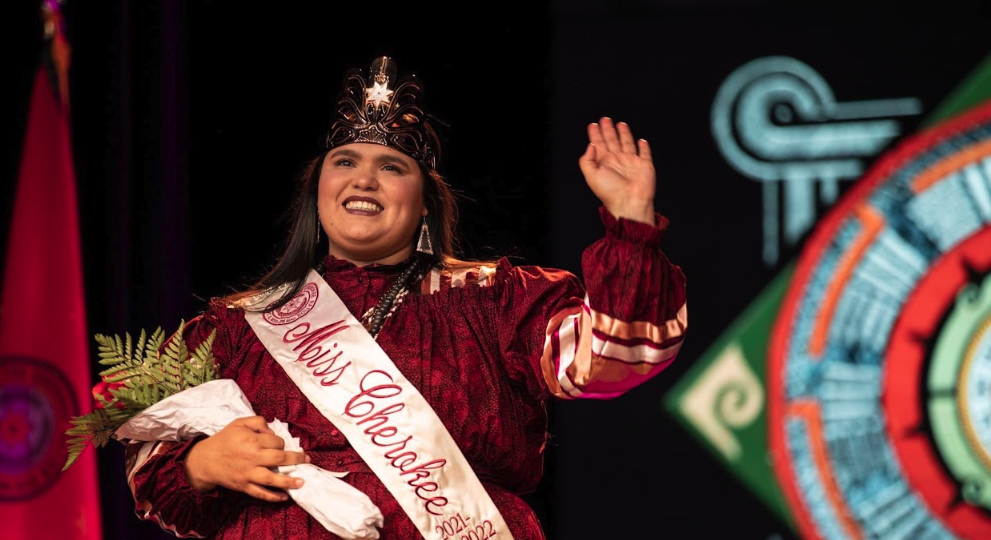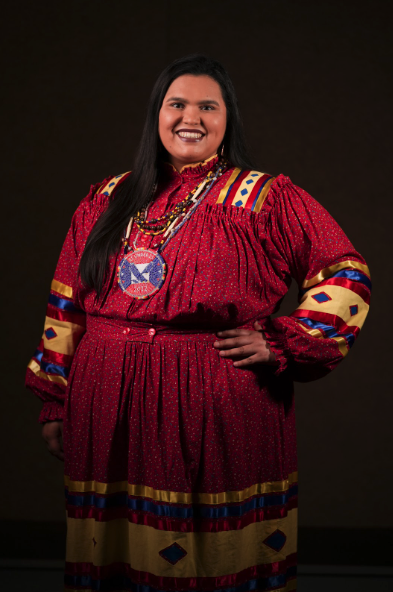 Meet Chelbie Turtle, Cherokee: 
Chelbie is a proud citizen of the Cherokee Nation. She is a junior at Northeastern State University pursuing a double major in political science and criminal justice. She is a member of the NSU Honors Program, the Northeastern Student Government Association where she serves as Student Body President, and the Oklahoma Federation of Indian Women, among other campus and community organizations. Chelbie recently completed her year of service as Miss Cherokee 2021-2022, is a former President of the Cherokee Nation Tribal Youth Council from 2017-2021, and is a 2022 recipient of UNITY's 25 Under 25 award. She enjoys basket weaving, pottery, playing traditional Cherokee games, and volunteering within her community. Upon completing her undergraduate studies, Chelbie intends to further her education by pursuing a Juris Doctor and plans to continue serving Indian County throughout her career.
UNITY interviewed Delegate to Congress; Director of Government Relations for Cherokee Nation Kim Teehee to learn more about Chelbie's community impact and her leadership development. Read below to learn more about how Chelbie embodies Cherokee leadership through her service to others. 
UNITY: What personal and/or leadership qualities does Chelbie exemplify?
Kim Teehee: Chelbie Turtle is a citizen of the Cherokee Nation and currently reigns as Miss Cherokee, a goodwill ambassador and role model of the Cherokee Nation. Chelbie uses her platform as Miss Cherokee to perpetuate Cherokee cultural lifeways. In her youth leadership capacity, she is able to encourage all Cherokee Nation citizens to embrace the tribe's culture in a myriad of ways, including Cherokee language lessons, sharing information about historic sites and traditional Cherokee art and crafts. She is engaged in both learning and teaching various aspects of our history, culture, and government. 
UNITY: What do you consider Chelbie's most noteworthy achievement?
Kim Teehee: I admire her efforts to share our culture with others, and I know that she is committed to promoting the Cherokee culture for many years to come. Sharing history and heritage are values deeply engrained in the Cherokee people. I am always inspired when I see young Cherokee people striving to make a different in their community and perpetuate the Cherokee way of life. Chelbie has long been deeply involved in her tribal community.
UNITY: Where do you see Chelbie in 10 years?
Kim Teehee: Currently a student at Northeastern State University, Chelbie plays an important role as a student leader on the campus most closely associated with the Cherokee Nation. She works in the office of student engagement, and serves as Vice President of the Northeastern Student Government Association. She wants to one day pursue a Juris Doctorate, work for the Department of Justice and become adept at both federal law and tribal policy development. She also wishes to work for the Cherokee people. In ten years, I see her bringing her knowledge and experience back to the Cherokee Nation to benefit our people. I am certain that she will bring her passion and love of service to improve the lives of those around her.  
UNITY: Why do you support Chelbie's candidacy for the 25 Under 25 Program?
Kim Teehee: Chelbie served as President of the Cherokee Nation Tribal Youth Council from 2017 to 2021. The Youth Council, which I am proudly also an alumnus of, provides Cherokee young people, all 15- to 22-year-olds, an opportunity to be an advocate for their generation and have a meaningful role in tribal affairs. I am proud other Cherokees will be able to look at her and her success and see what could be possible in their own academic and life journey. She is a wonderful example of a Cherokee woman leader, committed to continuing the Cherokee story.
Honorable Principal Chief Chuck Hoskin of the Cherokee Nation also spoke highly of Chelbie and her ongoing community service in a letter to UNITY: 
"It has been my good fortune to watch Chelbie grow as a leader and cultural preservationist over the years. She not only cultivates her own skills through public speaking roles, but she also shares her talents with others through her mentorship and teaching.
As a long-time youth ambassador, both on the Cherokee National Youth Council and in the roles of Junior Miss Cherokee and Miss Cherokee, she has been highly visible as a young leader. I admire her efforts to share our culture with others, and I know that she will be committed to promoting the Cherokee culture for many years to come.
Chelbie has always shown great interest in learning and teaching the Cherokee culture and participating in a wide array of community activities. She assisted with voter registration efforts in across our 14-county reservation in northeast Oklahoma and has often traveled out of state with members of tribal leadership to meet with Cherokee communities around the country in her youth ambassador role. During these events, she was highly engaged with both staff and Cherokee Nation citizens. Chelbie helped connect citizens with tribal services and lead cultural demonstrations.
An honors student in college and a recognized role model for many Cherokee youth, she fully lives out the UNITY mission of living a balanced life with spiritual, mental, physical, and social well-being. I am proud to offer my highest recommendation for Chelbie Turtle to be named a UNITY 25 Under 25 honoree."
##
The UNITY 25 Under 25 is a national youth leadership recognition program. The awards program is designed to celebrate the achievements of Native American and Alaskan Native youth ages 14 to 24 who embody UNITY's core mission and exude living a balanced life developing their spiritual, mental, physical, and social well-being. Honorees are recognized during the UNITY National Conference, with each receiving a hand-made beaded "25 Under 25" medallion. In addition to being recognized, each awardee will receive special training by UNITY over the period of one year that is designed to build on their individual achievements. The class is recognized as UNITY ambassadors, serving as stellar examples of Native youth leadership in Indian Country today.