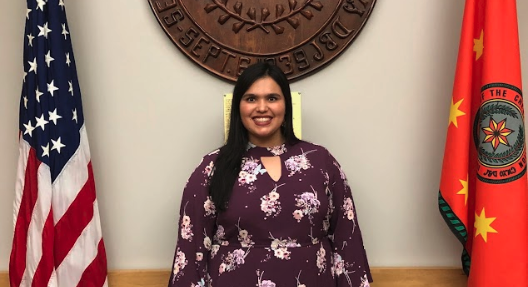 Ambassadors such as Chelbie Turtle embody UNITY's core mission and exude living a balanced life, while developing their spiritual, mental, physical, and social well-being. The 25 Under 25 honoree shares her advocacy journey in hopes to inspire more Native youth to seek out solutions for community challenges of inclusion. Read more in her own words about how being an advocate for others shaped her leadership:
2022-23 UNITY 25 Under 25 Awardee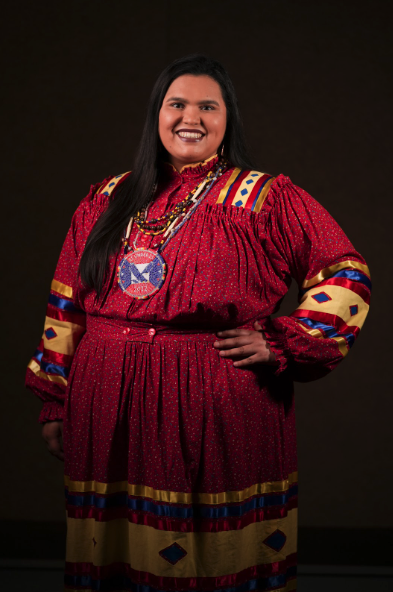 In the summer of 2020, the Northeastern Student Government Association (NSGA) established its first Committee of Diversity, Equity, and Inclusion alongside the campuses' Office of Diversity and Inclusion. That following fall, as an incoming freshman, I successfully campaigned for an At-Large senator position within the organization. As a senator, I was selected to lead this committee for the upcoming academic year. Through this partnership and listening to the voices of the student body, I quickly discovered that our campus lacked diversity and inclusion initiatives, prompting me to take action.

In numerous student discussions, many expressed concerns over the lack of gender-neutral restrooms located on campus. At present, only two gender-neutral restrooms existed, yet they were limited to buildings not frequented by the majority of the student population. After beginning work with campus staff and administration through numerous meetings and campus walkthroughs, I (alongside my committee) developed a list of every building on campus that lacked a gender-neutral restroom. Furthermore, this list identified at least one restroom in almost every building that could be transformed through simple reconfiguration efforts, mainly lock replacements. Although needed changes were identified and potential solutions were discovered, the next step was convincing student senators to support this project.

When considering diversity and inclusion topics – especially of this nature – I was prepared to face opposition. However, that did not overshadow the reality that this initiative was much-needed. Although my legislation was thoroughly crafted, I faced numerous questions and concerns from our student body. However, by answering such, I noticed a change within the room. As senators, we are charged with the responsibility to serve our fellow students. Through setting aside personal feelings, senators began to realize the immensity of the legislation for its ability to improve students' campus experiences. With a majority consensus and only two abstentions, the legislation passed and the outlined solutions are currently being implemented. This legislation also sparked action for other diversity and inclusion initiatives, such as senators requesting the option of a preferred name on university IDs and Blackboard and starting an organization to provide free feminine products. Together, such efforts collectively support inclusion towards the betterment of our campus community.

The implementation of this project is significant to me as it demonstrated the value of seeking to enact positive change, particularly across my university. From this project, I gained first-hand learning experience of partaking in something much bigger than myself. This initiative not only positively contributes to the collegiate experience of current NSU students, but will seek to serve the future of the institution. Though challenging at times, this learning experience remains one of significance as bringing to fruition this initiative has significantly strengthened the diversity of my university's campuses, further encouraging more developments of similar nature.   
##
Chelbie Turtle, Cherokee – Chelbie is a proud citizen of the Cherokee Nation. She is a junior at Northeastern State University pursuing a double major in political science and criminal justice. She is a member of the NSU Honors Program, the Northeastern Student Government Association where she serves as Student Body President, and the Oklahoma Federation of Indian Women, among other campus and community organizations. Chelbie recently completed her year of service as Miss Cherokee 2021-2022, is a former President of the Cherokee Nation Tribal Youth Council from 2017-2021, and is a 2022 recipient of UNITY's 25 Under 25 award. She enjoys basket weaving, pottery, playing traditional Cherokee games, and volunteering within her community. Upon completing her undergraduate studies, Chelbie intends to further her education by pursuing a Juris Doctor and plans to continue serving Indian County throughout her career.
The UNITY 25 Under 25 is a national youth leadership recognition program. The awards program is designed to celebrate the achievements of Native American and Alaskan Native youth ages 14 to 24. Honorees are recognized during the UNITY National Conference, with each receiving a hand-made beaded "25 Under 25" medallion. In addition to being recognized, each awardee will receive special training by UNITY over the period of one year that is designed to build on their individual achievements. The class is recognized as UNITY ambassadors, serving as stellar examples of Native youth leadership in Indian Country today.