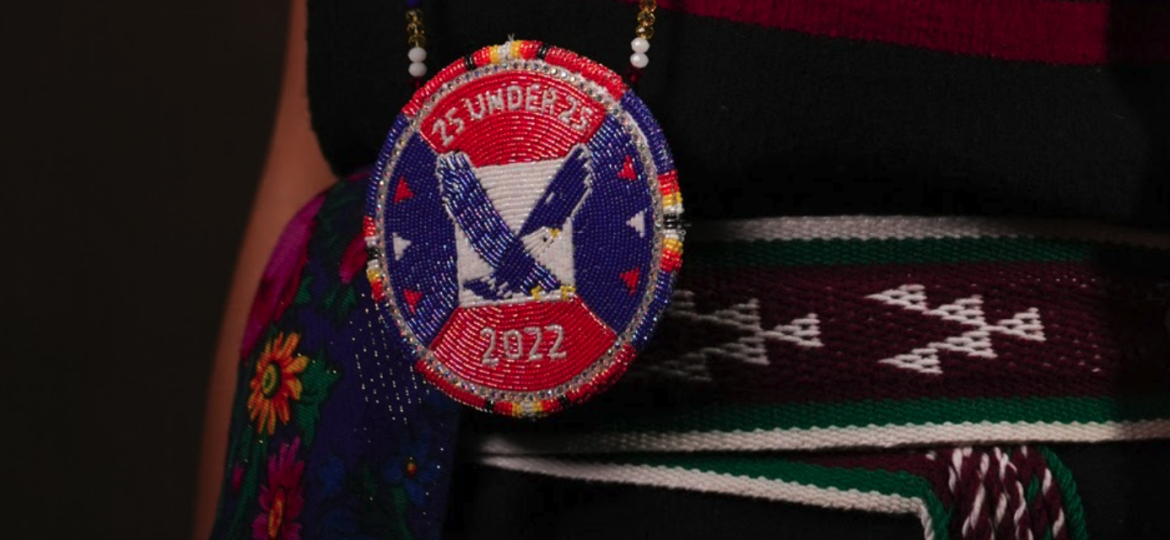 2022-223 UNITY 25 Under 25 Awardee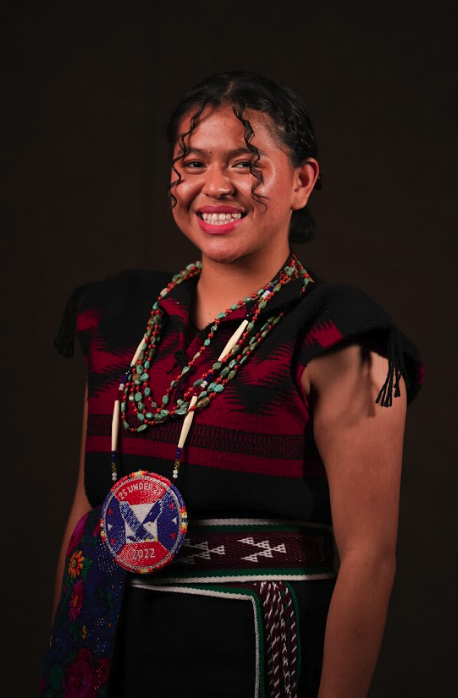 Meet Ajah-Rain! Ajah shares that she "intends to pursue a major in Political science and global affairs to become a policy development maker that assists in implementing humanitarian aid efforts. Moreover, my skills would be applied to help the people of the Navajo Nation regarding structure in governance and policies. I would also like to pursue a future focus on educational studies to improve the educational institutions in the Navajo Nation. I hope that attending the University of Portland and connecting with the local WeRNative will allow me to work with native communities. My life goal is to advance the current and next indigenous youth to brighter futures by holistic healing through service." Ajah was selected from a pool of Native youth leaders under the age of 25 from across the country who actively address community issues. Ajah joins the following Navajo Prep Alumni in this coveted leadership award: 2014 Kelly Charley, 2016 Eric Woody, 2018 Kellian Staggers, and Tristan Joe. UNITY interviewed the Advisor for the Navajo Preparatory School's Naat'aanii Youth Council Denise Yazzie Jensen to learn more about Ajah. Read more to learn about her community impact. 
UNITY: What personal qualities does Ajah exemplify?
Denise: I have had the privilege of watching Ajah navigate her elected position as a member and, this year, Female Co-President for the Navajo Prep Naat'aanii Youth Council/G&T Youth Leadership. In our youth leadership group, Ajah is respected as a great leader. She exhibits positive leadership and communication abilities. She is a good listener and provides constructive feedback during discussions. Ajah is good at respecting others' opinions and diversity. She also has a good way of motivating others to want to be involved with projects. 
UNITY: What do you consider Ajah's most noteworthy achievement?
Denise: I immediately recognized Ajah's leadership qualities and abilities while she was a freshman in my New Mexico/Arizona History class. Not too long after, I invited her to join our Navajo Prep Naat'aanii Youth Council. In the past 3 1/3 years that I have known her, she has been a pillar of support in all areas of the youth council to become active. She has been the most active and consistent member. Her vision and leadership abilities are far beyond her years. Ajah is exceptional in the areas of reliability, positive communication, community activism, and academics. In addition to her participation in our youth council, she is an all-around student-athlete while maintaining an impressive 3.7 GPA. All in all, she is an excellent role model and embodies youth leadership qualities that will cultivate the kind of leaders we need in tribal communities. Her confidence exuberates and inspires her peers. She always has a positive attitude that is rooted in traditional teachings. As a result of the leadership she is capable of, Ajah-Rain was selected to serve as the Student Senate President and serves as a student voice on the Navajo Preparatory School Board of Trustees. 
This video was produced by the Navajo Preparatory School Naat'aanii Youth Council as part of a collaborative project. This video focuses on the importance of continuing to learn indigenous ways of knowing and living. It aligns with the school's philosophy of a classroom without walls. The school hosts a week called Hozho Naasha with no classes where the theme is culture revitalization. Our youth council's video was showcased as part of learning from elders and youth today.
UNITY: Where do you see Ajah in 10 years?
Denise: I believe you have found a good candidate for a 25 Under 25 in Ajah-Rain Yellowhair. She will be accepted to the college or university of her choice which will be very beneficial to her future goals and endeavors. Her chosen post-secondary education will help her obtain the degree she desires and may utilize it to return home because of her interest in working with youth and communities within the Navajo Nation. 
UNITY: Why do you support this Ajah's candidacy as a UNITY Ambassador?
Denise: I can guarantee that your selection of Ajah-Rain Yellowhair will prove to be a good acknowledgment for a young Navajo woman who has great potential to continue to develop as a positive role model and leader for youth across the country. In addition, I fully support Ajah-Rain being selected because it would allow for positive recognition for her leadership but it would also provide a good motivation for a young woman who has survived trauma and persevered through situations that would debilitate most people. I am amazed by her strength and motivation to stay focused on school despite her personal situation. 
Ajah is featured in this video at 1:39, 5:16, 12:14, 15:59 NIEA Convention 2021 "Indigen(i)ous" interview
The UNITY 25 Under 25 award is a national youth leadership recognition program honors Native American and Alaskan Native youth leaders who exemplify UNITY's core mission and exude living a balanced life, developing their spiritual, mental, physical, and social well-being. The biennial program, launched in 2014, recognizes and celebrates the achievements of 25 outstanding Native youth leaders under the age of 25 in Indian country. "Our Native youth have a passion for building and bettering their communities. UNITY's 25 Under 25 program recognizes their achievements and encourages these young people to stay involved and further develop their leadership skills," said Mary Kim Titla, UNITY executive director.