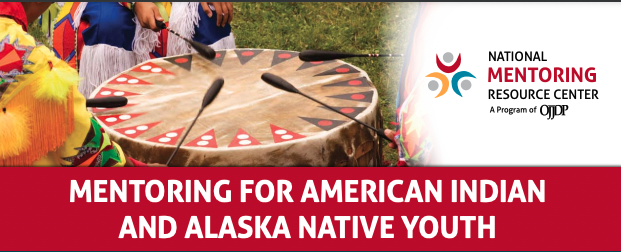 Mentoring PUBLICATIONS & RESOURCES AVAILABLE TO NATIVE YOUTH
The mentoring literature focused on American Indian and Alaska Native youthi is growing, and it is further informed by empirical work from other countries, such as Canada and New Zealand. Nevertheless, rigorous research remains limited in understanding the strengths and needs of this group. Studies to date demonstrate some promise of mentoring as an intervention for Native youth.
Click here to review the Report
The UNITY Peer Guides and Healing Indigenous Lives Initiative is dedicated to spreading awareness of available resources to Native youth to help increase community safety, protective factors and reduce youth risky behaviors contributing to juvenile delinquency.
https://nationalmentoringresourcecenter.org/resource/mentoring-for-american-for-american-indian-and-alaska-native-youth/
This review examines research on mentoring American Indian and Alaska Native (AI/AN) youth. The review is organized around four questions:
What is the effectiveness of mentoring for American Indian and Alaska Native youth?
What factors influence the effectiveness of mentoring for American Indian and Alaska Native youth?
What pathways are most important in linking mentoring to outcomes for American Indian and Alaska Native youth?
To what extent have mentoring initiatives for American Indian and Alaska Native youth reached and engaged the youth, been implemented with high quality, and been adopted and sustained?
However, due to the risks, barriers, and challenges, often including geographic isolation, experienced by this population, it is important for researchers and program developers to carefully consider benefits and risks of formal and natural mentoring within this broader cultural context and experience. With this consideration as context, the existing evidence points toward several preliminary conclusions:
Mentoring for American Indian and Alaska Native youth appears to have the potential to improve academic outcomes (e.g., academic performance, school attendance), health outcomes (e.g., mental health, obesity), interpersonal strengths (e.g., confidence, leadership), and social relationships among this group, although the experimental or well-controlled quasi-experimental designs needed to most rigously assess possible benefits are lacking.
Research supports the role of culture in all types of mentoring for Native youth, including traditional mentoring programs (such as Big Brothers Big Sisters) and informal or natural supports, such as those that may be provided through tribal elders and extended family and community members. Examples of ways of emphasizing culture in the programs studied can possibly include traditional storytelling and activities, giving back to the community, cultural dances and ceremonies, as well as reflecting on historical trauma and current hardships.
This review describes information to consider when developing and implementing mentoring programs for Native youth. Historically, many Native communities have been affected by assimilationist policies and programs that separated children from their families (e.g., boarding schools and foster care/adoption programs). As a result, programs should be aware of the potential for cultural mistrust, which could pose challenges to engaging in relationships with mentors who come from outside the community. Therefore, mentoring programs should carefully consider recruitment, engagement, and retention efforts that include incorporating the cultural perspective and family and community support, as well as collaborative relationships with existing and trusted agencies. Preparing mentors to understand the importance of building and maintaining trust, and operating from a strengths-based and culturally attuned perspective, may be critical elements of mentoring programs for this population. Native communities often place a strong value on inclusion of family and community members , and programs may capitalize on this value as a means of engaging family and community members to serve as supportive role models and advisers for the youth, and/or to support mentor-mentee relationship of mentors drawn from outside the community. Other elements to consider include incorporating culturally related activities, such as traditional games and historical storytelling, which can advance the cultural identity of the youth and help teach them tools used to thrive within, and outside, their communities. In mentoring work with Native youth, it is critical to provide healthy, supportive role models, keeping in mind that the program context may be situated in an environment with overlapping social problems influenced by experience of historical trauma.