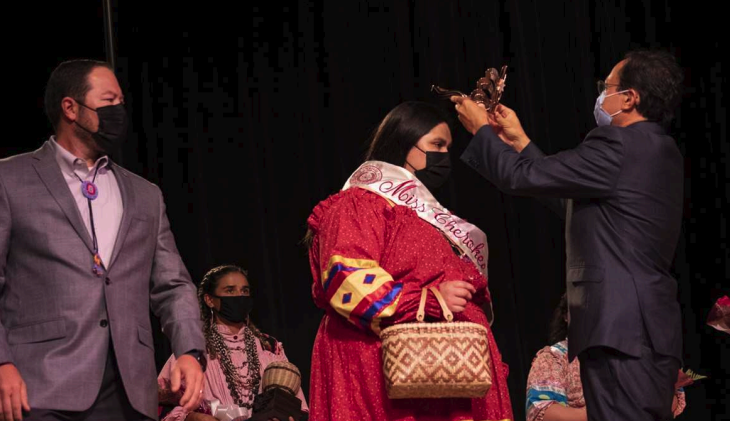 2022-23 UNITY 25 Under 25 Awardee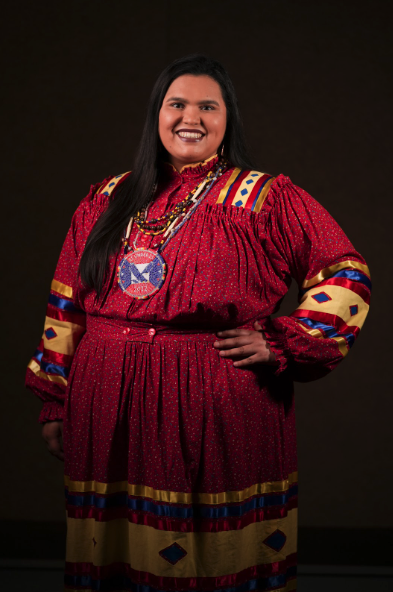 When UNITY's 25 Under 25 Awardee Chelbie Turtle was asked what her greatest personal achievement has been, her first thoughts were of the legacy of strong Cherokee women who have held the title of Miss Cherokee. Read more below in Chelbie's own words on how this community role has played a part in her growth as an ambassador:
"At the young age of four years old, I received the honor of being selected to represent the Cherokee Nation as Little Miss Cherokee. At the time, this was simply an opportunity to further introduce me to the Cherokee culture while also developing various leadership skills. However, this experience transformed into so much more as during these initial moments, I set one of my greatest personal goals of one day becoming Miss Cherokee.

Throughout my life, I have watched various young Cherokee women hold the title of Miss Cherokee. Each represented the Cherokee Nation with such grace and honor, striving to serve as a goodwill ambassador and messenger of Cherokee culture, language, history, and government. Miss Cherokee is someone that I have always looked up to and hoped to be one day.

In 2021, my dream became a reality as I was selected to represent the Cherokee Nation as the 2021-2022 Miss Cherokee. Halfway into my reign, I have had the opportunity to both share and further immerse myself within all aspects of the Cherokee culture, including the language, history, and government. Beyond these actions, I have witnessed the impact of the role of Miss Cherokee on countless lives. For all, Miss Cherokee represents a strong young Cherokee actively engaged in her culture, always willing to share her knowledge. For the youth, Miss Cherokee serves as both a peer and role model, striving to resemble the best qualities of Cherokee youth. For adults and elders, Miss Cherokee is a beacon of light and hope that the Cherokee culture will continue to thrive for generations to come.

The title of Miss Cherokee has a legacy spanning decades within the history of the Cherokee Nation. Personally, I have admired countless prior Miss Cherokees for their service and the values they represent. To have the opportunity to be a small part of this strong history means the absolute world to me. Just like those before me, I hope to help inspire others to always continue growing in our culture and sharing our knowledge with others to strengthen the perpetuation of our Cherokee culture and sovereignty. In turn, not only has this personal achievement presented me with the opportunity to realize one of my lifelong dreams, but it has also allowed me to give back to the Cherokee communities that have significantly molded me into the person I am and the leader I am becoming." 
##
Chelbie Turtle, Cherokee – Chelbie is a proud citizen of the Cherokee Nation. She is a junior at Northeastern State University pursuing a double major in political science and criminal justice. She is a member of the NSU Honors Program, the Northeastern Student Government Association where she serves as Student Body President, and the Oklahoma Federation of Indian Women, among other campus and community organizations. Chelbie recently completed her year of service as Miss Cherokee 2021-2022, is a former President of the Cherokee Nation Tribal Youth Council from 2017-2021, and is a 2022 recipient of UNITY's 25 Under 25 award. She enjoys basket weaving, pottery, playing traditional Cherokee games, and volunteering within her community. Upon completing her undergraduate studies, Chelbie intends to further her education by pursuing a Juris Doctor and plans to continue serving Indian County throughout her career.
The UNITY 25 Under 25 is a national youth leadership recognition program. The awards program is designed to celebrate the achievements of Native American and Alaskan Native youth ages 14 to 24 who embody UNITY's core mission and exude living a balanced life developing their spiritual, mental, physical, and social well-being. Honorees are recognized during the UNITY National Conference, with each receiving a hand-made beaded "25 Under 25" medallion. In addition to being recognized, each awardee will receive special training by UNITY over the period of one year that is designed to build on their individual achievements. The class is recognized as UNITY ambassadors, serving as stellar examples of Native youth leadership in Indian Country today.