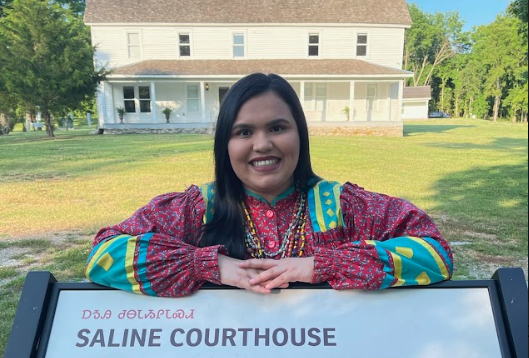 Mental wellness is one of the four pillars of UNITY youth leadership development. As a core component of youth growth, academics are an opportunity for indigenous youth to find themselves and nurture the gifts they process. UNITY's 25 Under 25 Awardee Chelbie Turtle shares how her educational journey has profoundly impacted her goals as a lifelong learner. Read more in her own words below.
2022-23 UNITY 25 Under 25 Awardee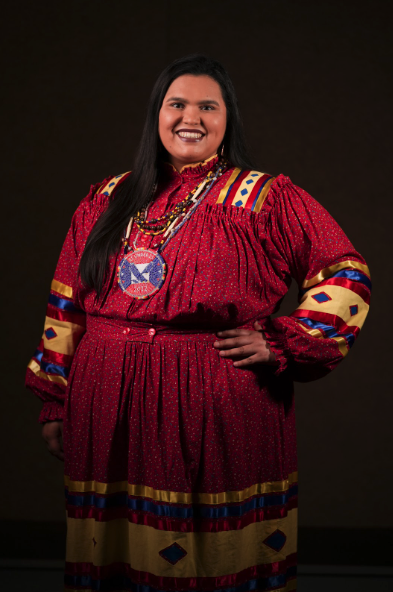 UNITY asked What is your most proud academic achievement and why is that most important to you?
Chelbie: "As a high school student, I poured my time and energy into my academics. As a student, I prided myself in enrolling in challenging courses, partaking in concurrent enrollment, and seeking extracurricular academic-driven activities. Though I desired to challenge myself as a student, I was heavily focused on my next journey in higher education. With large consideration of my high school academic record and campus/community involvement, I received my most proud academic achievement – the Northeastern State University Honors Program scholarship.

This scholarship is annually awarded by Northeastern State University to a small group of incoming freshmen based on both academic merit, involvement, and potential for collegiate success. First and foremost, receiving this scholarship provided me with the opportunity to pursue my goal of obtaining a higher education. Attending college became a realistic, attainable goal that would enable me to strive toward my dream of becoming an attorney. However, and unknowingly at the time, this scholarship program has opened doors far beyond what I imagined was possible.

The Honors Program at Northeastern State University has enabled me to work through a challenging educational program that has significantly expanded my knowledge as a student. The program offers opportunities to enroll in honors courses with distinguished faculty members, work with my peers in enhanced learning environments, and participate in co-curricular cultural experiences. Also, and unique to the program, is the option to pursue independent research under faculty mentorship. This scholarship has significantly contributed to my educational interests and goals, continuing to shape my life as a student and lifelong learner.

This scholarship has presented me with the opportunity to cultivate my academic endeavors. Most notably, I have been challenged to pursue undergraduate research. As my educational aspirations include attending law school, I have chosen to pursue a scholarly activity that will examine the landmark United States Supreme Court ruling in McGirt v. Oklahoma. When selecting a research activity, I chose this topic as not only is it currently shaping the future of justice operations within the state of Oklahoma, but it more broadly reflects the United States' commitment to upholding treaty rights. I plan to use this research experience to further expand my knowledge of tribal sovereignty and treaty rights to develop a foundation for my future career goals. 

The described opportunities have been made possible by Northeastern State University's Honors Program scholarship. As an individual, I have always remained committed to my academics, and receiving the honor of joining this program served as a testament to that. However, such has subsequently opened the door to numerous academic opportunities and activities that have further contributed to my growth and development as a student. Receiving this scholarship will always be my most proud academic achievement as it has single handily transformed my life and established the foundation for my future." 
##
Chelbie Turtle, Cherokee – Chelbie is a proud citizen of the Cherokee Nation. She is a junior at Northeastern State University pursuing a double major in political science and criminal justice. She is a member of the NSU Honors Program, the Northeastern Student Government Association where she serves as Student Body President, and the Oklahoma Federation of Indian Women, among other campus and community organizations. Chelbie recently completed her year of service as Miss Cherokee 2021-2022, is a former President of the Cherokee Nation Tribal Youth Council from 2017-2021, and is a 2022 recipient of UNITY's 25 Under 25 award. She enjoys basket weaving, pottery, playing traditional Cherokee games, and volunteering within her community. Upon completing her undergraduate studies, Chelbie intends to further her education by pursuing a Juris Doctor and plans to continue serving Indian County throughout her career.
The UNITY 25 Under 25 is a national youth leadership recognition program. The awards program is designed to celebrate the achievements of Native American and Alaskan Native youth ages 14 to 24 who embody UNITY's core mission and exude living a balanced life developing their spiritual, mental, physical, and social well-being. Honorees are recognized during the UNITY National Conference, with each receiving a hand-made beaded "25 Under 25" medallion. In addition to being recognized, each awardee will receive special training by UNITY over the period of one year that is designed to build on their individual achievements. The class is recognized as UNITY ambassadors, serving as stellar examples of Native youth leadership in Indian Country today.