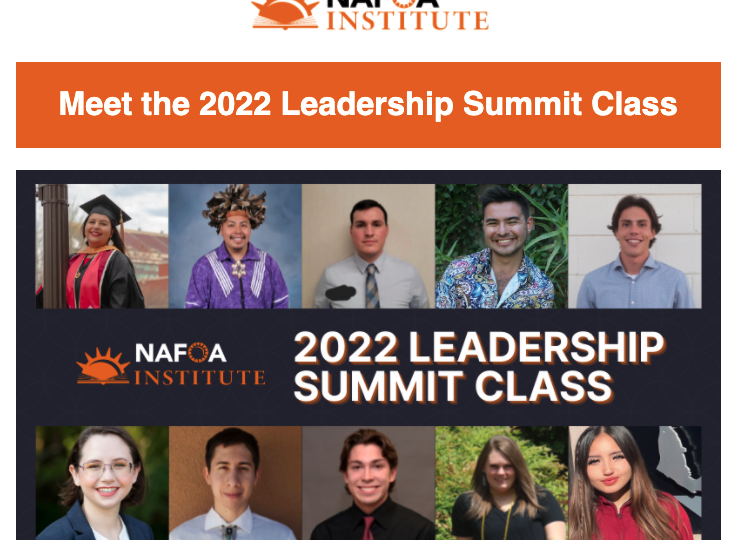 The NAFOA Leadership Summit is an opportunity for accepted young leaders to attend a full day of programming prior to NAFOA's 40th Annual Conference. Summit attendees learn directly from tribal leaders and business professionals during a full day of programming that provides panel discussions regarding graduate school, career advancement, along with business and tribal economic development topics. This year's class was selected based on their interest in tribal economic development, short essay responses, resume, academic and work experience, as well as participation in NAFOA's Career Basics Program.
NAFOA is pleased to welcome the 2022 Class, our largest one yet, to the fourth NAFOA Leadership Summit at the Hyatt Regency Seattle in Seattle, WA on Sunday, April 3, 2022.

Elizabeth Spencer, Pawnee Nation of Oklahoma (She/Her/Hers)
B.B.A., Management Information Systems, University of Oklahoma Wichita, KS

"I'm excited to connect with other professionals and hear about different financial resources available for myself, my community, and my tribe."

Tristen Flying Horse, Standing Rock Sioux Tribe (He/Him/His)
B.A., Business Administration, Sitting Bull College McLaughlin, SD
"I am most excited about the learning opportunities. I have been finding it very difficult to teach my self the complex dynamics of federal, tribal, and state laws. I think this Summit will give me the necessary training to advance my current knowledge."

Rory Wheeler, Seneca Nation (He/Him/His)
B.A., Political Science/Pre-Law, Niagara University
Seneca Nation Cattaraugus Territory, Irving, NY
"I am excited to be networking, learning first hand from professionals in the field of economics, law, and business development at the NAFOA Leadership Summit."

Will Paisley, Navajo, Blackfeet (He/They/Them)
M.A., Policy, Organization, and Leadership Studies,, Stanford University Lake Tapps, WA
"I am most excited to be meeting like-minded Native youth and networking with them."

Smith Briggs, Rincon Band of Luiseño Indians (He/Him/His)
B.S., Finance, Point Loma Nazarene University
Auburn, CA
"I am most excited for the people that I am going to meet, the conversations I will have, and the connections that I will foster."

Rachel Watson, Citizen Potawatomi Nation (They/Them, Ey/Em)
M.S.Ed, Education, Culture and Society, University of Pennsylvania
Oklahoma City, OK
"I'm excited to meet and network with other Native peers and professionals in more advanced stages of their careers, learn more about the financial aspects of tribal sovereignty work, and look for ways to integrate decolonization with nitty-gritty projects like energy and infrastructure."

Aaron Eyachabbe, Chickasaw Nation (He/Him/His)
B.B.A., Management Information Systems & Operations Management, The University of New Mexico
Kellyville, OK / Norman, OK
"I am excited for all the networking that this Summit will have to offer. For sure, I will be able to make many connections that expand my knowledge in how to support tribes economically and spiritually. Since this will be my first time attending an event for NAFOA, the overall experience is what I am looking forward to the most and see what this organization is about."

Kyler McGillis, Turtle Mountain Band of Chippewa Indians (He/Him/His)
B.B.A., Marketing & Management, University of Jamestown
Belcourt, ND
"I am most excited about connecting with like-minded Native American Leaders of all ages at the Leadership Summit. I believe there is a high importance in creating a network of relationships. I am looking forward to finding out more about current issues impacting tribal economies."

Jaycee McLean, Choctaw Nation of Oklahoma (She/Her/Hers)
M.B.A., Southeastern Oklahoma State University Durant, OK
"I am excited to learn everything that the Leadership Summit has to offer. I am also excited to grow my network."  

Jalaney Suppah, The Confederated Tribes of Warm Springs (She/Her/Hers)
Warm Springs, OR"What excites me the most is just this opportunity in general! I am so thankful to even be able to go. I cannot wait to learn as much as I can and add tools to my professional toolbelt. I am also super ecstatic to meet like-minded young professionals who I can also learn from and create friendships."
Thank You to Our Leadership Summit Donors
Meet these young leaders at the 40th Annual NAFOA Conference on April 4-5 at the Hyatt Regency Seattle in Seattle, WA.

For more information about the conference, click here.