"Building Advocates to Heal Our Community"
About The UNITY Midyear Conference
The UNITY Midyear Conference is a three-day youth-led annual event held every February in Phoenix-metro, Arizona designed to empower Native youth and adults. About 500 youth and advisors safely attended the last in-person conference in 2020. The UNITY Midyear Conference is training focused and provides an opportunity for male and female reps of the National UNITY Council to meet to discuss its annual initiative.UNITY Trainers and peer leaders have utilized a proven UNITY YOUth Can! curriculum to challenge youth and advisors to come up with youth-led community service projects as a way to address social issues in their communities.
Action plans can help guide people and groups, including youth councils, on what it takes to complete a project, task, initiative or strategy. The YOUth Can! curriculum involves 10 steps, allowing participants to determine objectives, goals, review milestones, measure progress, as well as responsibilities, specific assignments, and a timeline. Action plans are an important part of strategic planning. In this period of social distancing, youth can still develop Action Plans through video conferencing or conference calls.
Affiliated Youth Councils and individual members are eligible for registration discounts. Become a member today!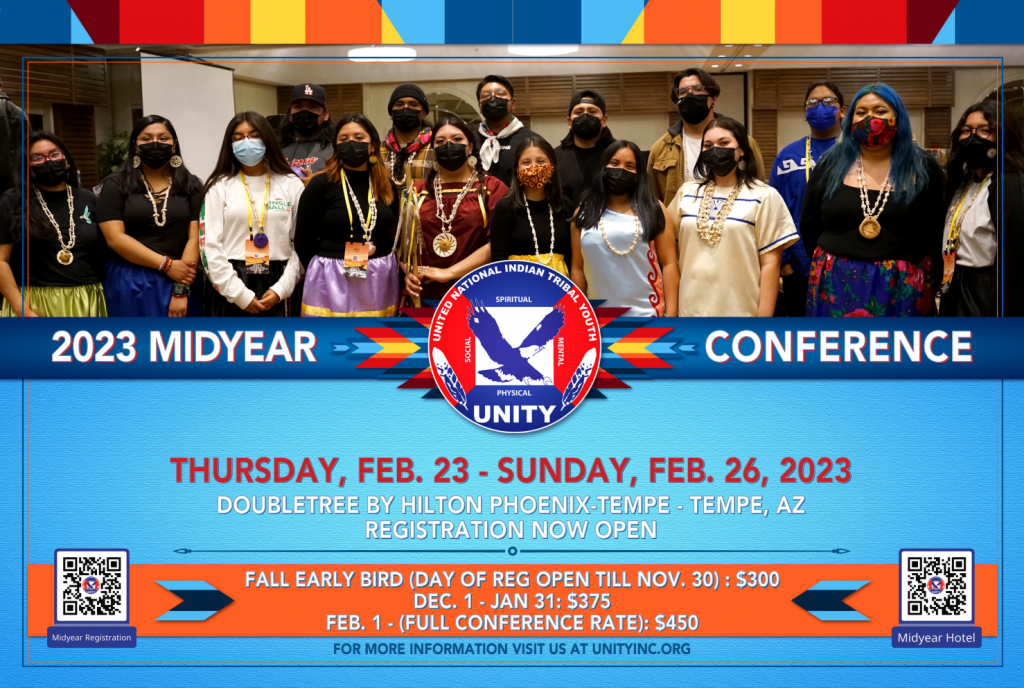 February 1 through onsite registration: $450 full rate
UNITY Announces Speakers for the
Annual Midyear Leadership Conference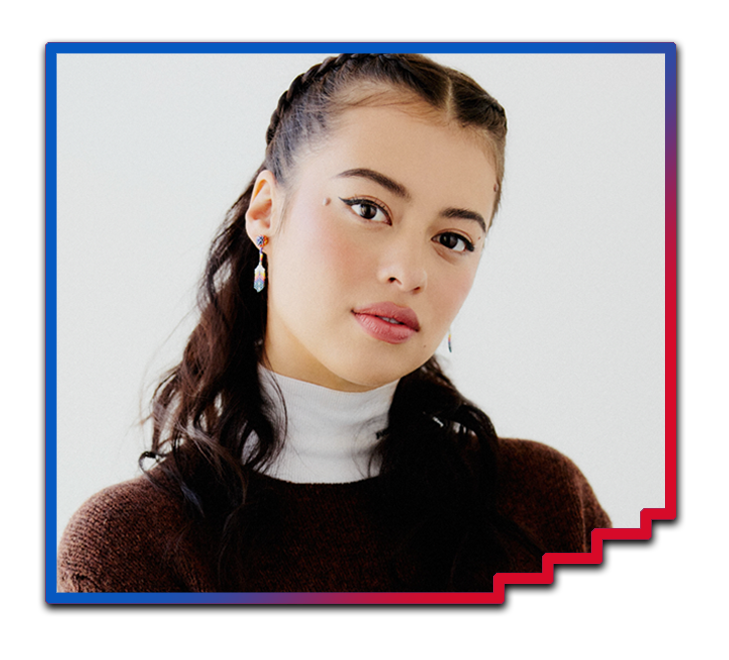 Amber Midthunder, an enrolled member in the Fort Peck Sioux tribe, was recently named one of Variety's 10 Actors to Watch for her critically acclaimed performance as the star in "PREY," the prequel to the "Predator" franchise. She is one of a handful of Native Americans in the industry and one of the first to lead a franchise film. Next up, she will be seen in Netflix's live-action "Avatar: The Last Airbender" as Princess Yue, the compassionate spiritual leader of the Northern Water Tribe. After uncovering a love for acting at a very young age, Midthunder began her onscreen career early in life. Her first speaking role was at the age of nine opposite Alan Arkin in the indie hit "Sunshine Cleaning." Her philanthropic efforts focus on industry representation, environmentalism, and the humane treatment of animals.
James W. Anderson, an enrolled member of the Lac Courte Oreilles Ojibwe, is one of the nation's leading authorities on peak performance and personal development. Over his 20 years of leadership development, he has worked with businesses, tribal organizations, universities, and high schools sharing the skills it takes to succeed in today's world. The Oprah Winfrey Show featured James' Training company, LifeSkills Center. He has been named twice one of the 40 Outstanding Native Americans in Business under age 40 by the National Center for American Indian Enterprise Development. He owns and operates the award-winning Old Southern BBQ restaurants in Minnesota and Wisconsin. Old Southern BBQ has been named one of the 20 BEST BBQ Restaurants in the country by the BBQ News.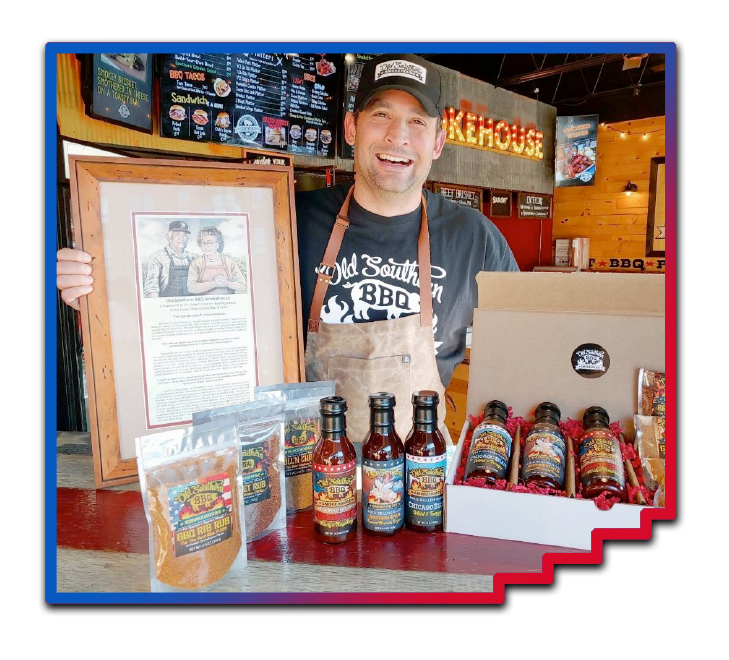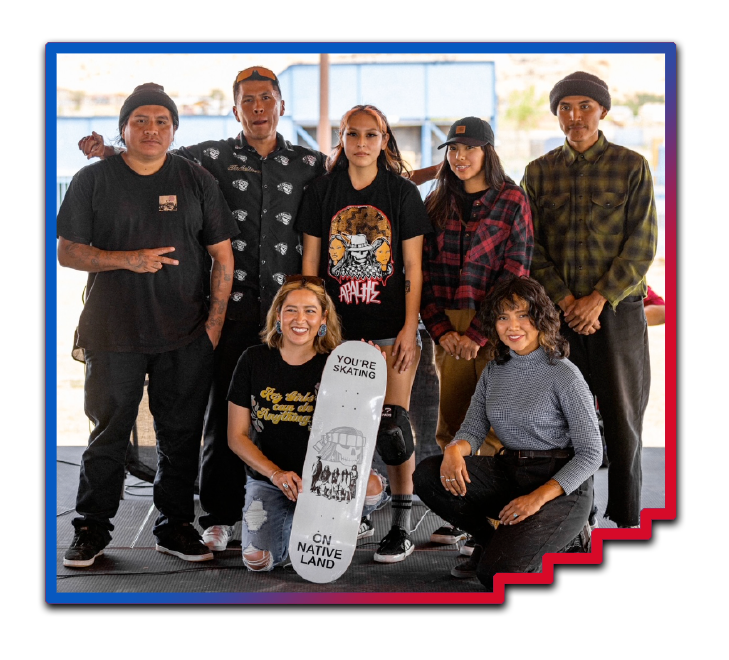 Apache Skateboards has for over 20 years been the longest-established Native skateboard brand in America. Hailing from San Carlos, AZ, Douglas Miles Sr., and Douglas Miles Jr. with the Apache Skate Team created a skate brand with art that all Native kids youth can be proud of. The father and son team, who were recently featured on the Today Show, work continually in film, photography, fine art, skateboarding, murals, multimedia projects, community projects, skate park planning, skateboard events, apparel design, television, film, youth conferences, and speaking engagements.
Angelique Midthunder, began her career in casting in the mid-1990s after working internationally as an actress. She found more intrigue in the casting process than being in front of the camera. In addition to casting every character type, Angelique has developed a special niche for casting Indigenous roles and has become the foremost authority on preserving the authenticity and cultural integrity in front of the camera. She has been nominated for an Emmy and two Artios awards, most recently for her work on "Reservation Dogs." She is also known for her work on "Rutherford Falls," and is currently casting "Rez Ball," a Netflix feature film helmed by Sydney Freeland and Sterlin Harjo.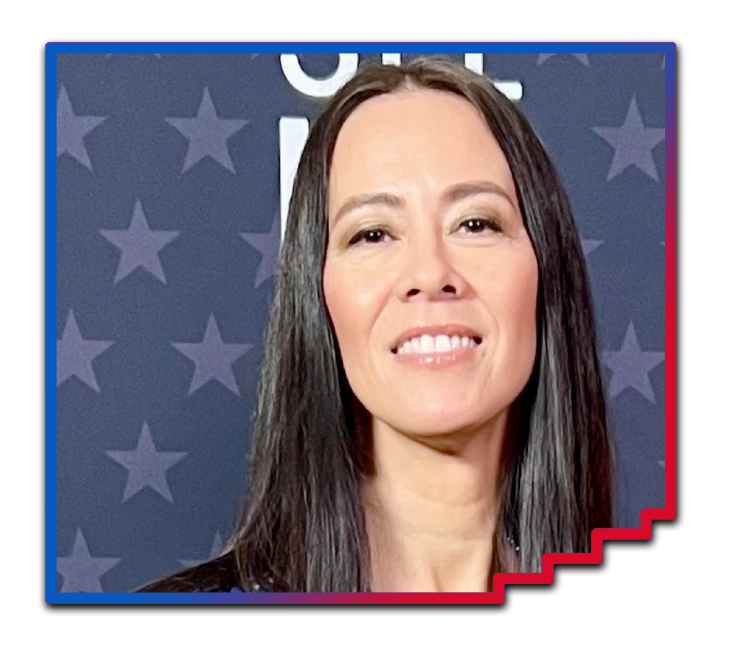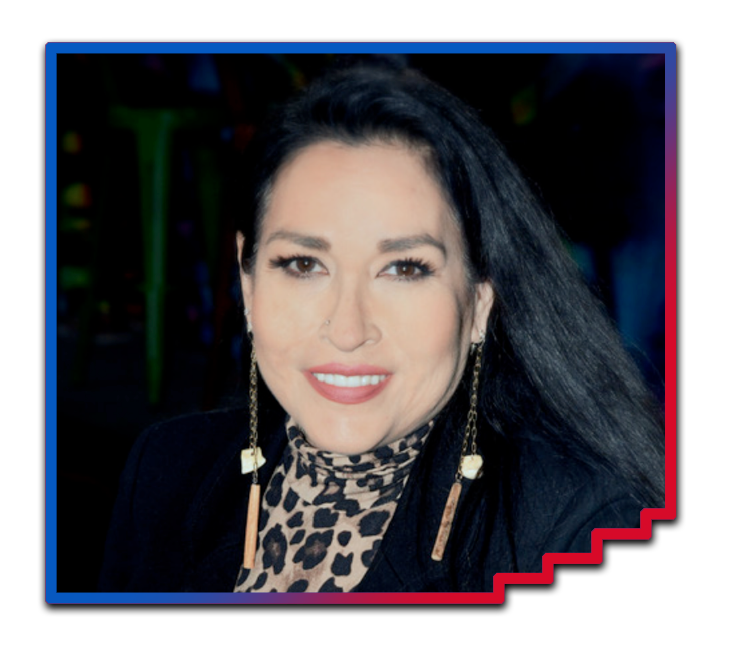 Jhane Myers, a member of the Comanche Nation, is an Emmy award-winning filmmaker and Sundance Alumni recognized for her passion and dedication to films surrounding the Comanche and Blackfeet nations and preserving the legacies of the Native communities. After working with non-Native created projects about Native people, Myers began to seek out a producing career to support Native filmmakers and storytellers to help bring their stories to fruition. She served as the film project manager and special projects director at the Museum of Indian Arts & Culture in Santa Fe, New Mexico, where she also developed a Native Youth Film Camp, and as the project manager for Native Cinema Showcase in Santa Fe and the SWAIA Class X division, both of which feature juried competitions for Native filmmakers and screenings of new Native films. Previously she served as the executive director of the American Indian National Center for Television and Film in Los Angeles, working to increase the representation and visibility of American Indian talent in all aspects of the entertainment industry.
Hailing from the Penneduckah (sugar eater) and Yappaducah (root eater) bands of the Comanche Nation in Oklahoma, Myers has achieved recognition as a world champion Women's Southern Buckskin dancer. She is also an accomplished artist specializing in traditional arts, beadwork, and silversmithing and is a two-time People's Fund Fellow for Culture Capital 2014.
UNITY Announces Trainers for the
Annual Midyear Leadership Conference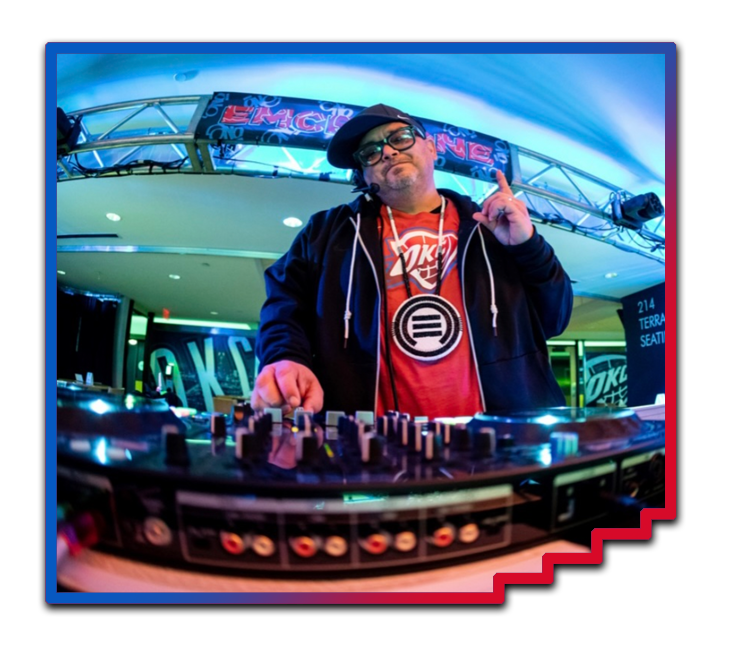 Marcus Anthony Guinn (emcee one)
Official DJ for Oklahoma City Thunder NBA / Nike N7
Owner /Artist at Hundredfold – One Innertainment &
President One Innertainment Inc., a nonprofit that allows emcee one to leverage his story in entertainment, to offer hope to youth & communities everywhere.
Youth Advocate, SAHMSA Facilitator / Keynote Speaker / DJ / Audio Tech.
For more than 20 years Chance Rush has served as a motivational speaker and trainer for tribal organizations and communities. He also serves as a Master of Ceremonies for national events throughout the country. Chance is the founder and executive director of 501(c)3, Our Native Men, Inc. and owner of Cloudboy Consulting, LLC. Chance lives a healthy lifestyle and promotes fitness, education, and spirituality. Chance is an enrolled member of the Three Affiliated Tribes (Hidatsa). He's also Dakota, Arapaho, Oneida, and Otoe. He's a graduate of Haskell Indian Nations University and received his Bachelor's Degree in Social Work from Oklahoma Baptist University. Chance serves as a Life and Health Coach, Personal Trainer and is a licensed ordained Pastor. He is an NAIA National Champion and 4 Time All American (Track & Field).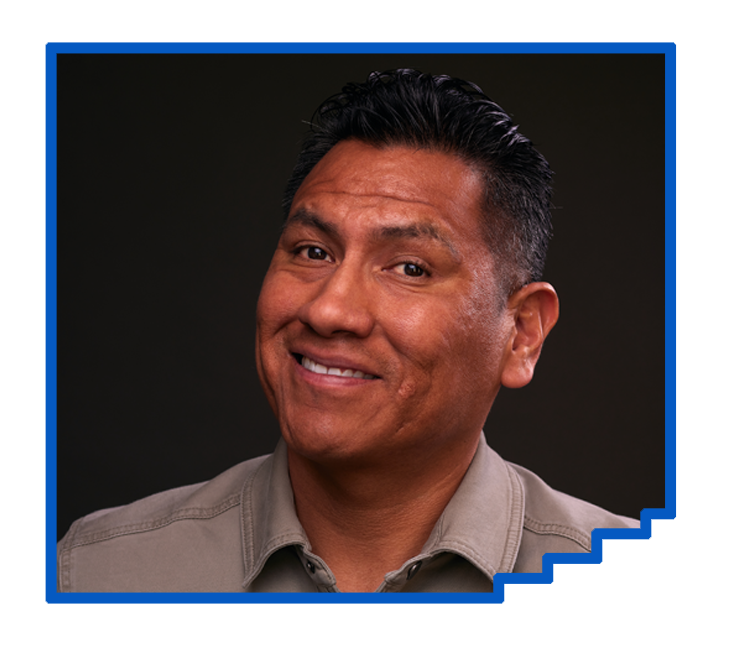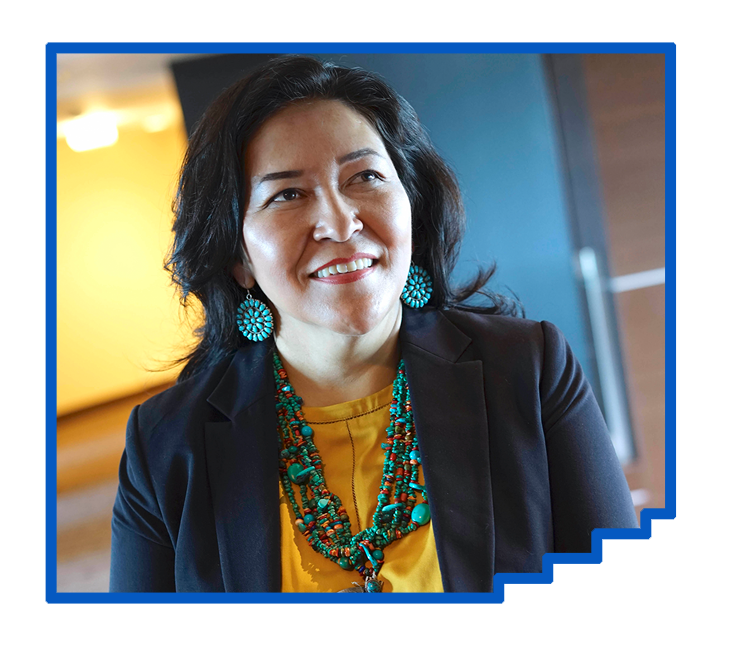 Pearl Yellowman is a member of the Navajo Nation and is now a full-time Trainer focusing on Youth Development, Community Development, Government Development, and Executive Leadership Trainings.
Pearl Yellowman was appointed by Navajo Nation President Johnathan Nez and Vice-President Myron Lizer on January 15, 2019, as the Executive Director of the Division of Community Development. The Division of Community Development is comprised of the Capital Project Management Department, which has the responsibility and authority to oversee all Residential and Commercial Capital Outlay projects on behalf of the Navajo Nation. The Community Housing Infrastructure Department has the responsibility and authority to advance Housing, Housing Renovations, and Maintenance for residential housing throughout the Navajo Nation. The Administrative Service Department has the responsibility and authority to provide technical support and administrative provisions to the 110 Navajo Nation Chapter Governances. Lastly, the DCD includes Rural Addressing Authority which is responsible for addressing the Navajo Nation. As Executive Director and Cabinet member, Pearl advises President Jonathan Nez on policy matters and fiduciary concerns impacting the Navajo people.
Most recently, Pearl was tasked to mobilize and coordinate the American Rescue Plan Act Team for the Navajo Nation. This task involved coordination between the Legislative Branch, Judicial Branch and Executive Branch of the Navajo Nation, along with State and Federal entities.
Pearl's recent appointment to serve as Cabinet member for the Nez/Lizer administration has provided her with opportunities to negotiate policy positions for the best interest of the population served. Pearl exercised advocacy, eloquence and articulation when strengthening partnerships with Tribal, State, and Federal entities.
Most importantly, this appointment has made Pearl aware of the inequities of daily infrastructure and the basic needs to the Navajo people. This position has allowed for a better understanding in delivering Infrastructure such as Water, Electricity, Housing, and Road Improvements to the Navajo people. Further, this appointment provided her with the platform to advocate for equality in Education, Health, Housing and Employment for the Navajo people.
Pearl earned a Bachelor's Degree in Social Work, a Master's Degree in Educational Leadership, a second Master's Degree in Counseling Education, and a Doctorate of Education in Educational Leadership from the University of Montana, in the Educational Leadership program focusing on Leadership and Higher Education. Pearl is a mother of three young adults, Mylan, Megan, and Mikayla. Pearl resides in Window Rock, AZ. Her traditional teachings include the Ho'zho' which translates into the Navajo Beauty Way.
Peer Trainer:
Audriana Adzaan Mitchell is Navajo and Southern Cheyenne and is an enrolled member of the Colorado River Indian Tribes of Arizona. Audri has had many leadership opportunities that has helped her get to where she is today, including reigning as Miss Colorado River Indian Tribes 2018-2019 and the following year as Miss Indian Arizona 2019-2020. One of her passions is to be an ambassador for Native youth. Audri enjoys working with Native youth and showing them there are many ways in which they can help their communities. In the future, Audri would like to travel to different tribal communities to meet with the youth and engage them in fun activities to help gain interest in serving their communities.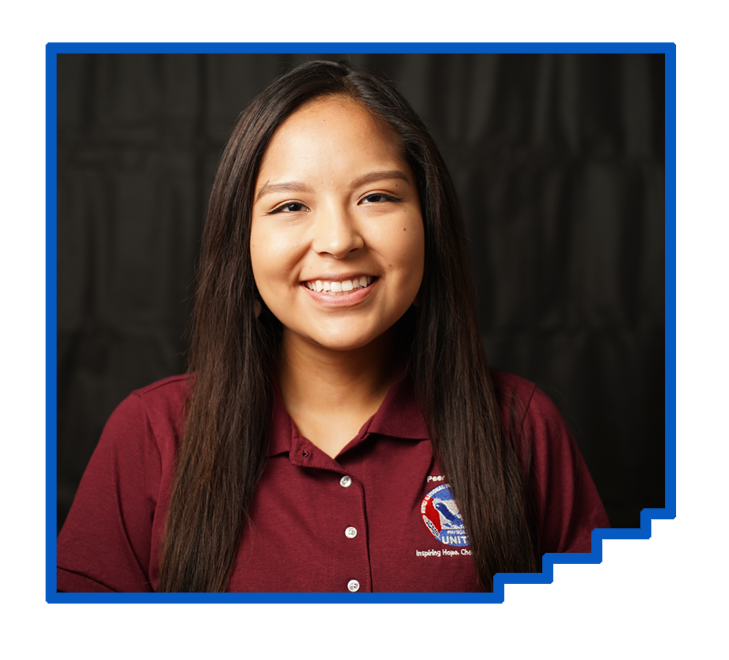 DoubleTree by Hilton Hotel Phoenix Tempe
2100 South Priest Drive Tempe, Arizona 85282 USA | Phone: (866) 568-0896
Conference Hotel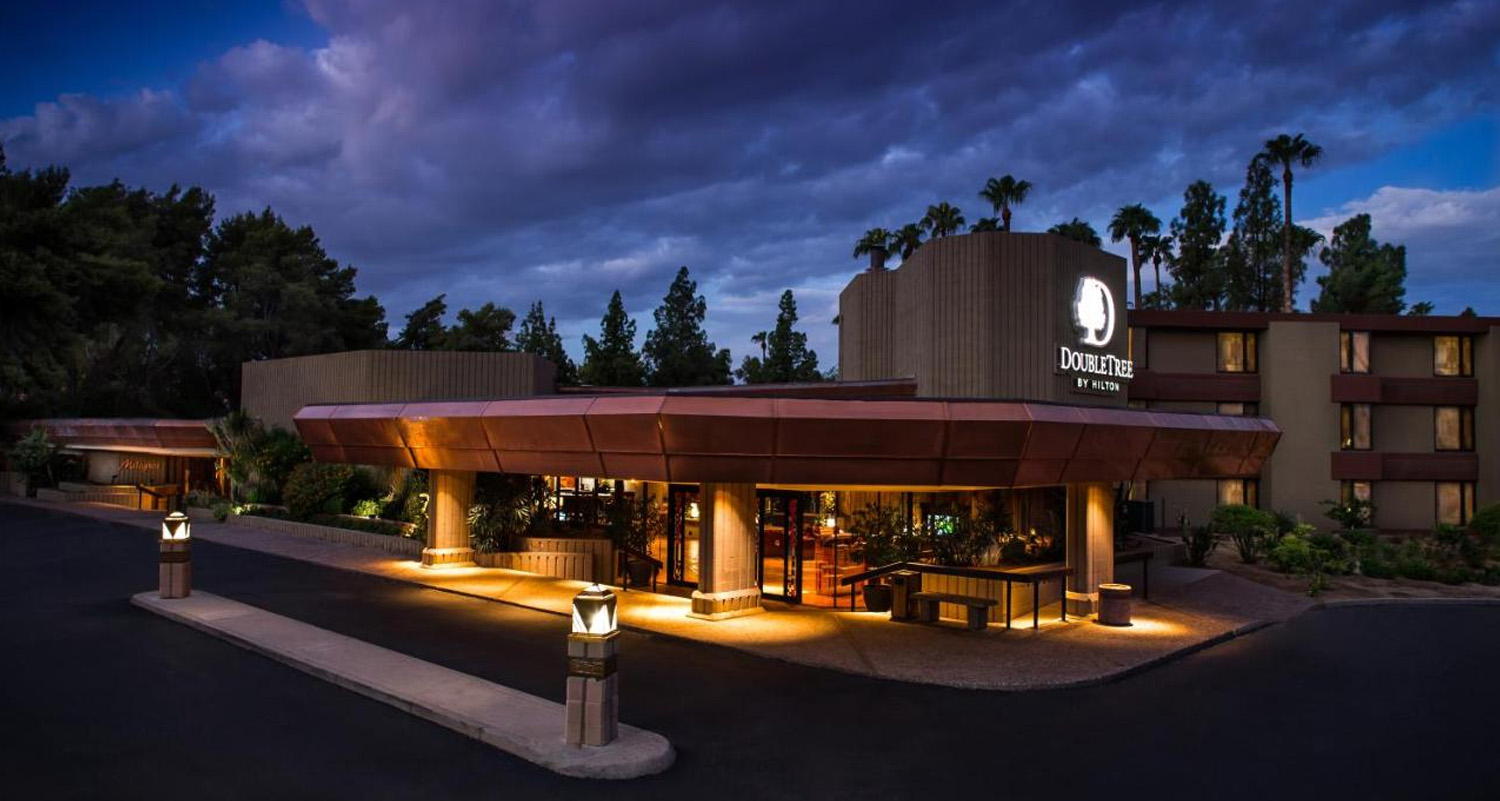 We're off I-10, two miles from Arizona State University, Tempe campus. Catch the LA Angels during spring training at Diablo Stadium, and explore Mill Avenue shopping district, both within 10 minutes. Every stay starts with a warm DoubleTree cookie, and we have a 24-hour airport shuttle, heated outdoor pool, and 24-hour fitness center.
Remember to mention "UNITY" when booking your hotel to take advantage of discounted rates
Exhibitors - Your involvement will enhance the experience for attendees!
Thursday, February 23 - Sunday, February 26, 2023
Package Rates
Exhibitor $400.00
Conference Bag Stuffing $250
Bag Stuffing Includes:
⟐ Limited to 10 per conference
⟐ Informational Items (brochures, flyers, booklets, etc.)
⟐ Promotional Items (pens, hand sanitizer, note pads, etc.)
Each Exhibitor/Vendor Booth Will Include

⟐ One (1) 6-ft table
⟐ Two (2) Chairs-ft table
⟐ Two (2) non-transferable registrations

Outreach Opportunity
⟐ Meet up to 500 Native Youth, ages 14-24 and their adult advisor
⟐ College & Career Day – Saturday
⟐ Speed workshop presentations
⟐ All day and evening activities
⟐ Cultural Sharing Night open to the community and public
Set up information and schedule coming soon.
Featured Events
Communications Camp is CLOSED
UNITY will be hosting two Round Dances this year.
On Friday, February 24, at 8 pm, the four O'odham sister tribes will host a Round Dance. More details to follow.
On Saturday, February 25, at 7 pm, a northern style Round Dance will be featured.
Past UNITY Midyear Conference Videos