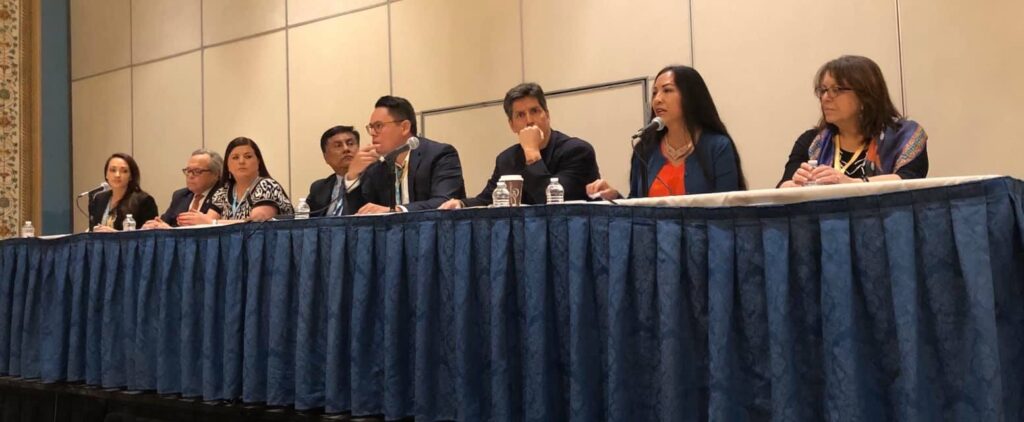 "It's always an honor to be invited to promote UNITY at national events," said Mary Kim Titla, UNITY's Executive Director, who participated in a panel presentation at the Reservation Economic Summit (RES) hosted by the National Center for American Indian Enterprise Development. RES provides networking and business development sessions centered around building opportunities with and for American Indian Enterprises (NCAIED). UNITY and the NCAIED have partnered in the past to offer a Youth Economic Summit (YES!) and in 2019 offered a Business Plan competition with a grand prize of $1,500.00.
At RES, Titla discussed UNITY's mission and how it, through impactful youth programming, inspires hope and changes lives. The panel included representatives from other leading national organizations representing Native communities, large enterprises, small businesses and entrepreneurs. Organizations represented included the American Indian Science and Engineering Society (AISES), the American Indian College Fund, and American Indian Business Leaders (AIBL). Panelists were asked to share their respective policy agendas and mutual initiatives to advance business, economic and community development and investment interests in Indian Country and opportunities in domestic and international markets.
UNITY also had a presence at the RES Trade Show, which was manned by Fund Development Manager Greg Mendoza. Thanks to all for stopping by to learn more about UNITY!