The UNITY National Conference
The National UNITY Conference is an impactful five-day youth-led annual event held every July in a pre-selected region of the U.S. About 2,500 Native youth and advisors are expected to attend the 2022 in Minneapolis, Minnesota (July 8 – 12). The National UNITY Conference complete with general sessions, regional caucuses, workshops, career/education fair, and fun evening activities provides hands-on leadership development activities and where the National UNITY Council conducts elections and its annual business meeting. The national conference is a place where Native youth voice is encouraged and valued. All activities are planned with safety in mind.
In addition, UNITY offers unique youth programming through its UNITY Fire and UNITY Drum. The UNITY Fire, which burns 24-7 during the annual conference and led by alumni fire keepers, is used for social and prayer purposes and has provided conference attendees an opportunity for support, healing and spiritual nourishment. The fire is meant for all beliefs and religions to share their "Good Medicine" with other participants. The UNITY Drum, also led by alumni, is an open drum with roots in the southern style of powwow singing. All youth singers are encouraged to bring their drumsticks to join in. While youth leaders meet, advisors and adults who work with youth are also involved in intense training and networking activities. Adult training may include building rapport, peer-to-peer sharing, conflict resolution, approaches to youth work, and more.

Affiliated Youth Councils and individual members are eligible for registration discounts. Become a member today!
National Conference Agenda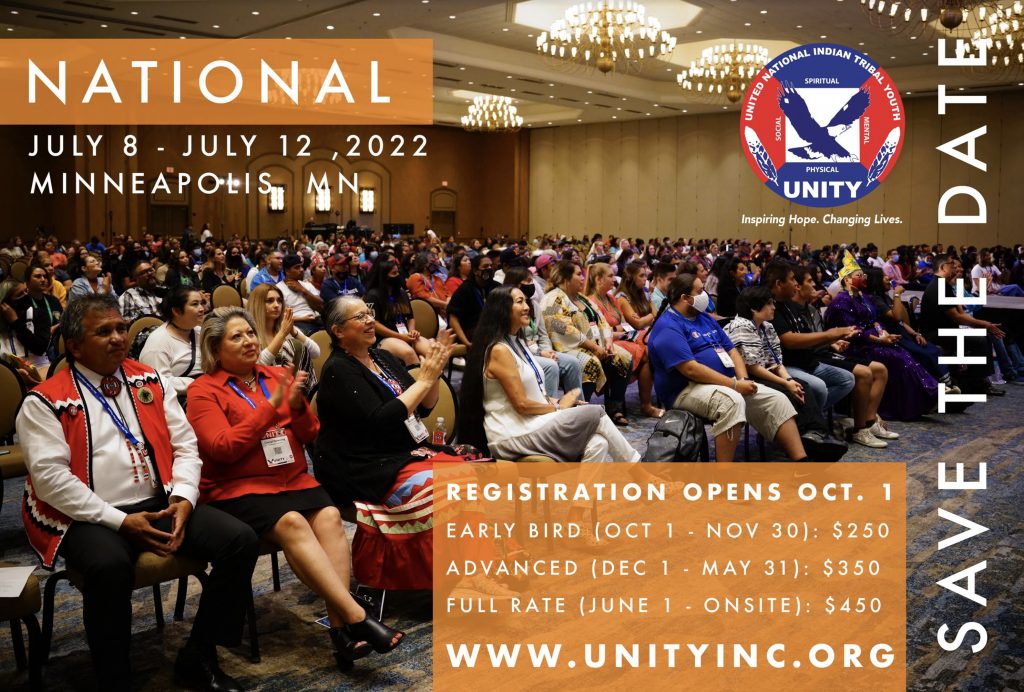 Early Bird (Oct – Nov 30): $250
Advanced (Dec 1 – May 31): $350
Full Rate (Jun 1 – Onsite): $450
Featured Speakers
Line up coming soon!
Hilton Minneapolis
1001 Marquette Avenue South
Minneapolis, MN 55403, US
1-800-HILTONS
Remember to mention "UNITY" when booking your hotel to take advantage of discounted rates
Exhibitors - UNITY Is all about providing resources and opportunities to Native Youth!
July 8-12 Minneapolis, Minnesota
Package Rates
Tribal/Tribal Enterprise, Non-Profit (4-days) – $750.00
Government, Corporation, Education (4-days) – $1,250.00
Education and Career Fair Expo Exhibitor (1-day) – $300.00
Bag stuffing – $500
Bag Stuffing Includes:
⟐

Limited to 10 per conference           


⟐

Informational Items (brochures, flyers, booklets, etc.)


⟐

Promotional Items   (pens, hand sanitizer, note pads, etc.)
For more information please contact Tami Patterson

t.patterson@unityinc.org



Each Exhibitor/Vendor Booth Will Include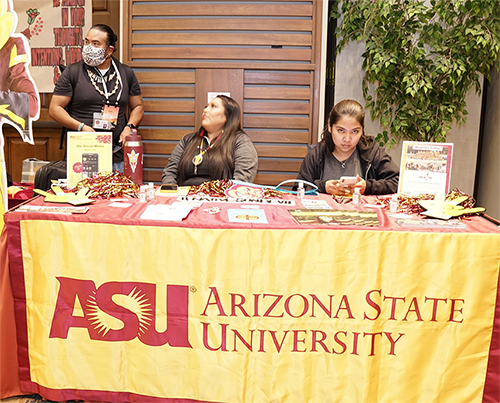 ⟐

10'x10' booth space with Pipe and Drape: 8' high back wall drape, 3' high side drape


⟐

One (1) 8' draped table


⟐

Two (2) side chairs


⟐

One (1) 7" x 44" booth identification sign



Outreach Opportunity
⟐

Meet up to 1,800 Native Youth, ages 14-24 and their adult advisors


⟐

Education and Career Expo


⟐

Workshop presentation opportunity 


⟐

Day and evening activities 


⟐

Cultural Sharing Night open to the community and public 



Set up information and schedule coming soon.
Workshops
Thank you for your interest in conducting a speed workshop at the 2021 National UNITY Conference in Minneapolis, MN.
Submissions are now open for workshops for United National Indian Tribal Youth's (UNITY) National Leadership Conference, July 8-12, 2022, in Minneapolis. In addition, early bird conference registration offered at a discounted rate is available through May 31.
Presenters will have 45 minutes to present on a specific topic with a 15-minute break in between sessions. There will be seven rounds of the presentations between two days, giving attendees the opportunity to explore their preferred workshops. Past topics have included higher education, politics, and leadership, using the arts as a means of retaining culture, environmental issues confronting tribal communities, wellness programs, and others.
This format of workshops is meant to engage Native youth participants and to learn in a safe and positive environment. UNITY encourages potential presenters to be fun and creative with their submissions and topics.
Registration dates and prices to attend the National Conference are as follows:
Through May 31, 2022: $350 advance registration
June 1 through onsite registration: $450 full rate
Sponsorship Opportunties
Conference program advertisements are due no later than Friday, June 10, 2022.
Video/commercial submissions are due no later than Wednesday, June 15, 2022
Info
Important dates to remember and information is being gathered and will be placed here soon.
Past UNITY Conference Videos