"Healing the Spirit of Native Youth"
About The UNITY National Conference
The National UNITY Conference is an impactful five-day youth-led annual event held every July in a pre-selected region of the U.S. About 2,500 Native youth and advisors are expected to attend the 2023 National UNITY Conference in Washington, DC (June 30 –July 4). The National UNITY Conference complete with general sessions, regional caucuses, workshops, career/education fair, and fun evening activities provides hands-on leadership development activities and where the National UNITY Council conducts elections and its annual business meeting. The national conference is a place where Native youth voice is encouraged and valued. All activities are planned with safety in mind.In addition, UNITY offers unique youth programming through its UNITY Fire and UNITY Drum. The UNITY Fire, which burns 24-7 during the annual conference and led by alumni fire keepers, is used for social and prayer purposes and has provided conference attendees an opportunity for support, healing and spiritual nourishment. The fire is meant for all beliefs and religions to share their "Good Medicine" with other participants. The UNITY Drum, also led by alumni, is an open drum with roots in the southern style of powwow singing. All youth singers are encouraged to bring their drumsticks to join in. While youth leaders meet, advisors and adults who work with youth are also involved in intense training and networking activities. Adult training may include building rapport, peer-to-peer sharing, conflict resolution, approaches to youth work, and more.

Affiliated Youth Councils and individual members are eligible for registration discounts. Become a member today!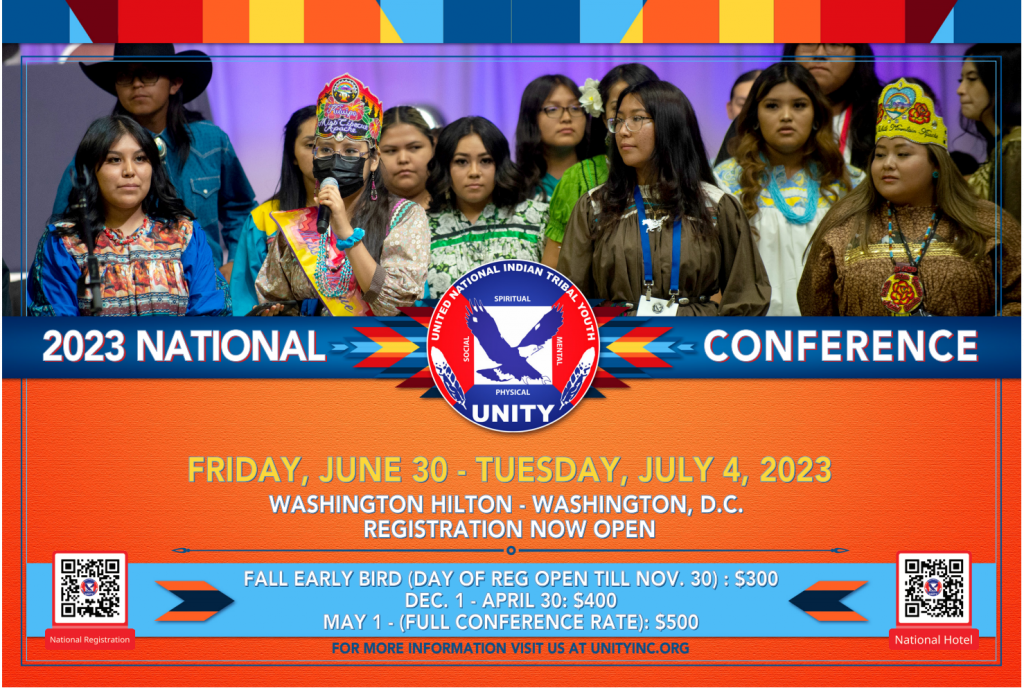 MAY 1 –  (FULL CONFERENCE RATE): $500

UNITY Announces Speakers for the
Annual National Leadership Conference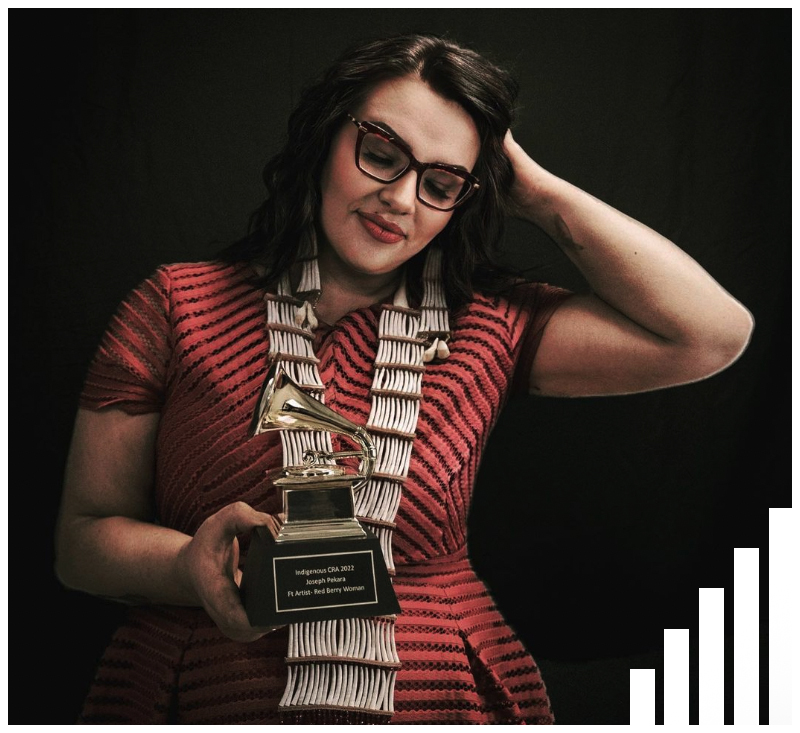 Norma Baker-Flying Horse
As a featured guest presenter at UNITY's Annual Gala Fashion Show for over three years, we celebrate this Grammy award-winning Hidatsa, Dakota Sioux, and Assiniboine Woman. "Norma joins the ranks among some of Indian Country's most renowned artists. Her work is high in demand from many of Indian Country's dignitaries regularly making appearances on the red carpet or at some of the most prestigious events celebrating Native people." said Native Max Magazine. Learn more about the Red Berry Woman Designs and her journey to the runway. (photo by @pharaoh171photography) UNITY looks forward to working with Norma in the Future!

NDN Girls Book Club is an organization founded by Diné writer Kinsale Drake that is dedicated to uplifting Indigenous authors, promoting Indigenous literature, supporting young Indigenous writers, and centering Indigenous booksellers and tribal libraries. The Book Club hosts free author talks, free workshop programming, and an extensive database of resources for emerging writers. It has been featured since its early 2023 launch in Teen Vogue, NPR, Indian Country Today, The Salt Lake Tribune, Yahoo's In the Know, and more.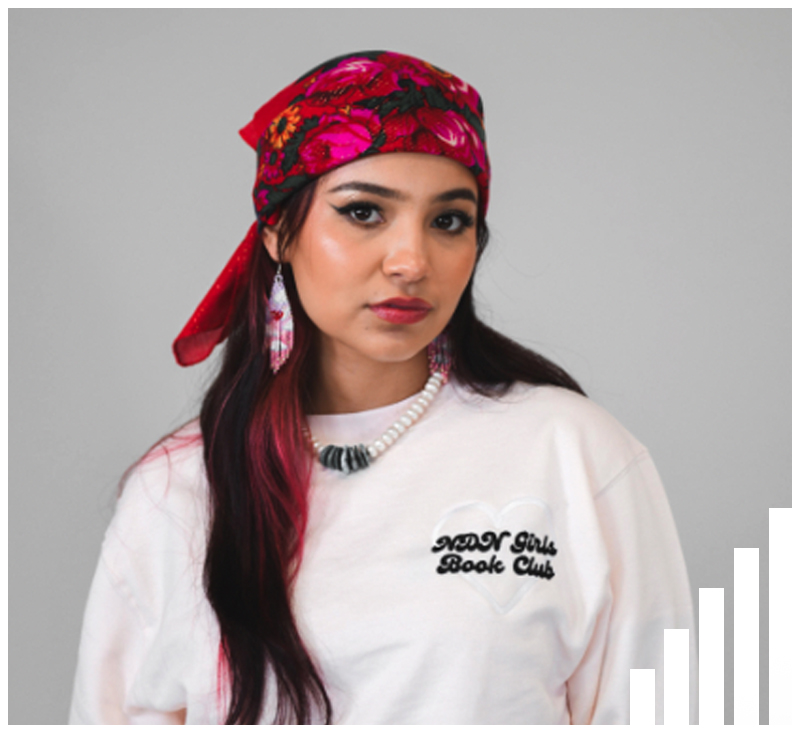 Kinsale Drake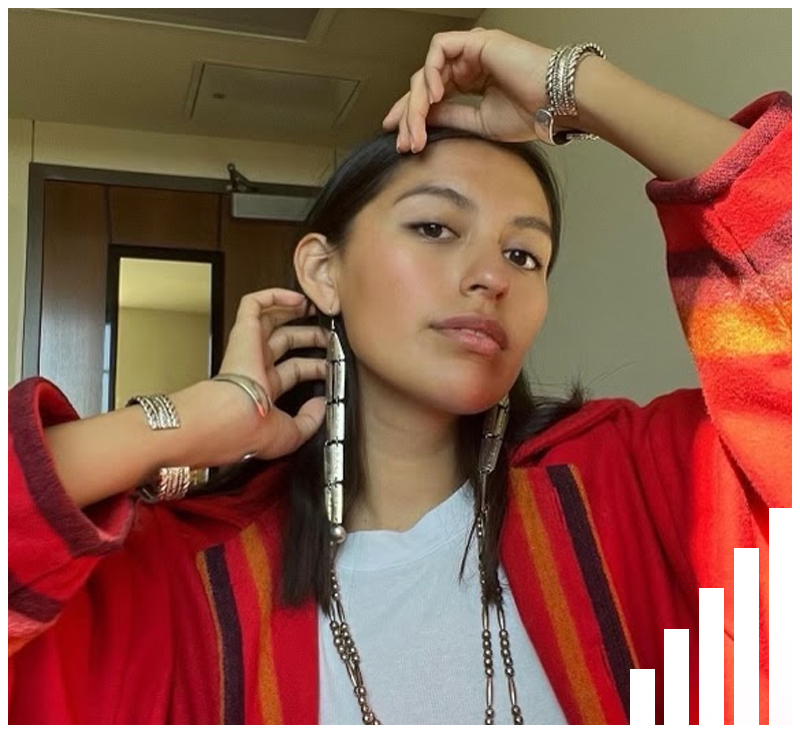 Lily Painter Brings Water
Lily Painter Brings Water, also known by her English name, Lily, is a 21 year old citizen of the Kiowa Tribe of Oklahoma and the Winnebago Tribe of Nebraska. She is a poet, writer, community and arts advocate, filmmaker, and was an inaugural Remembering Our Sisters Fellow with the Center for Native American Youth where she advocated nationally for MMIWG2S+ awareness and policy advancement. In 2023, she was the White House's first Native American Intern in the Domestic Policy Council and was named as one of Teen Vogue's 21 under 21. She is a UNITY 25 under 25 and the reigning 2023 Miss Indian Oklahoma. In her free time, she assists with graphic design for NDN Girls Book Club.

UNITY Announces Trainers for the
Annual National Leadership Conference
Hunter Genia, is Ojibwe and Odawa from Michigan (Mich-a-ga-ming) and has been involved with and a supporter for UNITY for several years. Hunter was a member of the first Earth Ambassadors circle. Hunter continues to advocate and utilize his knowledge to help strengthen Indigenous communities and organizations while promoting and protecting cultural and traditional lifeways. Hunter loves working with our tribal youth while opening doors to help each see and believe in the value of their own rezilience and potential. Hunter is an LMSW, and employed with Tribal Tech, LLC, an Indigenous woman owned company from Alexandria, VA.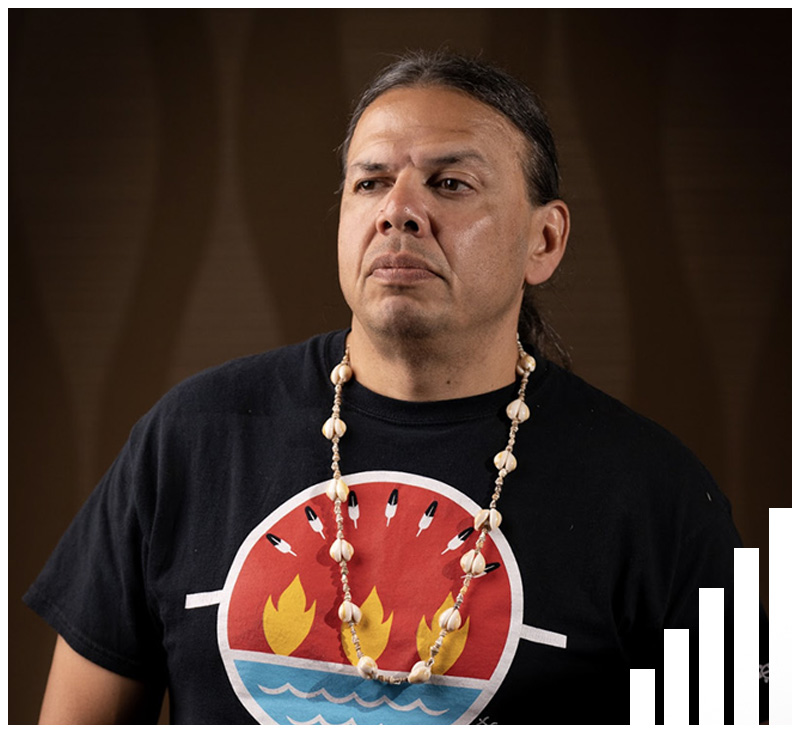 Hunter Genia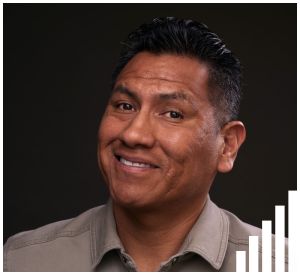 Chance Rush
For more than 20 years Chance Rush has served as a motivational speaker and trainer for tribal organizations and communities. He also serves as a Master of Ceremonies for national events throughout the country. Chance is the founder and executive director of 501(c)3, Our Native Men, Inc. and owner of Cloudboy Consulting, LLC. Chance lives a healthy lifestyle and promotes fitness, education, and spirituality. Chance is an enrolled member of the Three Affiliated Tribes (Hidatsa). He's also Dakota, Arapaho, Oneida, and Otoe. He's a graduate of Haskell Indian Nations University and received his Bachelor's Degree in Social Work from Oklahoma Baptist University. Chance serves as a Life and Health Coach, Personal Trainer and is a licensed ordained Pastor. He is an NAIA National Champion and 4 Time All American (Track & Field).

I am an EMCEE, DJ, Youth Advocate, & National Speaker. I am currently an official DJ for Nike N7, International DJ/Tour Support for Taboo (The Black Eyed Peas), MTV Video Music Award Winner, a member of newly formed group #Mag7, CEO of One Innertainment Inc. & Co Founder of an outreach program called One Chance Leadership.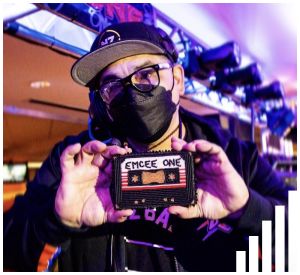 Emcee One
Pearl Yellowman is a member of the Navajo Nation and is now a full-time Trainer focusing on Youth Development, Community Development, Government Development, and Executive Leadership Trainings.
Pearl Yellowman was appointed by Navajo Nation President Johnathan Nez and Vice-President Myron Lizer on January 15, 2019, as the Executive Director of the Division of Community Development. The Division of Community Development is comprised of the Capital Project Management Department, which has the responsibility and authority to oversee all Residential and Commercial Capital Outlay projects on behalf of the Navajo Nation. The Community Housing Infrastructure Department has the responsibility and authority to advance Housing, Housing Renovations, and Maintenance for residential housing throughout the Navajo Nation. The Administrative Service Department has the responsibility and authority to provide technical support and administrative provisions to the 110 Navajo Nation Chapter Governances. Lastly, the DCD includes Rural Addressing Authority which is responsible for addressing the Navajo Nation. As Executive Director and Cabinet member, Pearl advises President Jonathan Nez on policy matters and fiduciary concerns impacting the Navajo people.
Most recently, Pearl was tasked to mobilize and coordinate the American Rescue Plan Act Team for the Navajo Nation. This task involved coordination between the Legislative Branch, Judicial Branch and Executive Branch of the Navajo Nation, along with State and Federal entities.
In 2019, Pearl was recommended by President Nez and selected by Governor Michelle Lujan-Grisham to serve on the New Mexico Tribal Infrastructure Board.
Pearl's recent appointment to serve as Cabinet member for the Nez/Lizer administration has provided her with opportunities to negotiate policy positions for the best interest of the population served. Pearl exercised advocacy, eloquence and articulation when strengthening partnerships with Tribal, State, and Federal entities.
Most importantly, this appointment has made Pearl aware of the inequities of daily infrastructure and the basic needs to the Navajo people. This position has allowed for a better understanding in delivering Infrastructure such as Water, Electricity, Housing, and Road Improvements to the Navajo people. Further, this appointment provided her with the platform to advocate for equality in Education, Health, Housing and Employment for the Navajo people.
Pearl earned a Bachelor's Degree in Social Work, a Master's Degree in Educational Leadership, a second Master's Degree in Counseling Education, and a Doctorate of Education in Educational Leadership from the University of Montana, in the Educational Leadership program focusing on Leadership and Higher Education. Pearl is a mother of three young adults, Mylan, Megan, and Mikayla. Pearl resides in Window Rock, AZ. Her traditional teachings include the Ho'zho' which translates into the Navajo Beauty Way.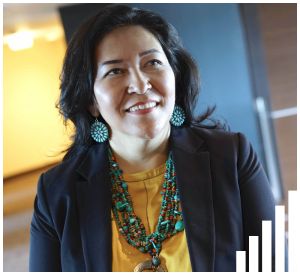 Pearl Yellowman
UNITY Conference Updates:
Are you wondering what to do with unused youth program funding for Fiscal Year 2023? UNITY is happy to work…
2023-24 National UNITY Council Executive Committee BIOGRAPHIES Jonathan Arakawa, UNITY Co-President Tribe: Lower Elwha Klallam, Washington Jonathan Arakawa is…
UNITY Concludes Successful National Conference in Washington, D.C. Highlights included prominent speakers and workshops, as well as the election of…
UNITY participants' and youth's safety and well-being are our utmost priority. As we prepare for this year's National UNITY Conference,…
Join UNITY for this free training for Native youth and the adults who serve them. Sign Up today to attend…
Have you ever had aspirations of walking the runway at a fashion show? Well, dream no further! UNITY will be…
Washington Hilton - Washington, D.C.
1919 Connecticut Ave NW, Washington, DC 20009 | Phone: (202) 483-3000
Remember to mention "UNITY" when booking your hotel to take advantage of discounted rates
Exhibitors - Your involvement will enhance the experience for attendees!
Friday, June 30 - Tuesday, July 4 2023
Package Rates
Exhibitor $400.00
Conference Bag Stuffing $250
Bag Stuffing Includes:
⟐ Limited to 10 per conference
⟐ Informational Items (brochures, flyers, booklets, etc.)
⟐ Promotional Items (pens, hand sanitizer, note pads, etc.)
Each Exhibitor/Vendor Booth Will Include

⟐ One (1) 6-ft table
⟐ Two (2) Chairs-ft table
⟐ Two (2) non-transferable registrations

Outreach Opportunity
⟐ Meet up to 500 Native Youth, ages 14-24 and their adult advisor
⟐ College & Career Day – Saturday
⟐ Speed workshop presentations
⟐ All day and evening activities
⟐ Cultural Sharing Night open to the community and public
Set up information and schedule coming soon.
Featured Events
Make Sure to take advantage of the Pre-Conference Activities. We encourage everyone to schedule meetings with your elected representatives on Thursday, June 29, before the Conference begins. Click below to learn more about the UNITY Communications Bootcamp, the Healing Circle training, and the Native Youth Empowerment Night. Plan early to make the most out of your conference experience.
Past UNITY National Conference Videos