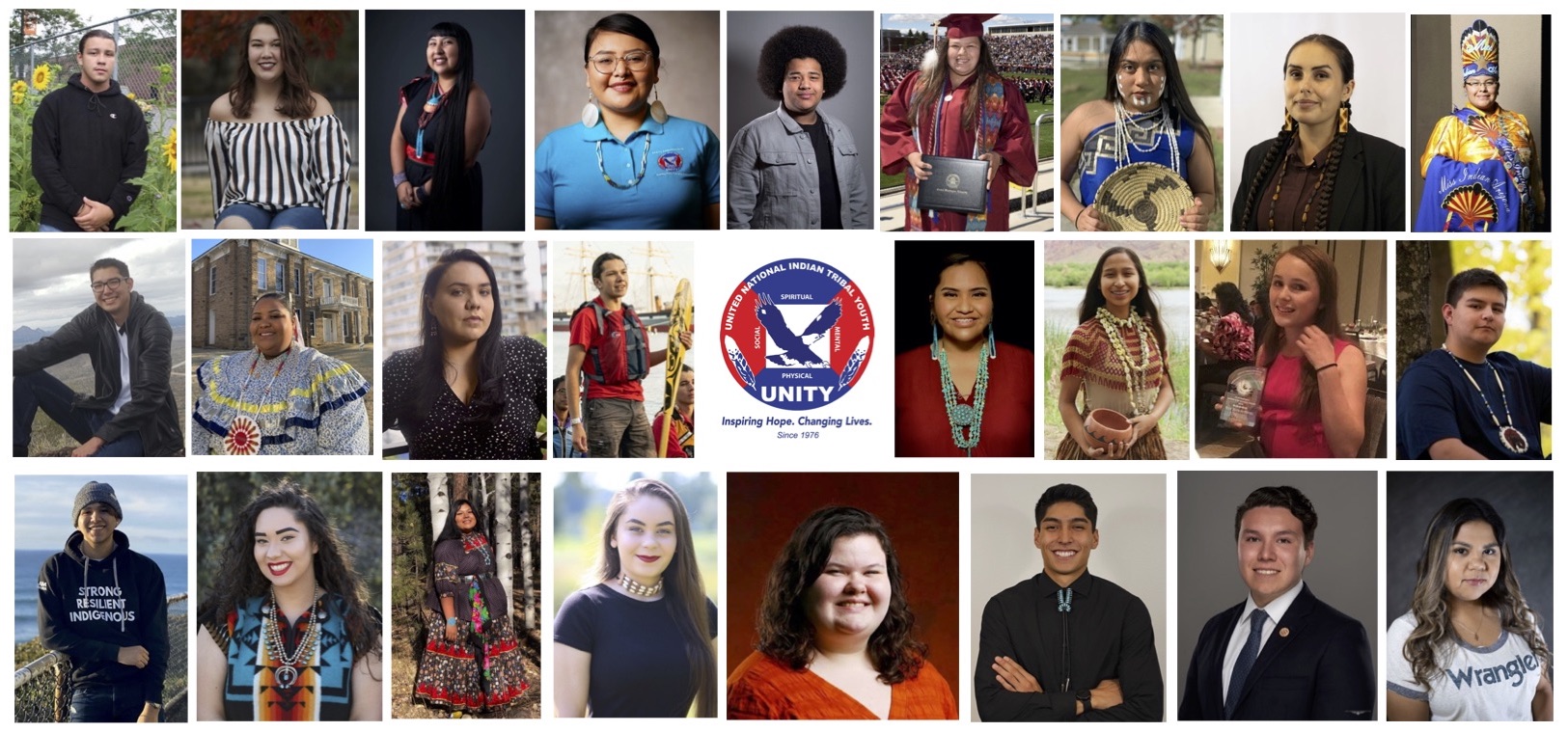 Mesa, AZ – May 1, 2020 — UNITY is pleased to announce the fourth class of its "25 under 25 Native Youth Leaders" national recognition program that honors Native American and Alaskan Native youth. The program, launched in 2014, recognizes and celebrates the achievements of 25 outstanding Native youth leaders under the age 25, every other year. These Native youth leaders exemplify UNITY's core mission and exudes living a balanced life developing their spiritual, mental, physical and social well-being.
"Our Native youth are doing wonderful work in Indian Country. UNITY's 25 Under 25 program is just one way of recognizing these young leaders and acknowledging the passion they have to better their communities. There was an amazing response from outstanding youth applicants across the nation. A big congrats to the honorees and we wish nothing but the best to all nominees," said Mary Kim Titla, Executive Director for UNITY.
Normally, the honorees are recognized at UNITY's national conference, but due to the current Coronavirus pandemic, the in-person conference has been cancelled. However, a virtual conference is now planned along with a 25 Under 25 recognition event. In addition to the recognition, honorees will have an opportunity over the next nine months to experience training and networking that will support their work and endeavors.
The 2020 class of 25 under 25 Native Youth Leaders are:
· Adrien Pochel, 18, Wuskwi Sipihk First Nations Cree, IL
· Alayna Harkreader, 19, Cherokee Nation, OK
· Alysia Coriz, 23, Kewa Pueblo, NM
· Angela Noah, 23, White Mountain Apache, OR
· Anthony, 20, Wuskwi Sipihk First Nations Cree & Sicangu Lakota, IL
· Autumn Adams, 23, Yakama Nation, WA
· Bianca Hernandez, 21, Gila River Indian Community, AZ
· Brook Thompson, 24, Yurok & Karuk, OR
· Caleb Dash, 17, Salt River Pima Maricopa Indian Community, AZ
· Claudia McHenry, MvSkoke, OK
· Dylan Baca, 17, White Mountain Apache, AZ
· Frankie Pedersen, 23, Listuguj Mi.gmaq First Nations, IL
· Kaitlyn Pinkerton, 16, Cherokee, OK
· Kennise McGertt, 16, Salt River Pima Maricopa Indian Community, AZ
· Kylie Hunts-In-Winter, 17, Standing Rock Sioux Tribe, AZ
· Logan Monroe, 17, Leech Lake Band of Ojibwe, MN
· Marco Ovando, 20, Shoshone Paiute, ID
· Nadira Mitchell, 19, Diné, AZ
· Niagra Rockbridge, 21, Diné, AZ
· Owen Oliver, 21, Quinault Indian Nation, WA
· Sareya Taylor, 18, White Mountain Apache, AZ
· Shayla French, 19, Sault Ste. Marie Tribe of Chippewa Indians, MI
· Timothy Benally, 21, Diné, AZ
· Wyomee Cooke, 17, Diné, AZ
· Yasmine Quiroz, 23, Gila River Indian Community, AZ
Applicants were judged by an independent committee who scored applications based on the strength of the application, nomination form, resume, supplemental information, and potential to impact Native America. Congratulations to all!
###
ABOUT UNITY
Founded in 1976, United National Indian Tribal Youth, Inc. (UNITY) is a national network organization promoting personal development, citizenship, and leadership among Native Youth. UNITY's mission is to foster the spiritual, mental, physical, and social development of American Indian and Alaska Native youth ages 14 -24, and to help build a strong, unified, and self-reliant Native America through greater youth involvement. UNITY's network currently includes 320 affiliated youth councils in 36 states. Youth Councils are sponsored by Tribes, Alaska Native villages, high schools, colleges, urban centers, and others.