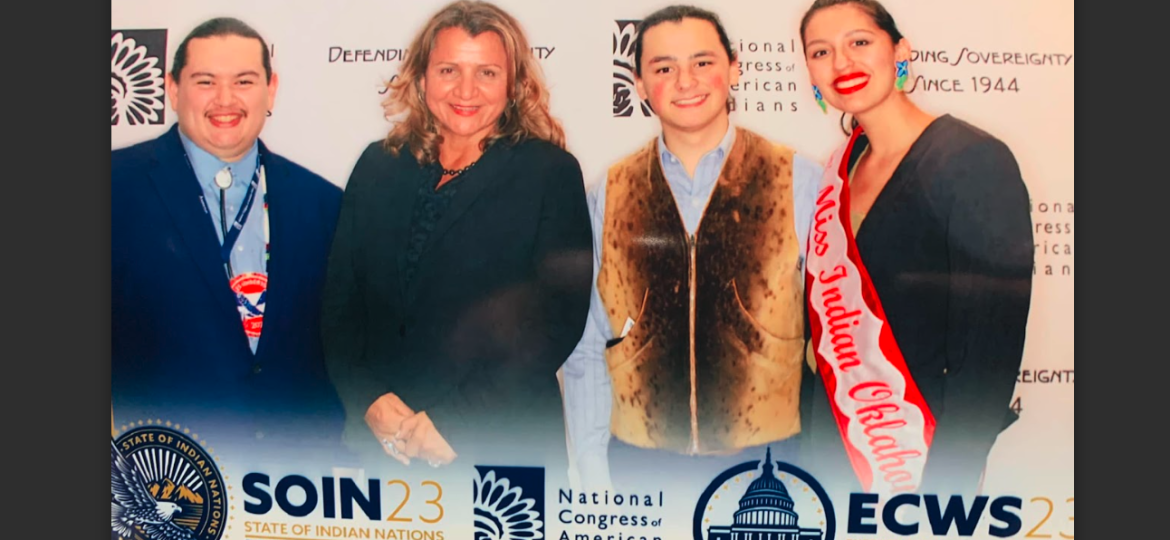 From the Desk of Jonathan Arakawa: the NUC Secretary & Northwest Representative, and UNITY 25 Under 25 Honoree
As part of the ECWS, I had the honor of attending the State of Indian Nations address. A huge thank you to NCAI's Native Youth Program Manager, Lisa Vandever, for inviting me to represent NCAI and UNITY's formal partnership.
Each year, the President of the National Congress of American Indians presents the State of Indian Nations address to members of Congress, government officials, tribal leaders and citizens, and the American public. Typically delivered during the week that the President of the United States delivers the State of the Union, the State of Indian Nations is a speech that shares the positive and future-oriented vision of Tribal Nations.
Our NCAI President, Fawn Sharp (Quinault Nation), delivered a powerful address—sending a direct message to the Biden Administration, Congress, and Supreme Court. One quote from President Sharp stands clear, "Today, after nearly 80 years on the frontlines of policymaking, standing at the side of our partners, we don't just have a seat at the table … we have influence and representation across the federal government, across the United States, and around the world."
Another quote speaks loudly for each of us, "And now, to make good on that progress—to stand up for our rights, defend our sovereignty, and safeguard our children's future—we have to show up."
Since 2022, the NCAI Youth Commission delivers a State of Indians Nations Youth Address alongside the NCAI President. Our Youth Commission Co-Presidents, Yanenowi Logan (Seneca Nation) and Caleb Dash (Salt River), delivered an awe-inspiring address. Our Co-Presidents left the room speechless, you could hear a pin drop. Both truly represented the voices of Native youth.
President Caleb Dash spoke very eloquently. In a teamwork effort, President Yanenowi Logan sent a direct message to all leaders, "The youth of Indian Country is drafting a new narrative. The work and passion of our young leaders is something to truly celebrate and I invite you all to do so with me. Although this work isn't finished, I am confident in the incoming generations of storytellers, changemakers, and leaders to continue this path towards reciprocity, rematriation, and restitution."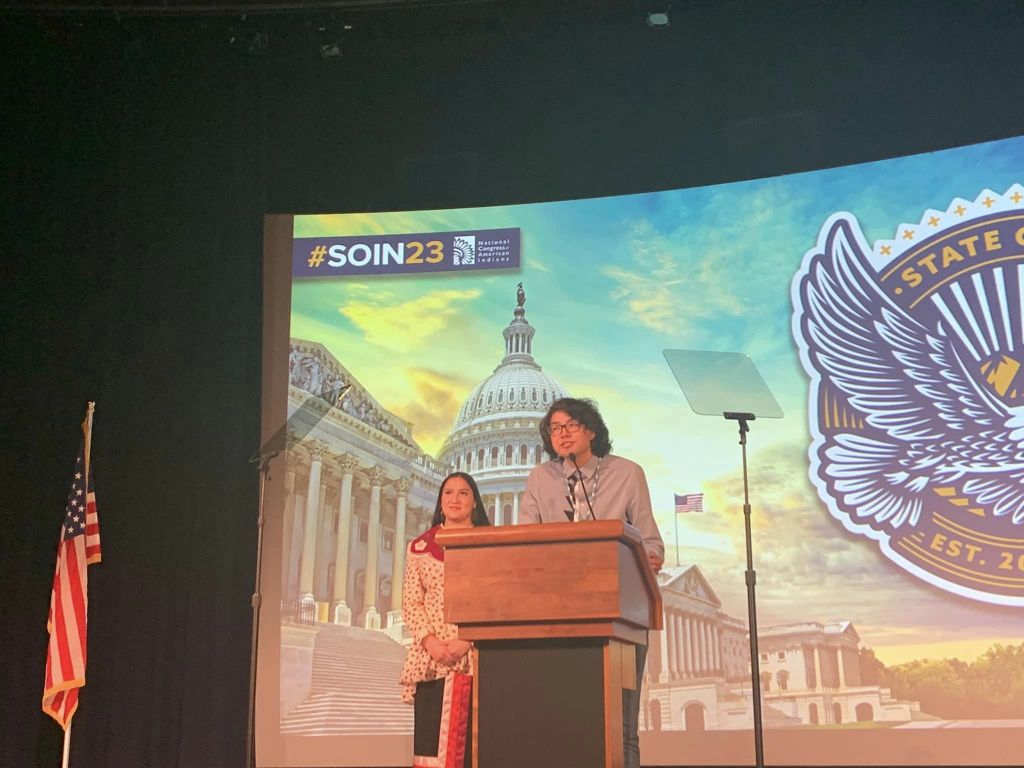 Caleb DashCaleb is a former UNITY 25 Under 25 Awadree and currently works for the organization as a Program Assistant. 
Caleb's Speech: Sap Kaic Ban Ce:gig Caleb Dash. Ani an amjed onk akimel c ani co-president of the NCAI Youth Commission. Hello everyone my name is Caleb Dash. I come from the Salt River Pima Maricopa Indian Community and I am a co-president of the NCAI Youth Commission. 
As Youth commission officers, we serve all of the Native Youth in Indian Country.  Our role in representing our peers is to voice their concerns and find solutions for the many challenges that affect Native youth everywhere. With that being said, Yanenowi and I present to you, the second ever Youth State of Indian Nations Address, as a way to ask leaders in both tribal and federal governments to listen, engage, and advocate for the issues that affect the future.With this chance, we could talk about many things but what I want to say is something much simpler: close your eyes and think of your homes. Think of the people you're coming here to represent, think of the many issues in your communities. Now open your eyes! 
We are here in this building together! We are here as one to talk about topics like VAWA, ICWA, Water rights, Tribal Sovereignty, and so, so much more. In preparing for today, I read a quote that struck me and I want to share this quote with you, which says: "I am but a man and have but the strength of a man." Let me read that again " I am but a man and have but the strength of a man." I am one person here, I am not able to do as much to create change without my peers, without my fellow youth commission officers, without my community, or without my family. As Indigenous peoples of turtle island we need to work together within this organization, within our communities, and within our very own households, because the issues we face are the same. While we have different cultures, languages, practices, teachings, and ideologies that we hold dear, it is all too often that our trauma unites us and connects us. Our struggle together here is the continued encroachment, abuse, and mistreatment of our people which continues to this day.
Our people, young people, our elders, our mothers, and our fathers are all facing the same issues and I believe the only way to solve these issues is through Unity!! I could  speak about any issue you can see facing Indian Country today, and no matter what issue I would choose, the root of it stems back down to our families. We have to help those in need during these times. At the beginning of the pandemic in 2020, I remember going to check on my relatives, my elders, and my friends. And, as you already know all too well, the struggle that our people went through during that time was brutal. I lost several relatives during that time, my cousins began being more depressed and lonely than ever. 
But now, we need to reconnect, we need to bring the people in our communities back together again. Right now is a time of healing, a time to help uplift our people, to take care of our Mental, Physical, Spiritual, and Social well-being. Some ideas I've seen done within my community are hosting walks or runs, gatherings like powwows, or even hosting talking circles. These events are what help make a community a community, a place where we can help uplift one another, chat, laugh together, and remember who we are as Indigenous People.
Something profound—taught to me by my mom and my grandma—is this simple phrase: "a home is what you make of it." I believe the many issues that face us in this day and age can simply be solved by how a family is at home. Our ways of Life started in our homes. In my Life,  I know you all can relate to this but you see homes that are wrecked by drugs, alcohol, and poor decisions made by people that need someone to help guide them. That can change but it takes so much. It takes communication skills, teachers, financial aids, for some therapy, for others' culture, and even community.
Now I'm gonna ask you all again to close your eyes if you will and do something a little harder this time: I want you to remember the things that you missed out on. Begin to imagine the needs that you or your relatives or friends never got. Take into consideration all of the missed opportunities and issues that often arise and now open your eyes! Those needs that you just thought of are all the things we need in our communities right now and more than ever. We need those resources to teach our young people, and the generations to come, about the many fallacies that we see today. Our homes need to become self-reliant again. We need families to take care of one another. We need our hajun, our relatives, we need them and we need them now! If we focus first and foremost on our families and our communities, we will find all that we need to not only continue surviving, but to truly begin to thrive.