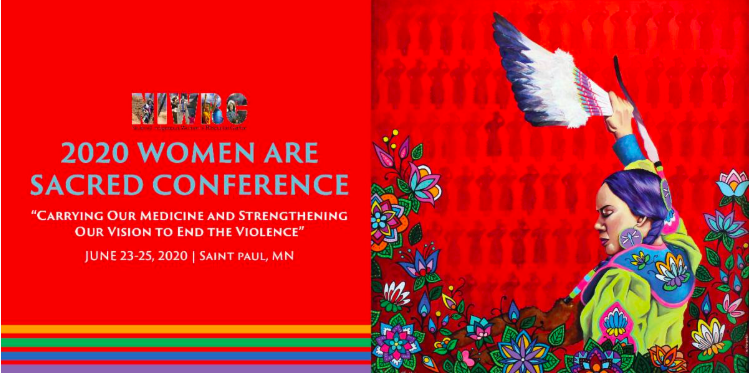 The National Indigenous Women's Resource Center is pleased to announce registration for the 2020 Women Are Sacred (WAS) Conference is now open! WAS is NIWRC's bi-annual conference dedicated to ending violence against Native women and children. The theme for this year's conference is "Carrying Our Medicine and Strengthening Our Vision to End the Violence." Carrying our medicine is how we have survived and continue to survive as Indigenous people. It is how we heal our spirit, our body and the land we walk on. 
It is using traditional knowledge, skills and practices to enhance the health and well-being of ourselves, our families, our communities and our nations. The 2020 Women Are Sacred Conference represents the strength and resilience of our people and the tools and knowledge we have to make a difference. It's about our shared vision for the future in ending the violence.
REGISTRATION NOW OPEN!
2020 WOMEN ARE SACRED CONFERENCE
Intercontinental Saint Paul Riverfront, Saint Paul, MN
June 23-25, 2020
This is an outstanding opportunity to connect with survivors, advocates, grassroots organizers, tribal leaders, law enforcement, child welfare, social services, and tribal court personnel across Tribal Nations, Alaska Native villages, Indian and Native Hawaiian communities to build capacity and enhance your advocacy and skills to strengthen the movement to end the violence. Register now!
The Office on Violence Against Women (OVW) has approved OVW Tribal grantees managed by the Tribal Affairs Division may use their OVW funds to cover travel expenses for up to 2 to attend WAS without a Grant Adjustment Notice (GAN).
Early bird registration rate (before March 31, 2020): $250
Regular registration rate: $350
Register Here