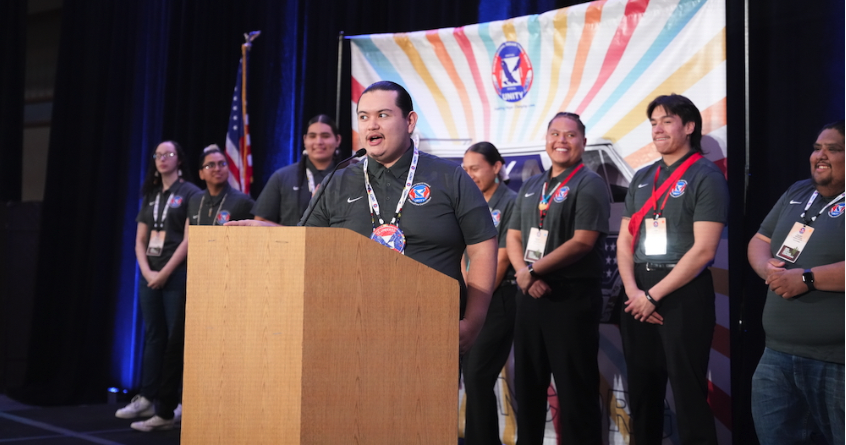 FEBRUARY 2023 Northwest Regional Report
From the Desk of the NUC Secretary & Northwest Representative, and UNITY 25 Under 25 Honoree
February was a month of positive progress and monumental success. I spent parts of February traveling across the United States. I'm excited to share the amazing events I attended, representing the Northwest Region with humility and respect.
National Congress of American Indians Executive Council Winter Session
I was delighted to join tribal leaders, Native youth and partners at the NCAI Executive Council Winter Session (ECWS). The conference was held in Washington, D.C., February 20-23, 2023. ECWS is held in Washington, D.C. each. ECWS gives tribal leaders and Native youth direct access to our trustees, the United States federal government.
During ECWS, we heard reports from numerous federal departments, including Department of Housing and Urban Development, Department of Labor, Department of Agriculture, Department of Interior, Office of Indian Affairs. We also heard directly from legislative parts in the U.S. Congress, covering priorities for the 118th Congress.

NCAI Native Youth Leadership Summit
The NCAI Youth Commission hosted it's 2nd Annual Native Youth Leadership Summit (NYLS). NYLS is held in conjunction with ECWS; giving Native youth a broader platform to voice their concerns, receive training in policy, advocacy, and government, and opportunities to meet directly with federal, administration, and congressional officials.
This year's NYLS was full of determined, committed, and fierce Native youth leaders. These Native youth leaders traveled from every corner of Indian Country. We met directly with White House, BIA, and EPA officials, having a platform to openly voice our concerns, issues, and suggestions.
I was happy to meet again with our partners at the White House Office of Science, Technology and Policy (OSTP). We shared our concerns relating to Traditional and Ecological Indigenous Knowledge.
Here are my comments shared with the White House OSTP:
"We need legislation that requires tribal history to be taught in our schools. We need to work with our legislative partners in Congress. I've always said, "You can't have U.S. history without Native history. It's simply not possible." I've heard from Department of Education officials who say they can't influence the curriculum which is ludicrous.
"Washington State passed laws requiring just this. Who would've thought this would happen in the 21st century?
"We have generations of elected leaders in all levels of government — local to the federal government — who don't understand tribal sovereignty and consultation because of the inaccuracies of our histories taught in our schools. I met with Senator Maria Cantwell's staff to discuss this exact same topic.
"I appreciate the progress of the Biden Administration. However, we have a lot of work to do. We are 200+ years behind — and we have 200 more years and the end of the time of work to make up."
Meeting with United State Senator Maria Cantwell's Office
During my time in D.C., I wanted to make use of my free time. By free time, I mean using it to advocate on behalf of Native youth. Prior to leaving home, I sent meeting requests to my Senators, Patty Murray and Maria Cantwell. Since our Senators were in an in-state working period, it made it a little challenging. Thankfully, I was able to meet with Senator Cantwell's staff.
The purpose of meeting with the Senator was this: Provide the Idea of Proposing Legislation requiring Native American History be taught in U.S. K-12 public schools as part of Common Core Standards.
Below are my meetings notes, which the Senator's staff shared with her:
"Good afternoon. Thank you for reserving time to meet with me. Please extend my warmest regards to Senator Cantwell. I've been honored to meet with her a couple times — and I'm appreciative of the Senator's unwavering support for tribal sovereignty and self-governance.
"To start, I've requested this meeting to propose a possible legislative idea for the Congress. Through your expertise on Indian Education Policy and Senator Cantwell's unifying, bipartisan approaches, I feel confident this idea can be carried forward by this incredible team. The idea is this: Propose Legislation requiring Native American History be taught in U.S. K-12 public schools as part of Common Core Standards. Timelessly, the full, true and accurate history of the United States has not been taught to generations of Americans. The history taught in many schools is very commodified.
"In November last year, I attended the White House Tribal Youth Forum at HHS. During this forum, we had lengthy discussions about Native Language Revitalization with Education Deputy Secretary, Cindy Masten, and White House Native American Initiatives Executive Director, Jason Cummins. I made it very clear that it is not the federal government's responsibility to revitalize our languages. However, the government must own up to its forced-assimilation practices through boarding schools in their attempt to eradicate and demolish our spirit — and provide funding to Tribal Nations to do this revitalization and reclamation work.
"In relation to this discussion, I spoke to Deputy Secretary Masten and Executive Director Cummins on the idea of requiring tribal history to be taught in our schools. The Deputy Secretary told me this, "Unfortunately, we cannot influence curriculum. So I can't do that." In my head I thought, "Well, what about common core standards as it relates to United States History?"
"Washington State can be a replica for all states. I'm sure you and Senator Cantwell are aware of the work we've done in Washington State to pass legislation through House Bill 1495 and Senate Bill 5433 to enact the same idea. In 2005, tribal leaders and Native educators came together to pass House Bill 1495. In this legislation, the legislature "encouraged" school districts to teach tribal history in K-12 classrooms. 10 years later—in 2015—the bill was modified in Senate Bill 5433, changing the wording from "encouraging" to "requiring." Both times, Tulalip tribal member, Senator John McCoy, helped lead the legislature to this bill being passed. I'm aware other states have accomplished similar work, including Montana.
"If such legislation is passed, it will be critical for school districts to consult Tribal Nations and get their consent to teach their specific, unique history. Thus, working with local Native educators to develop the appropriate curriculum from the Native Perspective. In parallel, the National Museum of American Indians has wonderful curricula that we use at Port Angeles School District, 'Native Knowledge 360.'"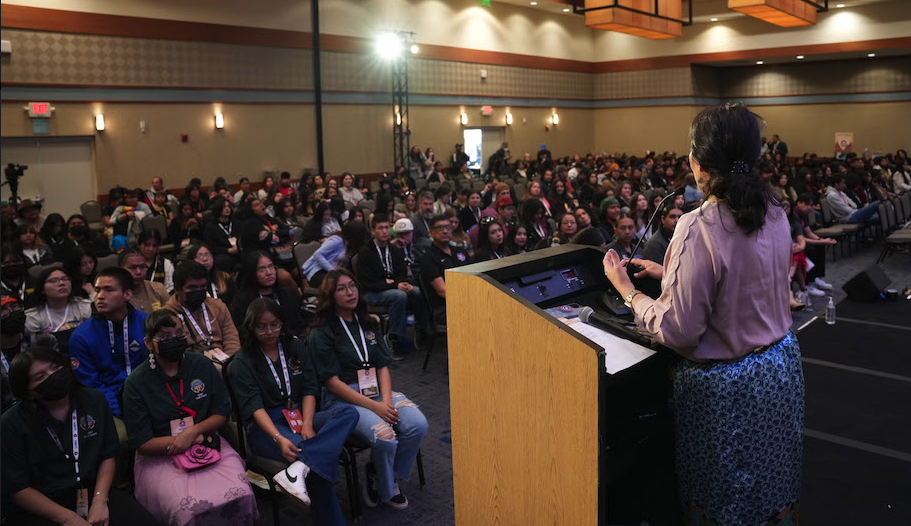 2023 UNITY Midyear Conference
After completing important work in Washington, I traveled to Tempe, Arizona for our Midyear Conference. This year's midyear was recording breaking, being a sold-out event with over 600 Native youth and advisors. We heard from so many great speakers, including Amber Midthunder, Angelique Midthunder, and Jhane Myers, who spoke to their careers in the filming industry.
In addition, we heard inspiring words from the first woman Speaker of the Navajo Nation Council, Crystalyane Curley, who encouraged our Native youth to be who they aspire to be.
I was proud to see representation from the Northwest Region.
National UNITY Council Business Meeting
The National UNITY Council (NUC) held its first business meeting of the year on February 24-25, 2023. Youth Council representatives gave reports on their projects, heard important announcements from the NUC Executive Committee (NUCEC), and received reports from its NUCEC representatives on their activities and services over the last six months.
Each year, the NUC has the opportunity to pass a resolution. During the business meeting at 2023 Mid-Year, the National Council overwhelming passed National UNITY Council Resolution 02-25-23, "Healing the Spirit of Native Youth" Initiative.
In the eyes of the NUCEC, this new initiative reflects the state of Native youth. Through this initiative, the NUCEC acknowledges the hardships and traumas many UNITY affiliated Youth Councils have experienced with reconnecting with their community, having safe spaces for positive interactions, and maintaining connections with culture and traditions. Meanwhile, the NUCEC is committed to encouraging Native youth to participate in their culture and traditions; restore youth councils, in-person or virtually; fostering relationships between Native youth, communities and tribal leadership; and identifying resources within their communities.
The following NUCEC members breathed life into the initiative: Chenoa Scippio, Female Co-President; Evynn Richardson, Vice President/Southeast Representative; Jonathan Arakawa, Secretary/Resolutions Chair/Northwest Representative; Elwood McClellan, Jr., Southern Plains Representative; and Watson Whitford, Rocky Mountain Representative.
You might ask, "What is this resolution?" Have no fear! Please find a helpful Q-&-A as part of my secretarial duties being the Chair of the NUC Resolutions Committee.
Here's what you need to know…
Frequently Asked Questions
What is the "Healing the Spirit of Native Youth" Initiative?
The Heart of the Initiative
The heart of this year's initiative stems from meaningful discussions with the Executive Committee. These discussions were what type of initiative we could develop to optimize availability and success. The NUCEC wanted an initiative that would cater to multiple aspects. However, the NUCEC had to be realistic with itself. The NUCEC acknowledged that the map it was laying out had amazing ideas and objectives, but two factors become known. The time frame and the previous initiative wasn't given the proper attention nor fulfillment. The NUCEC realized it created spaces for youth to put all their cards on the table and never provided the follow-through to allow them to heal.
This is where the heart of the initiative came from. The NUCEC wants to finish what it started. In result, the NUCEC is revamping the initiative. While Native youth reap the benefits, UNITY is investing into the infrastructure while making sure the NUCEC finishes the job!
How does this initiative benefit Native youth and Youth Councils?
The NUCEC established 3 essential goals for the initiative in the approved resolution. In preparation for the National UNITY Conference, the NUCEC will roll out this initiative. The goals are the following.
Goal #1
"Creating safe spaces for healing in recognition of UNITY's four pillars."
In order for Native youth leaders to serve their communities, it is important each youth fosters and take care of spiritual, mental, physical and social well-being. Our Native youth leaders cannot give from an empty medicine bag.
Goal #2
"Providing opportunities to create innovative community-based project"
The NUCEC wants to find the best ways to support Native youth and Youth Councils. This includes readily available resources like Healing Circles, Lighting Your Fire, and other curriculums that support community projects.
Goal #3
"Fostering continued connections with UNITY Cohorts to restore and support Youth Councils."
The NUCEC is committing to working with and supporting all UNITY cohorts, NUC, 25 Under 25, Earth Ambassadors and Peer Guides. By supporting all UNITY cohorts sets up UNITY for overall success in better serving all UNITY affiliated Youth Councils. The NUCEC is the glue of the UNITY network.