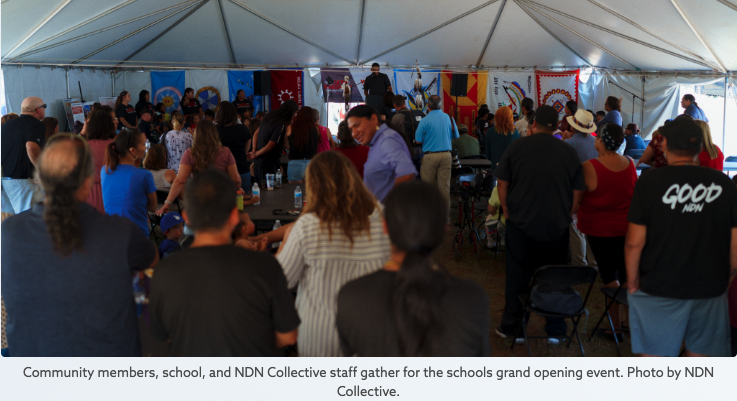 "It is important for students to see themselves in what they are learning every day, and to have the opportunity to be who they are, learn their language, and be recognized for their inherent Indigenous genius. At Oceti Sakowin Community Academy students will have the opportunity to do this, which is what the ancestors have wanted for our wakanyeja – our children."
FOR IMMEDIATE RELEASE: SEPTEMBER 7, 2022
Rapid City, SD – Today, Wednesday, September 7, NDN Collective officially opened Oceti Sakowin Community Academy, the first Indigenous-led school designed specifically for students in the Mni Luzahan (Rapid City) area. A community grand opening occurred on Tuesday, September 6 at the location of Camp Mni Luzahan, where prayer and drum songs opened the occasion, followed by a line-up of speakers to welcome students and families, an introduction of the inaugural kindergarten class, classroom visits, and more.
Funded and built by NDN Collective, in partnership with NACA Inspired Schools Network (NISN), the school will serve 40 kindergarten students in the first year. Each year, the school will add the next grade level to continue educating its original students while also bringing in new students from an early age.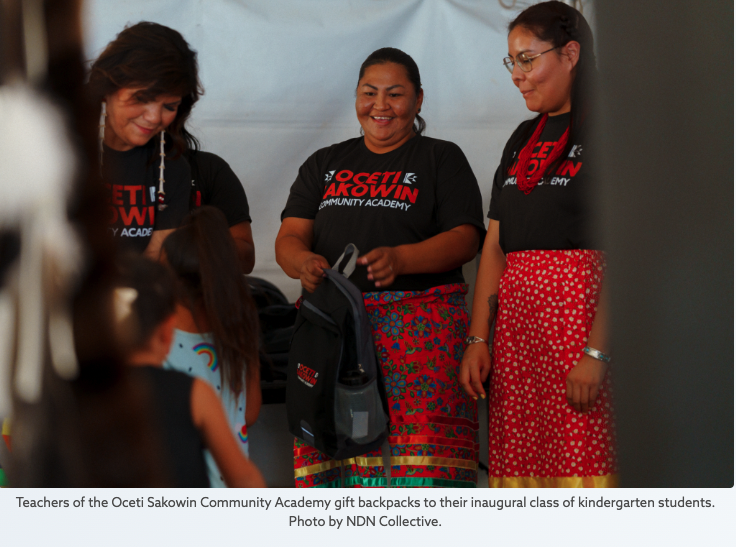 The school aims to close the opportunity gap between Indigenous and non-Indigenous students that has gone unaddressed for decades. Indigenous students in South Dakota are among the lowest in terms of graduation, achievement, and mobility rates, and are disproportionately and more harshly disciplined in schools than their non-Indigenous peers.
The school's curriculum will connect Indigenous youth to their cultures, languages, ancestral knowledge, history, and traditional ways of life, critical culture-based educational components which are not currently available to urban Indigenous Rapid City students.
"I am thrilled for the school to open, because this is something that our community has long been asking for and today, we are welcoming our first class of Kindergarten students," said Mary Bowman, Founder of Oceti Sakowin Community Academy. "Culturally responsive pedagogy helps students to be engaged, motivated, and develop a strong cultural identity.  It is important for students to see themselves in what they are learning everyday, and to have the opportunity to be who they are, learn their language, and be recognized for their inherent Indigenous genius. At Oceti Sakowin Community Academy students will have the opportunity to do this, which is what the ancestors have wanted for our wakanyeja – our children."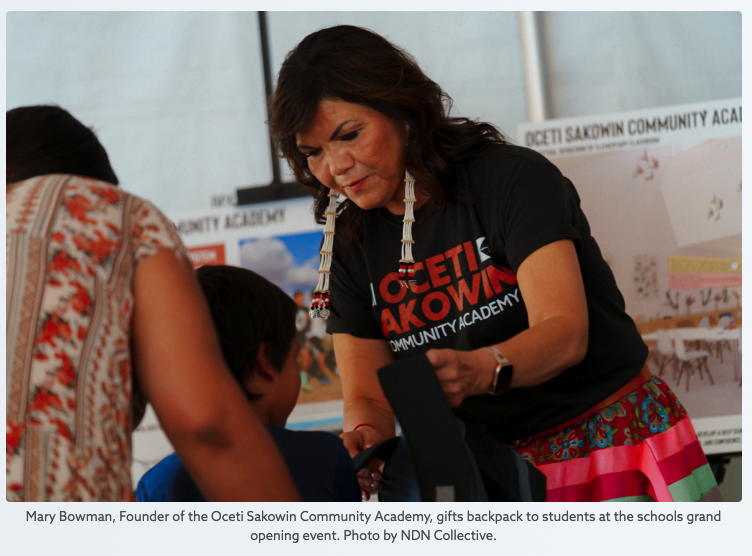 "The government tried to beat our language out of us, assimilate, and erase us," said Nick Tilsen, president and CEO of NDN Collective. "They were unsuccessful. Today, we launch this school – not only as an act of resistance, but an act of power. This school will create the warriors, revolutionaries and change-makers of tomorrow. They will catalyze our nation forward. These children deserve to be taught their language, history, and culture all while building the skills to prepare them for the future – and that's exactly what we will be doing here at the Oceti Sakowin Community Academy. This is truly a historic day. The ancestors are war hooping, and the sky's the limit for our next generation."
"When I think about the Oceti Sakowin Community Academy, I cannot help but to reflect and imagine how my own education as a young child would have been so vastly different, if I were to have had a community-based Indigenous school available to me," said Korina Barry, Managing Director of NDN Action. "It is difficult to put into words just how powerful this grand opening and new journey is – not just for Indigenous students and families in Rapid City, but for all community members. The opportunity for Indigenous students to feel seen, heard, and reflected throughout their curriculum and educational experience will have an impactful ripple effect on their families, their community, and generations to come. I could not be more elated for these young learners to start their first year of school at Oceti Sakowin Community Academy!"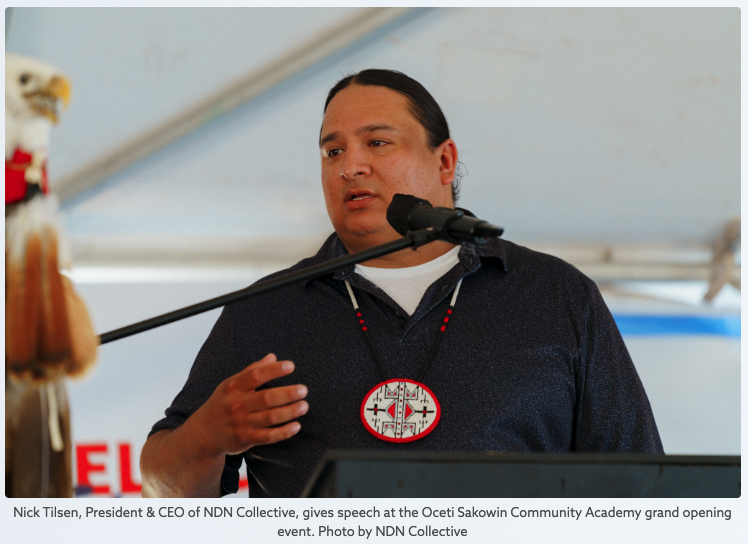 ###
NDN Collective is an Indigenous-led organization dedicated to building Indigenous power. Through organizing, activism, philanthropy, grantmaking, capacity-building, and narrative change, we are creating sustainable solutions on Indigenous terms.