We understand it's important to provide individuals with resources for safe living conditions as many may be experiencing abuse in their households due to current stay-at-home orders. MyMove informative guide provides a detailed infographic of the types of abuse and barriers when leaving relationships, tips on emergency planning and tech safety, along with support programs for housing, immigration, and financial independence.
Due to the pandemic, many victims of domestic violence are being isolated at home with their abusers. The impact has caused an increase of unhealthy environments, making it harder to reach out for help and find safe options without being monitored. As we begin the New Year, we wanted to help provide assistance to those who may be struggling with these silent battles, alone.
That's why we created a comprehensive guide that highlights the increased vulnerability for victims and how to support these populations during unprecedented times. You can check it out below:
Victims and Survivors Guide to Domestic Violence During the Pandemic
https://www.mymove.com/moving/guides/domestic-violence-resources/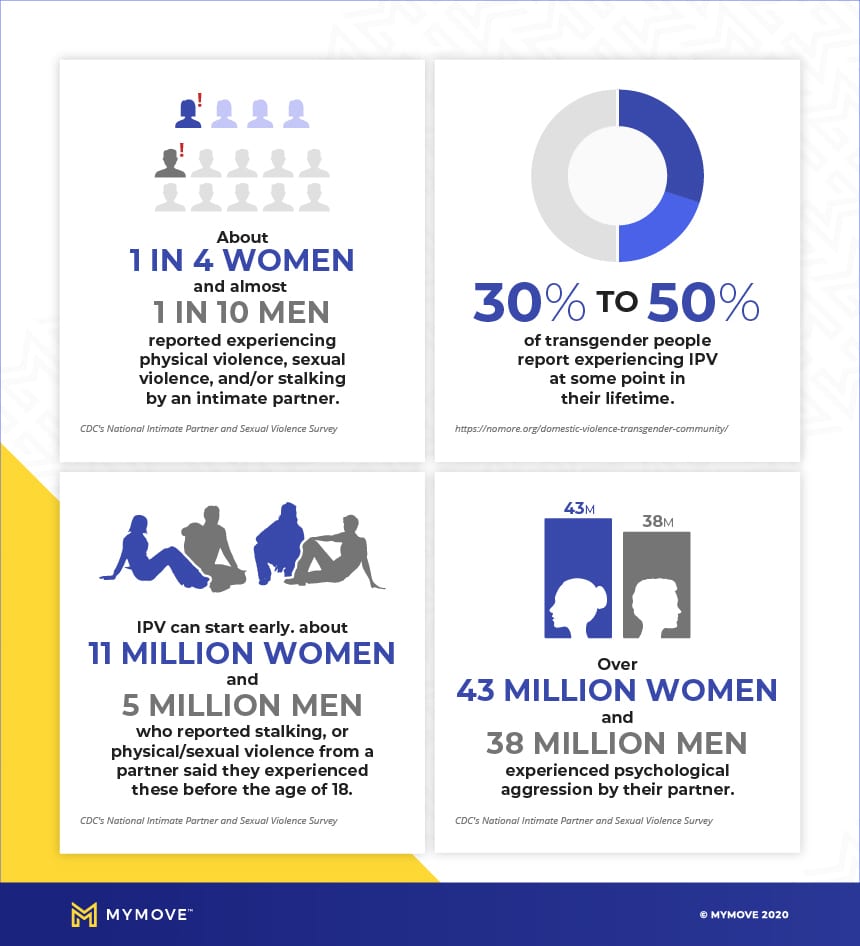 Relationship red flags
Domestic violence confuses and muddles normal love, making it difficult to identify unhealthy behaviors. Sometimes, your emotions are all you need to identify an unhealthy relationship.
"A healthy relationship means sharing power, treating each other like equals, acting with integrity. It means trust. Safety – feeling emotionally and physically safe with a partner – perhaps angry sometimes, but never afraid," says Darlene.
That's not the case with Intimate Partner Violence (IPV). Kandee Lewis, executive director of Positive Results Corporation, walks us through some of the feelings associated with emotional abuse.
| | |
| --- | --- |
| Emotion | Abuser behavior |
| Shame | "Emotional abusers often blame others for their troubles and belittle others in both public and in front of others." |
| Isolated | "You may feel restricted as the other party tracks your whereabouts or demands you be home at certain times." Or perhaps you want to begin isolating yourself to avoid conflicts your partner creates. |
| Jealous | "An emotional cheater may do something as bold as cheat or simply compare you negatively to others in ways that leave you feeling off-balance and jealous." |
| Helpless | "Making decisions that affect you without consulting you, or taking away your control of your physical environment or body." |
| Crazy | "If you are feeling crazy, pay attention to your partner's communications. Emotional abusers often use gaslighting, blatantly telling you something that is false, and turning positives into negatives (i.e., 'What happened to you? You used to be so smart?') to throw you off balance." |