P'áu:[gyá tóñ:áñ: (Brings Water from the Creek) also known as Lily Aliesse Painter, is a 20 year old writer, video/filmmaker, storyteller, and a UNITY 25 Under 25 National awardee. She is a member of the Kiowa Tribe of Oklahoma and the Winnebago Tribe of Nebraska. She shares on her website matriarch medicine how her focus is on "maintaining and establishing Indigenous representation and creating spaces for Native youth and Native people to hone their inherent storytelling abilities." UNITY interviewed Lily to learn more about her passion for writing and how it has played a role in her leadership development.
2022-23 UNITY 25 UNDER 25 AWARDEE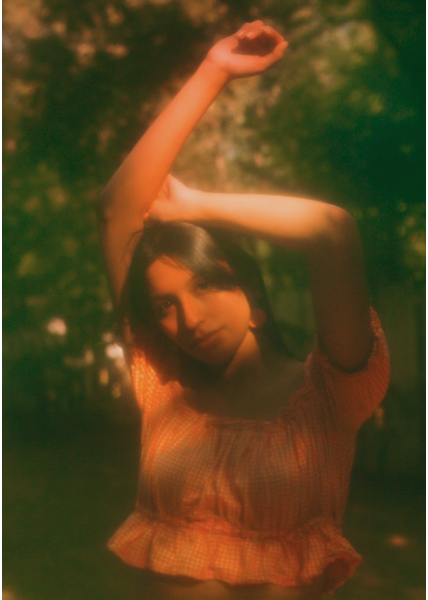 UNITY: What is an example of a learning experience that was important to your growth as a leader?
Lily:  In the summer of 2021, I was asked to take part in a three-week culture revitalization program to combat the effects of COVID on Native youth in the community. With the loss of many elders, our stories, language, and teachings were at a steady rate of decline. The Kiowa, Comanche, Apache, Caddo, and Wichita tribes came together to construct a curriculum that covered different aspects of Native culture that would be taught to children from elementary school to high school. I was assigned to the art/media class, where I first came up with the idea that would later become my Marvel Indigenous Voices animated film project. I started out with a slideshow of Native superheroes, held a workshop on what makes a hero and how culture can be used as a superpower, and helped the children create their own Native superheroes. I
n this setting of watching our youth so easily create characters and worlds for their characters to live in, I become extremely aware of the ability that resides within all native people: the ability to create, adapt, and persevere. This confirmed what so many have told me my whole life, that we are the original storytellers, that it is in our blood to bring our stories and words and thoughts to the physical world. I have found that by learning to make our own representation through personal creations like art, dance, songs, workshops, any form of media that you can think of—- we are making a statement that no one can ever silence or take away from us: We are here, and we are worthy to be seen, and we are not going anywhere. Doing this program affirmed that I not only love to create stories, but that I want to make helping others discover their own creativity within themselves part of my life's work as well. 
UNITY: What are your educational/career goals? 
Lily: The ultimate goal is to publish my own series of novels that are centered on Indigenous futurism. I would like to bridge the gap between fantasy, science fiction, and our unique cultural and social values and ways of living as Natives. Indigenous futurism is an artistic movement — that includes novels, video games, comic books and more — that explore the reimagination of what Indigenous people lived like in the past and consider an unlimited future. Dr. Darcie Little Badger, a Lipan Apache scientist and award-winning Indigenous futurist author says it best: "Both in and outside fiction, we are pushed to the past tense. The reality is, many Indigenous cultures in North America survived an apocalypse.
The key word survives. Any future with us in it, triumphant and flourishing, is a hopeful one." The advocacy work I do is centered around visibility, whether that be through representation or MMIWG2S+ awareness. While I enjoy the work I do in those areas and will always continue to advocate for our people in those spaces, I ultimately feel called to lend my voice and my words to literature and pieces of writing that will not only inspire Native youth long after I am gone, but will carve a new image of Native people and our resilience for the entire world. 
UNITY: What personal attributes, skills, and talents do you possess that will help you achieve your education and personal goals? 
Lily: I consider myself a formidable writer with a powerful inner voice and a keen imagination and drive for creativity. I thrive under a healthy amount of pressure and I have developed ways of learning how to deliver quality work without compromising my health and the health of those around me. I not only enjoy the work I do, I cherish the opportunities I have that allow me to explore my creative ventures. I adhere to the mindset that if you enjoy what you do, you'll never "work" a day in your life. I know that I will not compromise my values or style to do work I am not passionate about, and in doing so the work I do will never be in vain or done in bad medicine or half-heartedness. I believe one of my greatest attributes however, is the community that I have grown around me.
I have been very blessed to have a circle of Native women/femmes specifically that not only uplift me from the struggles we face as Native people today, but also hold me accountable to Indigenous values and the ways of our people: giving back to the community I come from, protecting our land and earth, and focusing on being a good descendent while also keeping in mind that I am a future ancestor, that the world I lend my hand to help create for the future of Indian country is not one that is formed in selfishness, but in community and love for the people around me. I am determined, a hard worker, and I never let fear stop me from taking a risk, but more so, I am a community member, and that is one of my greatest assets in this journey.
##
The UNITY 25 Under 25 is a national youth leadership recognition program. The awards program is designed to celebrate the achievements of Native American and Alaskan Native youth ages 14 to 24 who embody UNITY's core mission and exude living a balanced life developing their spiritual, mental, physical, and social well-being. Honorees are recognized during the UNITY National Conference, with each receiving a hand-made beaded "25 Under 25" medallion. In addition to being recognized, each awardee will receive special training by UNITY over the period of one year that is designed to build on their individual achievements. The class is recognized as UNITY ambassadors, serving as stellar examples of Native youth leadership in Indian Country today.