November is Native American Heritage Month, a time to pay tribute to the rich ancestry and traditions of Native Americans. Did you know the National FFA Organization includes more than 12,000 Native American members? UNITY 25 Under 25 Awardee and UNITY Earth Ambassador Marco Ovando, a citizen of the Shoshone-Paiute Tribes of the Duck Valley Reservation, made history when he became the first Native American to be elected FFA state president in any state or territory. He served as the Nevada state FFA president from 2018-19. Ovando says his FFA experience looked different from most.
"My FFA chapter is the Duck Valley FFA Chapter, and it's unique because many students here consider themselves to be from both Idaho and Nevada. I live on the Idaho side of town, but I went to high school on the Nevada side," says Ovando, who graduated from Owyhee High School in 2018. "My high school is on the reservation, so it serves a lot of Native Americans. Our FFA chapter has one of the largest enrollments of Native Americans in FFA."
Now a third-year student at Boise State University in Idaho, Ovando is double-majoring in political science and communications. He says his FFA experience developed his public-speaking skills, which he uses to help ensure a better future for his people.
"FFA helped build my confidence as a public speaker," Ovando says. "I have a lot of social anxiety, but FFA helped curb that anxiety so I could engage with a wide range of audiences. FFA also helped me realize I like engaging in policy work, which sounds boring to some, but policy affects our everyday lives."
While attending college, Ovando works at the Shoshone-Paiute Tribes Emergency Operations Center as the public information officer. In 2020, his role shifted due to the COVID-19 pandemic. Now, he informs the public about COVID-19 and how it spreads, and he implements safety protocols such as mask mandates and curfew orders.
"We provide COVID care packages with sanitizer, masks, wipes and thermometers for families where someone has tested positive," he says. "We also provide food resources and work with other tribes in our state."
Ovando further serves his tribe by acting as a legislative liaison between his tribe and Nevada and Idaho state legislatures, helping tribal leaders decide which bills and legal processes to act upon.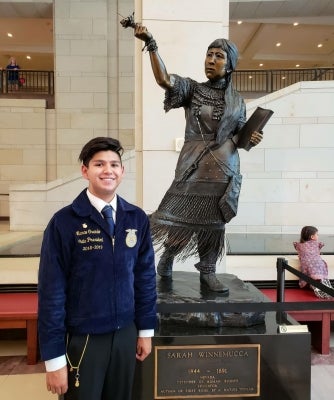 On a national level, Ovando serves as executive secretary for the Northwest Region of the Intertribal Agriculture Council, through which he represents the agriculture policy interests of all Native American tribes. The council also works to promote Native American-based agricultural products, such as bison meat and alfalfa.
Ovando says his Native American heritage, FFA experience and the agricultural legacy of his people have all shaped his life story.
"I'm a living, breathing embodiment of the resilience of my ancestors, who literally fought to death to preserve our languages, our culture and what it means to be an indigenous person," Ovando says. "We don't want that to go away, so I'm committed to preserving our culture for generations to come. My great-great-great grandmother's statue stands in the U.S. Capitol building because she was the first Native American to testify before Congress and the first Native American woman to be an author."
While meeting with legislators in Washington, D.C., as a state FFA officer, Ovando was proud to point out the statue of his ancestor, Sarah Winnemucca, to his fellow state officers.
"That was a cool experience," he says. "It was even more meaningful because I was able to take a picture with her statue while wearing my FFA jacket."