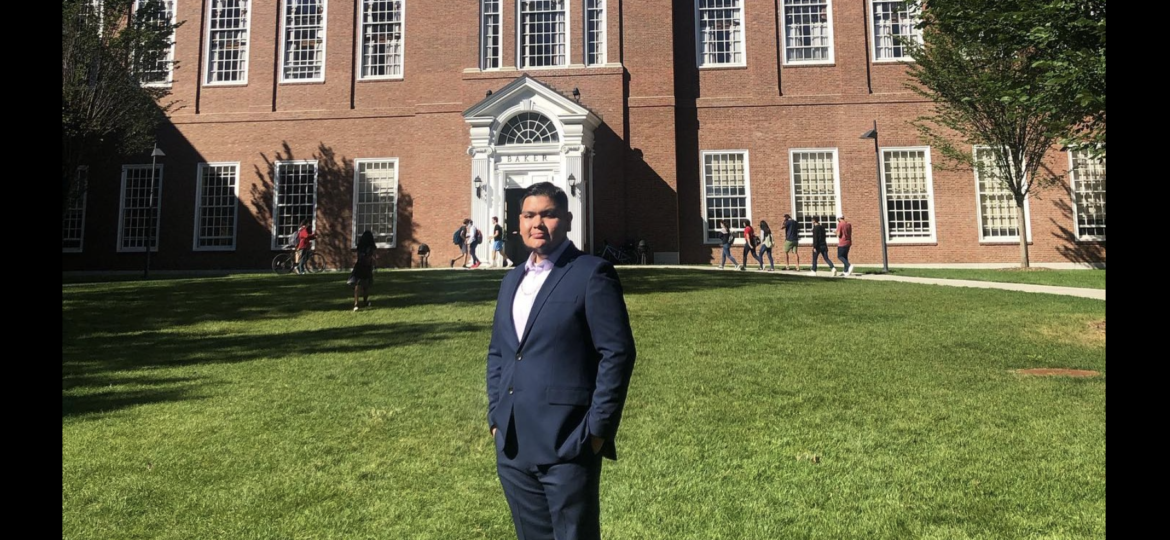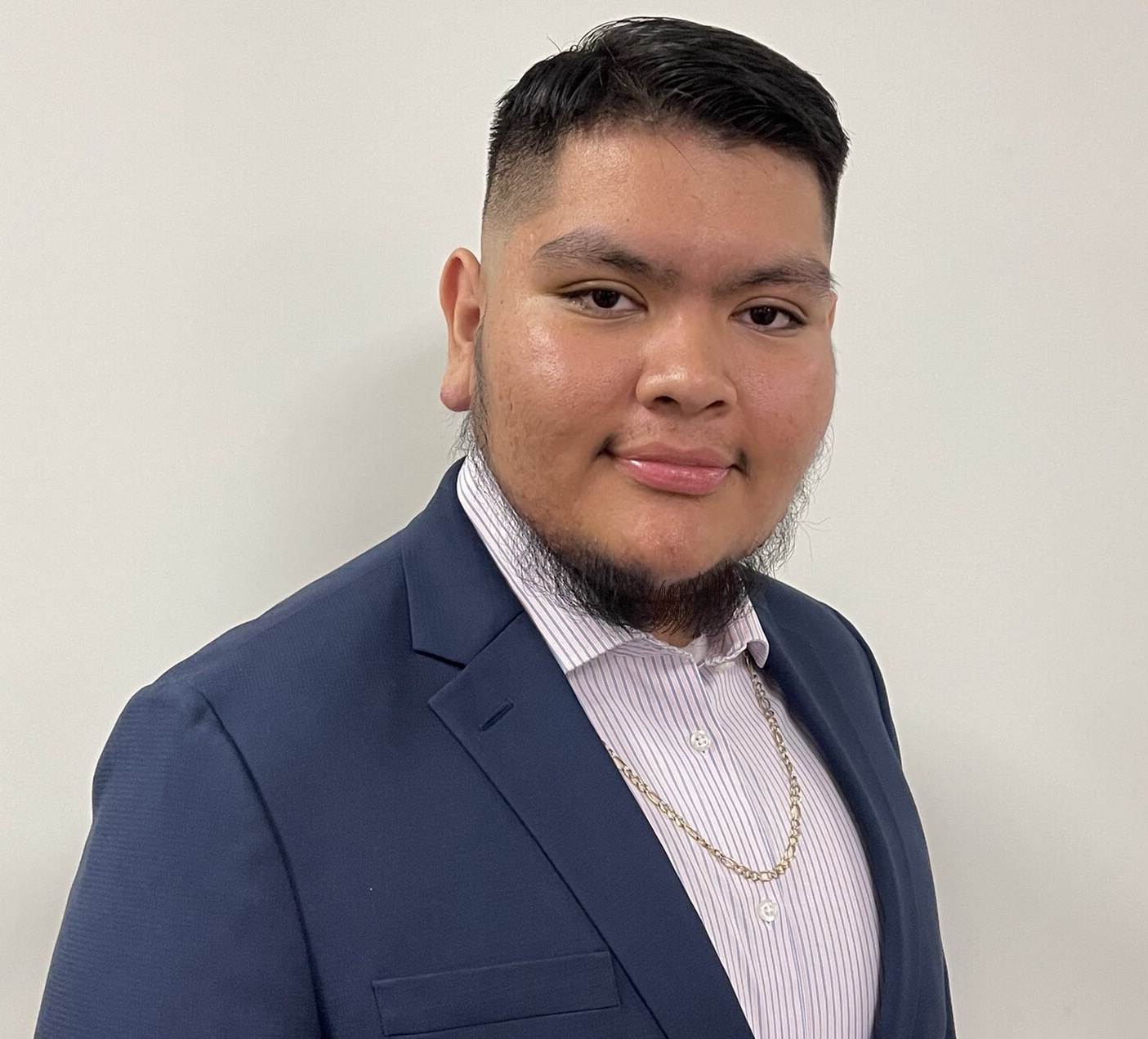 Elijah Cota, 20 (Pascua Yaqui Tribe), is an undergraduate student at Dartmouth College studying Mathematical Data Science. He is a member of several communities on Dartmouth's campus, including Native Americans at Dartmouth and Consults Your Community. "Elijah is an outstanding young man and contributes to his community without recognition'" says his nominator Christine Puzauskas.  While at home, in Guadalupe, Arizona, he is a tutor for a nonprofit agency serving Native elementary students. A guiding mission is to lead his community to financial freedom and away from poverty and gang violence. Elijah plans to work in management consulting and later pursue a Master's Degree in Business Administration upon graduation.
What is your most outstanding personal achievement? 
Elijah: My most outstanding personal achievement is getting accepted into Dartmouth College. As a freshman in high school, I made it a personal goal to attend an Ivy League university after high school because I wanted to push my intellectual limits and meet other likeminded people, as I felt this would maximize my chance at a successful career and best prepare me with the tools to have an impact on my community. My high school was limited in coursework and did not offer the caliber of preparation as did the high schools of other applicants. Knowing this, I figured I would dedicate my time and energy to what I could control – my GPA and test scores – instead of letting my high school's lack of rigor be a roadblock to my success. During my Junior year, I was preparing for the SAT and ACT, which took hours out of my day because of how long I would work on practice problems. At the same time, something else was taking up lots of time: varsity football. To maximize the amount of time I could study for the tests while still being a starter on the team, I would wake up at 4 am every morning and take the city bus to school. I would study on the bus, research outside the school while waiting for staff to arrive, and study before class, during lunch, and after school when I wasn't at football practice. I would get home around 8 pm because of how long the bus route took, and I would finish my regular school work around 10 pm and study until past midnight, or when I felt I had done enough. Despite averaging 3-4 hours of sleep per night during the football season, I felt that achieving my goal would be worth it. As a young person, I think this is the age where we can aim to achieve the most when we are in our physical prime. I don't want to grow old and think of what I could have done for my community with all my energy. After months of keeping this mindset, my senior year eventually arrived. It was March 2020, and Ivy League decision day was here. I opened my decision, and despite Dartmouth having an 8% acceptance rate, I was among those admitted. I am now a Sophomore at Dartmouth, and after seeing the backgrounds of many of my peers who come from wealthy families and expensive private schools, I still wonder how I ended up here with them, studying in the middle of the woods on Abenaki land.
Describe learning experiences outside the classroom that were important to you?
Elijah: Essential learning experiences outside of the classroom include my volunteer work with Native kids for a nonprofit and high school football. When I am away from Dartmouth's campus, I work for a nonprofit that offers tutoring to the Native students in our community. I see them, and I see myself when I was their age. Many of them face the temptations that will lead them down a path of failure, crime, and death, but in these hours of tutoring, I can mentor them and teach them the importance of education and our Yaqui culture. I've learned the art of storytelling and teaching with them, and I've developed a way to share my success. I've learned the importance of not just leaving for college and pursuing a career but returning to my people whenever I can to help motivate them to succeed. This experience is most important to me because it is where I can work face to face with the kids in my community and lead them to a path of success that our elders want for us. As for football, our coaches gave my team and me the skills and mindset that led us to be the state champions, which is an accomplishment that symbolizes our hard work. I have learned the importance of physical fitness, which is vital, especially for the Native people in my community who do not know how to live healthy lifestyles. Furthermore, I've been able to challenge my physical limits, which has, in turn, helped me have a growth mindset for not only my physical capabilities but professional and academic. 
Describe a role model that has influenced your life? How have they contributed to your personal growth and development?
Elijah: A role model that has influenced my life is my mom. She has contributed to my personal growth and development by showing me the importance of making a way when away cannot be found. When she raised me and my sisters as a single mom, she made sure that we did not know we were poor, even though we were. Though she had less than $100 to spend every month, she sold frybread and tamales, and she babysat and asked no one for help. She showed us that hard work and persistence could get you out of any circumstance, which is what helped me get into Dartmouth, and is what is helping me succeed here despite any disadvantages I may have had growing up. She is everything good in me. 
The UNITY 25 Under 25 award is a national youth leadership recognition program honors Native American and Alaskan Native youth leaders who exemplify UNITY's core mission and exude living a balanced life, developing their spiritual, mental, physical, and social well-being. The biennial program, launched in 2014, recognizes and celebrates the achievements of 25 outstanding Native youth leaders under the age of 25 in Indian country. "Our Native youth have a passion for building and bettering their communities. UNITY's 25 Under 25 program recognizes their achievements and encourages these young people to stay involved and further develop their leadership skills," said Mary Kim Titla, UNITY executive director.