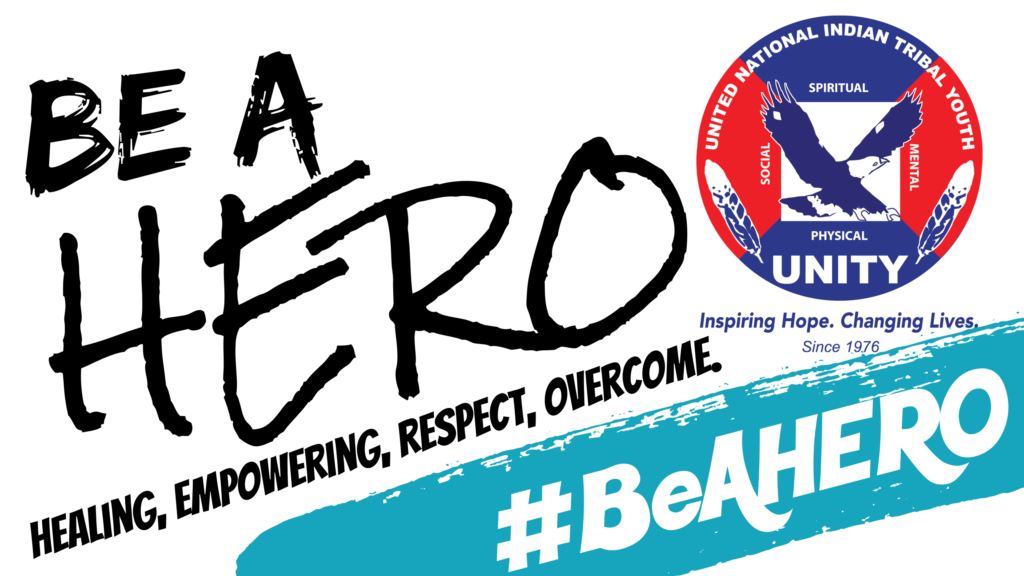 Indigenous youth who have experienced cyber-bullying were almost twice as likely to attempt suicide compared to those who had not (Hinduja, Patchin, n.d.).
In celebration of October's National Anti-Bullying efforts United National Indian Tribal Youth, Inc. (UNITY) revived it's 'Be A Hero' initative. In 2018, the National UNITY Council's Executive Committee passed a Resolution focused on traditional concepts that can be used to live a healthy lifestyle when faced with adversity: Healing, Empower, Respect and Overcome. UNITY hopes that Youth Councils will encourage others to "Be a Hero" in their home communities to the combat negative consequences associated with bullying. This doesn't end with Nov 1st, be a hero all year long!  
Bullying is a problem for all kids, but it may be an even bigger problem in the Native American [Aboriginal] community" – Tanya Lee, Indian Country Today, May 30, 2011
Native youths are likely targeted because negative stereotypes and misconceptions about American Indians and Alaska Natives still exist. Such stereotypes encourage racist beliefs and behaviors. These stereotypes are difficult to eliminate, because they have become part of the accepted history of this country. After the taking of Indian lands and subsequent wars, the new United States government depicted the original Native inhabitants as inferior. Federal policies further marginalized Native peoples.
The UNITY Network Voted in 2020 on their top ten issues facing Native youth, and #5 most common response was "Bullying, gossiping, cultural bullying or lateral violence".  Let's work together to address this. In some homes, young Native people grow up witnessing the isolating effects of poverty, substance abuse, domestic violence, and feeling "less than." Without social supports, they may want to make themselves feel better and release their anger and frustration, so may resort to bullying others, including other AI/AN youth.
Generations of internalized systemic racism, such as Blood Quantum laws, Boarding School teachings or Dissenrollment practices also contribute to Native people bullying each other through lateral violence. Often those who have had to defend their identity will lash out on others to show their own "Nativeness." Lateral violence and cultural bullying are a sign of unresolved traumas and identity insecurities surrounding belonging. With limited resources given to Tribal Governments, Tribes can turn on each other to prove that they are "more native than others" as a survival mechanism. The fighting over resources is often referred to as the "crabs in a bucket" mentality that Native youth can inherit from older generations. These negative coping skills are not traditional ways of identifying ourselves.
With the loss of cultural teachings over time, unhealthy lateral violence habits can be adopted to fill the void of self-worth that were once filled by coming of age ceremonies and communal recognition of belonging. At it's core, those who hurt others are lacking a strong identity within themselves. Cyber-bullies or "Keyboard Warriors" often seek approval from their online followers, yet do not see the effects of their own pain being inflicted on other Native youth. UNITY youth expressed their concern with Cultural bullying. This type of bullying can happen when someone is bullied for not knowing their culture or being of "mixed blood" heritage. For example, if someone ridicules or embarrasses other Native youth for not  speaking their language, have "too dark" or "too pale" of skin, or making fun of youth who were never taught their traditions or taboos.
UNITY is a place of healing and inclusiveness. For this reason, we aim to address the hurt and root causes of bullying in all forms.
BE A HERO by educating yourself and your community with the following resources.
"Cyber-bullies" feel that they are anonymous, giving them a sense of power and control that allows them to do and say things they would not normally say in the "real world." In cyberspace, literally hundreds of perpetrators can get involved in the abuse (Hinduja, Patchin, n.d.).  Indigenous youth who are the victims of bullying experience the same feelings of powerlessness and hopelessness as if they were being bullied face-to-face! Because of the all- encompassing nature of the internet and cell phones, it is harder than ever for victims to escape their tormentors. It can happen anywhere—at home, at school, at anytime of the day or night (Brown, Cassidy, Jackson, 2006). In extreme cases, victims have been known to become aggressive and fight back, or to become depressed and attempt suicide.
Because people can be "anonymous" on the internet,  Indigenous kids don't always know who their tormentors are. At an age when peer acceptance is crucial, the internet becomes the perfect medium for adolescent anxieties to play themselves out, sometimes resulting in suicide attempts or loss of a child (Secret Life of Kids Online, n.d.; Shariff, 2005).
3 Rules for staying safe
Remember, not everyone on the internet is there to have a good time. Some people lie about who they are or are there to bully others. Know how to stay safe!
Never give out your full name, or real name, or personal information like your home address or phone number
Stop, block or tell a trusted adult if someone or something makes you feel uncomfortable or threatened.
Treat other users online the way you want to be treated. Don't use nasty messages, jokes, videos or photos.
Suggestions for Solutions to Cyber-bullying
The following suggestions are for adults, teachers and users for use in schools and at home:
Set up anonymous phone line so students can report cyber-bullying.
Have a zero tolerance policy towards cyber-bullying.
Educate students and parents about cyber-bullying.
Create self-esteem in students through extra-curricular activities.
Implement age-appropriate suicide awareness into any anti-bullying program.
Don't respond to mean messages; show it to an adult.
Before hitting "send" ask yourself how you would feel if you received the message.
Monitor online and offline behaviours of youth.
Tell your child you won't blame them if they are cyber-bullied. Emphasize that you won't take away their computer privileges (this is the main reason why kids don't tell adults when they are cyber-bullied).
(Brown, Cassidy, Jackson, 2009; Stop Cyberbullying, n.d.)
Resources
How the Moon Regained Her Shape by Janet Ruth Heller – This is a teaching story about how to overcome bullying. The once-brilliant moon is bullied by the mean- spirited sun and becomes sullen, unable to dance across the sky. A comet, a positive warrior figure, embraces the moon and takes her to a healing woman who teaches her how to overcome the sun's harsh words with the help of caring friends and inner strength.
Fatty Legs, A True Story by Margaret Pokiak – Fenton and Christy Jordan – Fenton – This is a true story about a young Inuvialuit girl named Olemaun, later named Margaret Pokiak. Olemaun grew up in Banks Island in the Northwest Territories where her family lived by hunting and trapping the land. From age 8 to age 12, Olemaun was sent to a residential school in Aklavik. She was targeted by a nun who would bully her and embarrass her in front of everyone. Olemaun's story is about empowerment, courage, endurance and overcoming oppression at such a young age.
Native American Youth Narrates Suicide Prevention – Indian Health Service
Creating Caring Communities Bully- Proofing Your School – This is a 3-year school-based pilot program created by the Indian Health Service and Watersmeet Township to reduce the violent and bullying behaviours of Native students. The program has expanded to include K-12 schools serving the Chippewa, Oneida, Stockbridge-Munsee, and Potawatomi nations (refer to "American Indian Programs Target Bullying" in bibliography).
Webinar: Bullying and Cyberbullying: Focusing on Native Youth with Disabilities
This powerful 47-minute webinar led by Joann Sebastian Morris is tailored expressly for Parent Centers to assist them in their outreach to Native parents by:
Increasing their awareness of bullying in general and its impact on AI/AN youth, particularly those with disabilities
Increasing their awareness of cyberbullying and sexting
Learning bullying prevention strategies that Parent Centers can share with Native parents
We are pleased to share the 2017 webinar with you (linked below), as well as the PowerPoint presentation used in the webinar (which includes speaker notes). In the next set of resources listed, you'll also find a supporting brief on bullying, another on cyberbullying, and then an extensive resource list on both of these serious behaviors that affect many youth with disabilities, including AI/AN and Native Hawaiian youth.
Watch the webinar at: https://www.youtube.com/watch?v=lodmVJuWb-Q
PowerPoint Presentation and PDF of the Webinar on Bullying and Cyberbullying
PowerPoint slideshow | PDF of the slideshow
_________________________
Bullying: What American Indian and Alaska Native Parents Need to Know
Bullying continues to be a significant problem for youth, parents, school counselors, and many others. Students with a behavioral, emotional or developmental disability are at a greater risk for bullying than other youth. This article provides current information about bullying in general, and specific information about bullying of Native youth and those with disabilities. It also offers action steps for parents to take. This brief supports Parent Centers by providing them with a culturally relevant handout to distribute at training sessions or outreach events held in Native urban, rural, or reservation communities. [4-page brief, available in Word and PDF, 2020 update]
Bullying: What Native Parents Need to Know | in PDF
_________________________
Cyberbullying: What American Indian and Alaska Native Parents Need to Know
Cyberbullying continues to be one of the biggest challenges faced by youth when they are online. Yet, many parents remain unaware of how to protect their children and youth from online bullying. This article provides background information about cyberbullying and sexting and their impact on Native American youth with disabilities. It also includes a variety of action steps for parents.  This brief supports Parent Centers by providing them with a culturally relevant outreach tool to share when hosting a training event or an information booth in or near a Native community. [4-page brief, available in Word and PDF, 2020 update]
Cyberbullying: What Native Parents Need to Know | in PDF
Online Sources
Resources on Bullying and Cyberbullying of Native Youth
A publication of the Native American Parent Technical Assistance Center (NAPTAC) Compiled by Joann Sebastian Morris for NAPTAC
This resource list has been compiled expressly for Parent Centers and the Native families and communities they serve.
Agencies and Organizations Addressing Bullying
Indian Health Service (IHS) | This office in the U. S. Department of Health & Human Services sponsors a bullying prevention campaign: Stand Up Stand Strong. Fact sheets, brochures, and posters are available, as well as a link to a video with Native youth. Online at:
https://www.ihs.gov/dbh/resources
Office for Civil Rights (OCR) | This is an office in the U. S. Department of Education. OCR investigates complaints that a student's civil rights have been violated, due to discrimination based on a youth's race, ethnicity, national origin, gender, religion, or disability. Online at:
 https://www2.ed.gov/about/offices/list/ocr/complaintintro.html
PACER's National Bullying Prevention Center | PACER is a parent training and information center that supports and advocates for children with disabilities and their families. Its national Bullying Prevention Center provides resources that benefit all youth, including those with disabilities. Parents can find workshops and other resources on their website. They've also created separate resources for kids and teens. Online at:
https://www.pacer.org/bullying/
Substance Abuse and Mental Health Services Administration (SAMHSA) | This federal agency supports a Tribal Training and Technical Assistance Center that makes available a fact sheet called Bullying Prevention in Indian Country, two webinars on bullying (scroll down the page until you reach "Bullying Prevention"), and a new free KnowBullying app for all smartphones.
Bullying Prevention Programs
Connect for Respect | This initiative of the National Parent-Teachers Association (PTA) helps parents, youth, and educators prevent bullying and create safe schools. Online at: https://www.pta.org/bullying
Not in Our Town (NIOT)/Not in Our School (NIOS) | NIOT is a program to stop hate and racism, and build inclusive communities. NIOS addresses student bullying by building safe and inclusive school environments. NIOS offers trainings, films, lesson plans and other resources.
Online at: https://www.niot.org/nios
Olweus Bullying Prevention Program | This is the oldest evidence-based program to prevent bullying in schools and improve school climate. It includes school-wide elements, classroom-level activities, and individual interventions for youth identified as bullies.
 Online at: https://www.olweus.sites.clemson.edu
Positive Behavioral Interventions and Supports (PBIS) | PBIS is a well-researched, three-pronged strategy that focuses on the prevention of youth behavior problems while promoting a positive, collaborative school/group environment.
Online at: https://www.pbis.org
Second Step | This is the flagship program of the Committee for Children. Second Step is a research-based social-emotional learning program that infuses bullying prevention while pre-K to grade 8 students learn to manage their emotions, form healthy relationships, make good decisions, and cope with challenges.
Online at: https://secondstep.org
Publications on Bullying
A Sweetgrass Method of bullying prevention for Native American youth
The Sweetgrass Method incorporates traditional Native values, involves elders and traditional practitioners, and includes Native stories, songs, and teachings. By Mark Standing Eagle Baez and Patricia Isaac (2013), the article is published in the Journal of Indigenous Research, Volume 3, Issue 1, Article 1.
Online as a PDF file (501 kb), at: https://digitalcommons.usu.edu/kicjir/vol3/iss1/1/
Bullying prevention in schools starts with social-emotional learning
This 9-page paper notes that bullying prevention requires a multi-pronged approach. The school needs appropriate policies. Staff need training in bullying prevention, and due to the social nature of bullying, students need social-emotional competence. Online as a PDF (244.4 kb), at:
 https://www.cfchildren.org/wp-content/uploads/programs/docs/Second-Step_White-Paper_SEL-is-the-foundation-of-bullying-prevention_FA18.pdf
Parent fact sheet: What are public schools required to do when students with disabilities are bullied?
From the U. S. Department of Education (2014).
https://www2.ed.gov/about/offices/list/ocr/docs/dcl-factsheet-bullying-201410.pdf
Walk a mile in their shoes: Bullying and the child with special needs
This parent-friendly report includes chapters on what parents should know about: bullying, cyberbullying, how to address bullying, and parents' rights. Online as a PDF (3.8 MB), at: https://abilitypath.org/wp-content/uploads/2015/11/walk-a-mile-in-their-shoes.pdf
Websites About Bullying
https://stopbullying.gov | This is the Federal Government's bullying prevention website, managed by the U. S. Department of Health and Human Services. It includes the most up-to-date information from multiple researchers, partnering groups, and agencies. Tip sheets for parents, including parents of youth with disabilities and special health needs, are available. The website also provides activities designed by and for youth to address bullying and cyberbullying behaviors, and an online training course for educators and other adults.
https://wernative.org | This website was created by the Northwest Portland Area Indian Health Board in 2012 as a multimedia health resource for Native youth, by Native youth. It has a particular focus on the prevention of bullying, substance use and suicide.
Organizations Addressing Cyberbullying
Cyberbullying Research Center | This research center is highly respected for providing the latest bullying and cyberbullying facts and statistics, along with a wealth of resources. Included are tip sheets for parents, youth and educators; activities; and presentations, such as a webinar about the bullying of youth with Autism Spectrum Disorder. The two founders have authored five books on cyberbullying.
Online at: https://cyberbullying.org
Family Online Safety Institute | This international non-profit organization works to make the online world safer for kids and their families. It provides resources on good digital parenting, including videos and a toolkit.
Online at: https://fosi.org
Publications on Cyberbullying
Cyberbullying | This online article can be read or listened to using Read/Speaker. It opens with the definition of cyberbullying and its negative consequences. The balance of the article advises teens what they can do about cyberbullying. Online at:
https://kidshealth.org/en/teens/cyberbullying.html
Information and resources to curb the growing problem of cyberbullying
Read and share the National Crime Prevention Council's collection of short, easy-to-read publications on cyberbullying, including FAQs for parents, FAQs for teens, and six podcasts. Online, starting at: https://www.ncpc.org/resources/cyberbullying
Teen Sexting: A brief guide for educators and parents
By cyberbullying researchers, Sameer Hinduja and Justin W. Patchin, this 8-page 2018 guide offers the latest data on teen sexting. It provides practical advice for parents and educators to change teens' minds about what's acceptable and unacceptable, to increase self-respect, and to protect them from peer and societal pressures. Online as a PDF (2.65 MB), at: https://cyberbullying.org/sexting-research-summary.pdf
Websites about Cyberbullying
https://www.commonsensemedia.org | The website focuses on age-based ratings of movies and TV shows so parents can make good media choices. It also includes 18 resources about cyberbullying and 3 resources specific to sexting. A free curriculum on digital citizenship is available from their partner organization Common Sense Education.
https://www.connectsafely.org | This website offers free booklets written by parents for parents. They include A Parents' Guide to Cyberbullying, A Parent's Guide to Instagram, A Parent's Guide to Snapchat, and downloadable guides on 12 other online safety topics.
https://www.consumer.ftc.gov/topics/protecting-kids-online | At the U. S. Federal Trade Commission's website, a parent can download free, valuable resources on topics such as: cyberbullying, kids' texting and sexting, and parental controls.
https://www.missingkids.org/netsmartz/resources | This website is an online safety education project of the National Center for Missing and Exploited Children. It provides free, age-appropriate media presentations and activities to help tweens and teens be safe online. At least 10 downloadable tip sheets for parents are available, such as Parents' Guide to Smartphone Safety and Gaming Safely.
Tier 1: Native Culture and Background
Tier 2: Outreach to Native Communities 
Tier 3: Native Children and Youth
References
American Indian Programs Target Bullying. Retrieved November 24, 2011 from https://indiancountrytodaymedianetwork.com/2011/05/30/programs-by-indians-target-bullying-35000
Brown, K., Cassidy, W., and Jackson, M. (2006). Cyber- bullying: Developing policy to direct responses that are equitable and effective in addressing this special form of bullying. Canadian Journal of Educational Administration and Policy,57. Retrieved September 20, 2011 from https://umanitoba.ca/publications/cjeap/articles/brown_jackson_cassidy.html
Brown, K., Cassidy, W., and Jackson, M. (2009). You were born ugly and youl die ugly too: Cyber-bullying as relational aggression. Education Journal: Special Issue on Technology and Social Media, Part I, 15(2). Retrieved September 20, 2011 from https://ineducation.ca/ineducation/article/viewFile/57/539
Calgary Police Service. Safe Surf from Youthlink Calgary. Retrieved December 8, 2011 from https://www.youthlinkcalgary.com/safesurf/layout/set-print/What-s-Online
Cyberbullying and the Law Fact Sheet. (n.d.) Retrieved  September  27, 2011 from https://www.media-awareness.ca/english/resources/educational/teaching_backgrounders/cyberbullying/cyberbullying_law2_h4.cfm
Hinduja, S., and Patchin, J. (n.d.). Cyberbullying Research Summary: Cyberbullying and Suicide. Cyberbullying Research Center. Retrieved September 20, 2011 from https://www.cyberbullying .us/cyberbullying_and_ suicide_research_fact_sheet.pdf
Indian Health Service. IHS Public Service Announcement—Native American Youth Narrates Suicide Prevention. Retrieved November 29, 2011 from https://www.ihs.gov/PublicAffairs/DirCorner/index.cfm?module=blog311p1
Mesa Police Teen Connection—Texting to Sexting. Cyber  Bullying.  (n.d.) Retrieved November 24, 2011 from https://www.mesaaz.gov/police/TeenConnection/CyberBullying.aspx
Secret Life of Kids Online: What You Need to Know (2011). Retrieved September 20, 2011 from  https://www.parenting.com/article/kids-social-networking
Shariff, S. (2005). Cyber-Dilemmas in the New Millennium: School Obligations to Provide Student Safety in a Virtual  School  Environment. McGill Journal of Education, 40(3), 457-477.
Stop Cyberbullying: Project Safe Childhood (n.d.). U.S. Attorney's Office, U.S. Department of Justice. Retrieved September 27, 2011 from https://www.justice.gov/usao/ma/childexploitation/psc/Stop%20Cyberbullying.pdf
Windspeaker AMMSA. Kind and Considered Response to Grown Up Experiences [Column]. Vol. 29, Issue 2, 2011 Retrieved November 24, 2011 from https://www.ammsa.com/publications/windspeaker/kind-and-considered-response-grown-experiences-colum