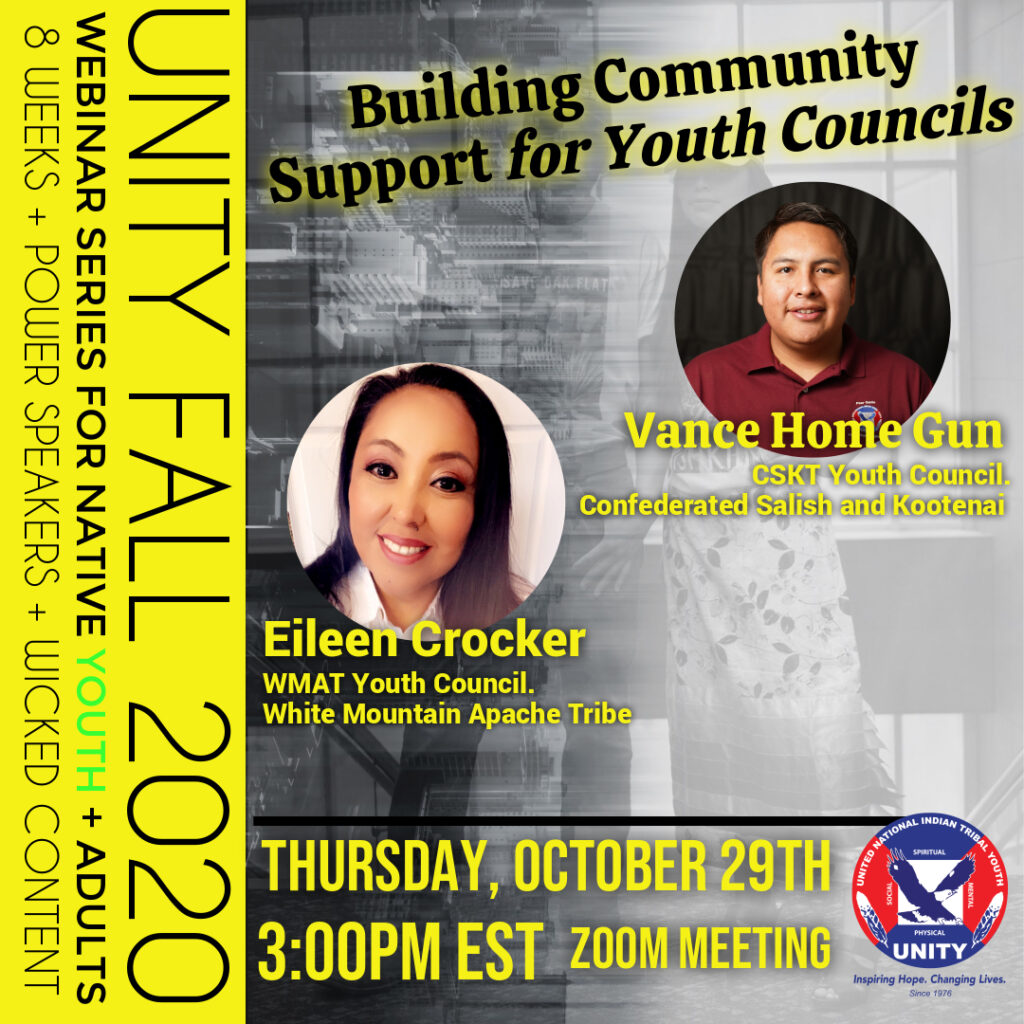 Click Here to Watch & Learn: UNITY values the dedication and commitment of Youth Council advisors. Each youth council is unique with its culture, location and sponsoring agencies. UNITY wants you to have the support and resources you need. Building community support provides each advisor a network of people to assist with meetings, activities, fundraising and leadership development. Learn to identify the assets in your community; individuals, resources and programs.  UNITY Peer Guide and Salish, Kootenai Youth Council Advisor Vance Home Gun will co-host along with UNITY Alumni and White Mountain Youth Council Advisor Eileen Crocker. Click Below to register for this complementary training for Native youth Advocates on how to encourage community engagement.  Let's talk about Community Support!
Building Community Support for Youth Councils on Thursday, October 29, at 12 p.m. PST / 3 p.m. EST 
The eight-week webinar series will be sponsored in part by Comcast NBCUniversal and Nike N7. A November webinar will be sponsored by Nike N7 as part of their commitment to National Native American Heritage Month.
"We are launching this series of webinars to engage with our communities on the topics that are most relevant to Native youth today, and to help adult leaders better engage and support them," said UNITY Executive Director Mary Kim Titla. "We want to thank our wonderful sponsors, Comcast NBCUniversal and Nike N7 for making these webinars possible."
Upcoming Adult Webinars  (Register in Advance at each of the links below)
Thursday, November 5, at 12 p.m. PST / 3 p.m. EST – Guiding Youth Council Meetings
Thursday, November 12, at 12 p.m. PST / 3 p.m. EST – Best Practices in Youth Council Development
Thursday, November 19, at 12 p.m. PST / 3 p.m. EST – How to Host Virtual Events for Native Youth
Thursday, December 3, at 12 p.m. PST  / 3 p.m. EST – Digital Storytelling: UNITY TikTok & Video Communications for Native Youth
You can find more information on UNITY's fall webinar series at unityinc.org/webinars