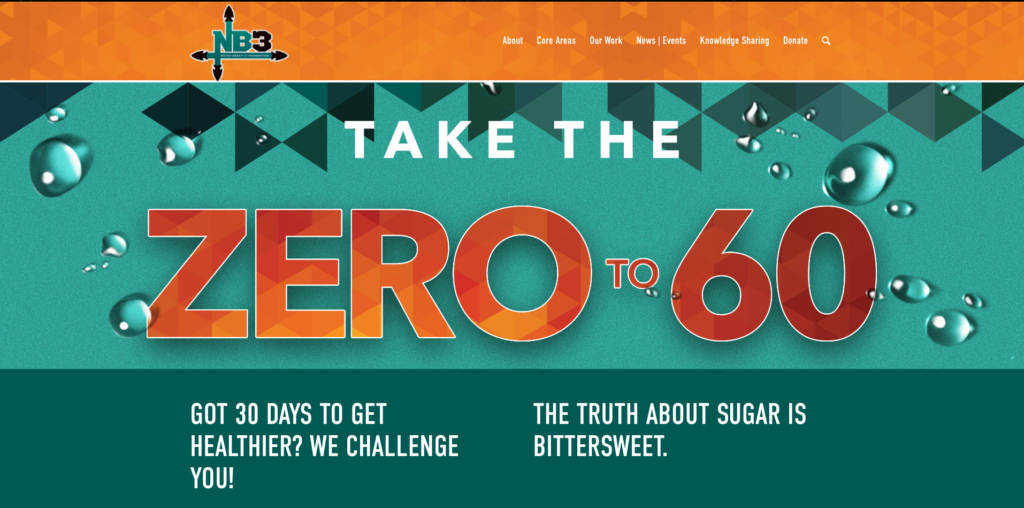 This Sunday, Nov.1 marks the start of NB3's annual
 Zero to 60 Challenge
. The NB3 Foundation, and many of our relatives across the country are already signed up to take on the month-long challenge. Zero sugary drinks for 30 days! I won't lie, the first couple days are rough, but making your family and coworkers do the challenge alongside you, helps with the temptation!
Don't worry, we will be with you through the whole month sharing tips and resources to help us all get through the challenge together!
Visit the Zero to 60 Challenge page on our
 website 
for resources to help prepare.
Remember Water First!
Did you know??
1 in 2 Native children is expected to develop type 2 diabetes in their lifetime.

Consuming sugary drinks leads to heart disease, obesity, diabetes, and tooth decay.

In some tribal communities, up to 60% of children are obese.

Native American children as young as 4 years old are developing type 2 diabetes.

While the U.S. overall is seeing a decrease in type 2 diabetes, rates are increasing rapidly among Native communities.
Let's Do Something About it Together!
Check out these other virtual events happening this month!
NB3FIT WEEK 2020 has something for everyone!

We are calling on families, tribes and Native organizations to join us for a week dedicated to Native children's health and fitness!
RUN WITH US … virtually!

Safety first! This year's NB3FIT Community XC Race is virtual.

Stay safe and run/walk the race anytime between November 2-8.