By SCOTT MCKIE B.P. One Feather Asst. Editor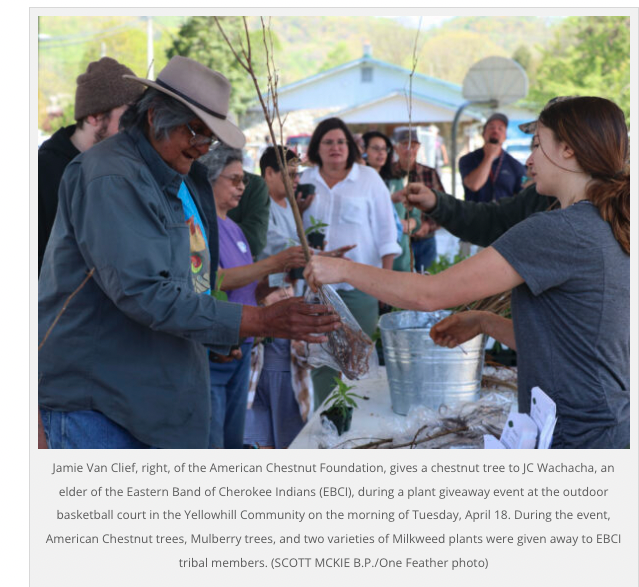 CHEROKEE, N.C. – The Eastern Band of Cherokee Indians (EBCI) celebrated Earth Week (April 17-22) with several events on and around the Qualla Boundary encouraging knowledge of environmental and wildlife issues.
"Earth Day is where you recycle, you grow stuff, and you don't throw trash around the Earth," Chloe Rivera, a second-grade student at Cherokee Elementary School, told the One Feather during an Earth Week event held at the Oconaluftee Island Park.  "If you find trash, you should put it in the trash can.  You can clean your neighborhood and clean your school."
The event, for second grade students at Cherokee Elementary School and New Kituwah Academy, was hosted by the EBCI Natural Resources program on the morning of Friday, April 21.  Students went through various stations and learned about things such as erosion control, fish populations, planting seeds properly, water and air quality, and more.
PHOTO ALBUM – 2nd Grader event at Oconaluftee Islan Park
Paula Price, EBCI Natural Resources program coordinator, said of the event, "Earth Day is the combination of bringing a lot of elements together, and the outreach that we hold each year on Earth Day brings young children here where we can educate them on things such as water quality, air quality, regulatory compliance, forestry, fisheries, and wildlife.  All of these elements are brought together.  It's like a circle of life.  It's a way for us to instill in our youngsters that all of these things are related."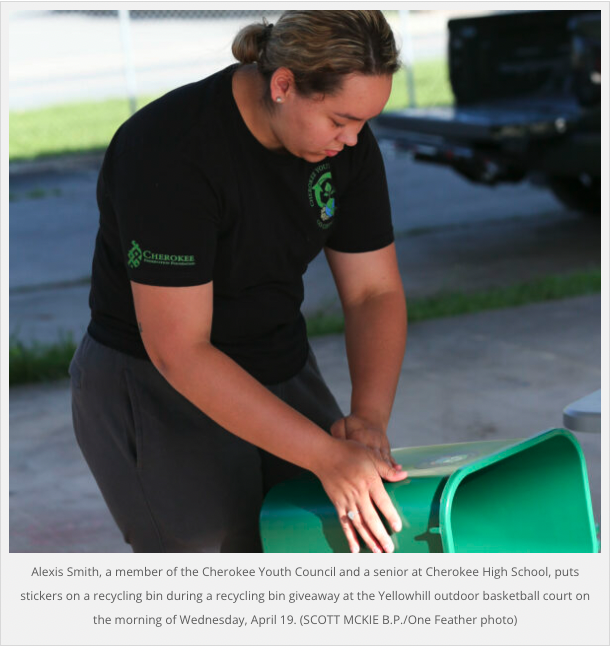 She added, "This is our largest outreach event that we have each year.  All staff comes together to teach the youngsters, and you have to catch them at a young age in order for them to grow up to appreciate what we've got here."
Joey Owle, EBCI Secretary of Agriculture and Natural Resources, said of Earth Week, "Instead of just having a day, let's celebrate Earth for a week.  We celebrate it every day.  We asked the question to these second graders, 'what does Earth Day mean to you?' and I think my answer would reflect what they said – take care of the environment, reduce pollution, pick up trash, plant trees.  Those are everyday things that we can all do.  I didn't expect to hear anything less from these kids who have grown up with this topic being so important every day."
Secretary Owle added, "When it comes to what we're doing here, at Natural Resources, we're going out and monitoring our various ecosystems, our wildlife, our forests, our horticulture areas.  We're planting varieties of native species of trees and working with community members…we're doing a lot of activities that we're going to be bringing community members in on so that they can have that ownership over and participate in."
In a collaboration with the Cherokee Preservation Foundation and EBCI Tribal Recycling and Solid Waste Operations Programs, the Cherokee Youth Council hosted a recycling bin giveaway at the Yellowhill outdoor basketball court on the morning of Wednesday, April 19.  The bins were given to tribal programs and employees and are for recycling plastics (both 1 and 2 types) and aluminum cans.  Several years ago, the Cherokee Youth Council distributed recycling bins, but that portion of the program hasn't been active in awhile.
"In talking about community needs and what would better our community, they decided that recycling was one of those things and we decided to revive the program," said Levi West, Cherokee Youth Council leadership specialist.  "Hopefully, this time it is more successful.  That's why we tried to focus on just the ones and twos and aluminums."
West said the bins have a circle top to encourage people to throw plastic bottles and aluminum cans into them and discourage people throwing trash into them.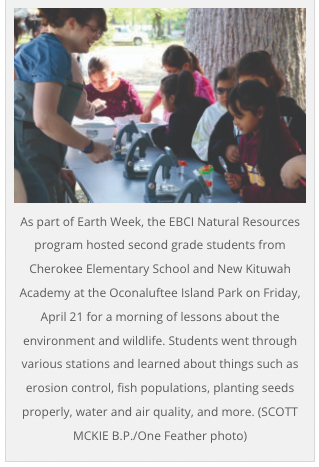 CHEROKEE, N.C. – The Eastern Band of Cherokee Indians (EBCI) celebrated Earth Week (April 17-22) with several events on and around the Qualla Boundary encouraging k
Recycling and the environment are of extreme importance said West.  "As Natives, it should be at the top of our list.  We should care more than anybody about the Earth, the water, and doing our part in taking care of it."
Alexis Smith, a member of the Cherokee Youth Council and a senior at Cherokee High School, helped with the recycling bin giveaway on Wednesday morning.  "I think it is really important for our community – to clean it up a little bit, and I think it's very important for people to know just how they can help our community by recycling."
She spoke to the impetus behind the event.  "We saw that not many people were recycling, and we wanted to try to get the word out.  It's a really good opportunity for people to start doing this because they will not only help the Cherokee community as a whole but the communities they live in."
T. Trejo, EBCI Solid Waste Dept. manager, said he's very happy his program could collaborate with the Cherokee Youth Council on the project. Of its importance, he noted, "As Cherokee people, we should be the best stewards of the environment that there are around. It's a major thing for us, as Cherokee people, to protect our environment, and every bit that we can recycle protects our environment."
He added, "Another big aspect is the cost of waste disposal.  Every item that we recycle is not being sent to the landfill which is not having to be transferred to the landfill.  We are not paying a hauler because any trash that we dispose of goes to Georgia…so, there's two big aspects to recycling – that's environmental and economic."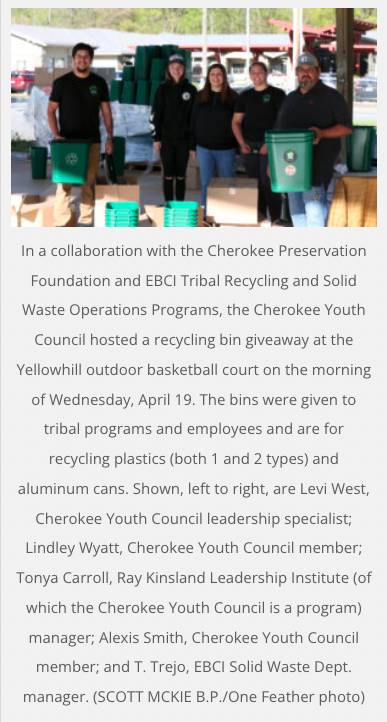 EBCI Natural Resources hosted the EBCI Community Forest Celebration at the Cowee Mound site near Frnaklin, N.C. on Thursday, April 20.  The event featured speakers discussing the Mound itself and the natural environment.  The EBCI Cooperative Extension Office hosted a plant giveaway event at the outdoor basketball court in the Yellowhill Community on the morning of Tuesday, April 18.  During the event, American Chestnut trees, Mulberry trees, and two varieties of Milkweed plants were given away to EBCI tribal members.
The first Earth Day was held on April 22, 1970.  The website, EarthDay.org, speaks to the impact from the beginning.  "Groups that had been fighting individually against oil spills, polluting factories and power plants, the loss of wilderness and the extinction of wildlife united on Earth Day around these shared common values…by the end of 1970, the first Earth Day led to the creation of the United States Environmental Protection Agency and the passage of other first-of-their-kind environmental laws, including the National Environmental Education Act, the Occupational Safety and Health Act, and the Clean Air Act.  Two years later, Congress passed the Clean Water Act.  A year after that, Congress passed the Endangered Species Act and soon after the Federal Insecticide, Fungicide, and Rodenticide Act."