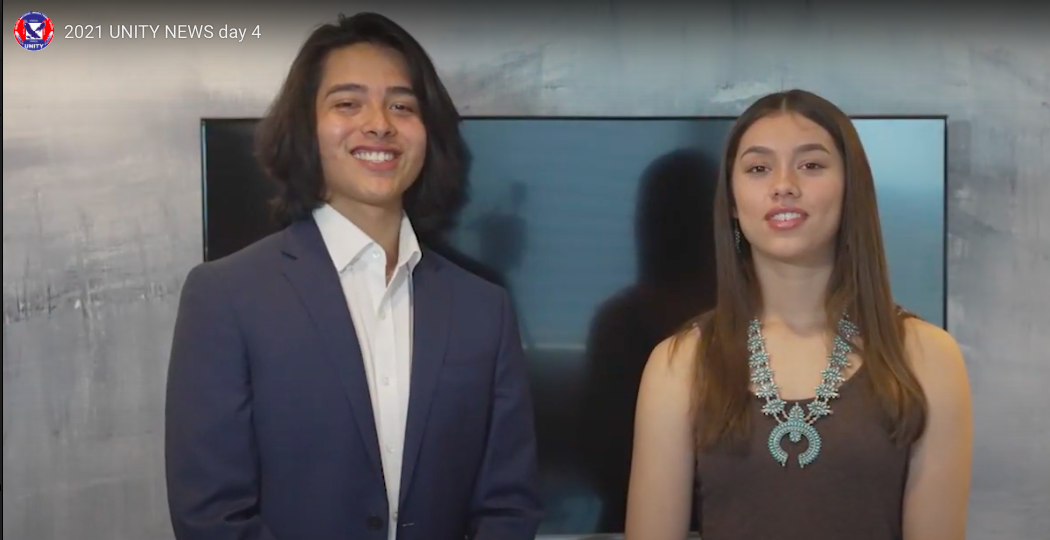 Josiah Lester, Navajo, and Melia Mosley, San Carlos Apache/Assiniboine, served as co-hosts of UNITY News, which broadcasted daily at the National UNITY Conference in Dallas, Texas. Each segment featured highlights of national conference activities. UNITY wishes to thank Wil Mosley, Colby White Thunder, Charly Edsitty, and Cordell Parker for playing key roles in the production of UNITY News.
You can watch each segment on UNITY's 
YouTube Channel 
or just click on the links below:
UNITY News Background
UNITY expanded its news network in 2014 with the production of mini-newscasts. A Communications boot camp and the production of four to five-minute newscasts are part of UNITY's youth programming. The mini-news segments are shown daily during the annual UNITY Midyear Conference and National UNITY Conference. Every year, thanks to partners and mini-grants from various sponsors, UNITY continues to further its mission by empowering Native youth to tell their own stories as well as report on UNITY activities.
Communications camps allow Native youth to explore the world of journalism and inspire them to produce videos about issues or activities important to them. Stay tuned for more information about upcoming Communication Camps! You can watch all UNITY News videos on UNITY's YouTube Channel. Subscribe today!