www.smithsonianmag.com: On Indigenous Peoples' Day 2020, the museum brings young Native activists together online to discuss the tension between history and memory, and how both are reflected in the current racial and social landscape. Hip-hop artist Frank Waln contributes a musical performance. From left to right: Musician Frank Waln; panelists UNITY 25 Under 25 Awardee Brook Thompson, 25 Under 25 Awardee Dylan Baca, Lina Krueck, Julian Brave NoiseCat, Michaela Pavlat, and Alberto Correa III. (Photos courtesy of the participants)
Are you a parent, grandparent, or other caregiver wondering what to do for Indigenous Peoples' Day this year while you and your family are home? Perhaps you're a college student, discussing social justice and hoping to do something meaningful that also respects public health guidance on in-person gatherings?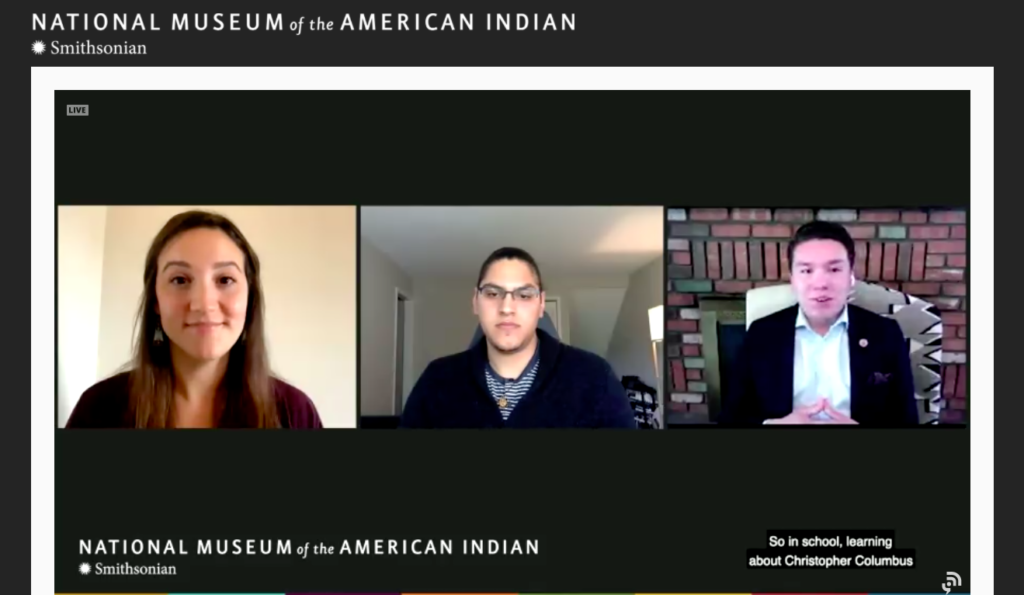 To date, 14 states— Alabama, Alaska, Hawai'i, Idaho, Maine, Michigan, Minnesota, New Mexico, North Carolina, Oklahoma, Oregon, South Dakota, Vermont, and Wisconsin—and the District of Columbia, more than 130 cities, and growing numbers of school districts celebrate Indigenous Peoples' Day in place of or in addition to Columbus Day. And many people reach out to the National Museum of the American Indian to ask about appropriate ways to honor the Native peoples of the Americas. Here are my top five suggestions for engaging with the spirit of Indigenous Peoples' Day during this unusual year.
Plant Native! Native plants support healthy ecosystems. For example, they sustain insects, cornerstones of a healthy environment. Insects in turn provide needed energy to birds and help fuel their migration in the fall. Most people know about the relationship between milkweed and monarch butterflies. But consider the pawpaw, a native tree widely distributed in most of the United States and common east of the Mississippi. (My tribe, the Shawnee, call this time of year when the pawpaw fruits ripen the pawpaw moon.) Outside the Deep South, the pawpaw is the only host species for caterpillars of the zebra swallowtail butterfly. Think of the impact you can have by planting native species and returning health to your yard and neighborhood. The U.S. Forest Service has all sorts of resources about gardening with native species on its website Celebrating Wildflowers.
Read an Indigenous writer. Consider reading a board book with the youngest in your family. Social Justice Books, a project of Teaching for Change, shares a list of books recommended by Dr. Debbie Reese (Nambé Pueblo), founder and co-editor of American Indians in Children's Literature. Dr. Reese's list includes everything from illustrated storybooks for young children, to middle-school fiction and nonfiction, to titles for young (or not so young) adult readers. For high-school students, and perhaps you, I recommend An Indigenous Peoples' History of the United States for Young People, adapted by Dr. Reese and Jean Mendoza from Roxanne Dunbar-Ortiz's more academic An Indigenous People's History of the United States. The young people's edition has discussion questions at the back that families or classmates can talk about together at home or on Zoom.
Attend an online Indigenous Peoples' Day celebration. Monday, October 12, at 1 p.m. Eastern time, the museum is streaming an Indigenous Peoples' Day program for middle- and high-school students, though all are welcome. The third webinar in a new monthly series titled Youth in Action: Conversations about Our Future, October's program brings young Native activists Brook Thompson (Yurok and Karuk), Julian Brave NoiseCat (Canim Lake Band Tsq'escen and Lil'Wat Nation), Lina Krueck (Oglala Lakota), Dylan Baca (White Mountain Apache), and Alberto Correa III (Taíno) together virtually to talk about the tension between history and memory, and how each shapes current social movements happening across America. Hip-hop artist Frank Waln (Sicangu Lakota) contributes a musical performance. This roughly one-hour conversation is introduced by Kevin Gover (Pawnee), director of the National Museum of the American Indian, and moderated by cultural interpreter Michaela Pavlat (Sault Ste. Marie Band of Chippewa Indians). You can watch earlier Youth in Action webinars via the archive on our website.
The Indigenous Peoples' Day Convergence, October 10, 11, and 12, also spotlights Indigenous leaders, change-makers, and artists working on important contemporary issues. Organized by the Greater Cincinnati Native Coalition, the convergence is ticketed, but the coalition makes clear that donations can be as little as one dollar.
Help teach a more truthful history of Columbus and the Indigenous peoples of the Caribbean Islands. A Washington, D.C., preschool teacher shared this lesson, which uses puppets to teach three- and four-year-olds about empathy and different perspectives in age-appropriate ways. It's never too early to start telling more accurate histories about the Americas in relation to Native people.
Middle- and high-school students may want to learn more about the history and culture of the Taíno people. Content for this downloadable guide in English and Spanish was developed by the Smithsonian Latino Center in collaboration with the museum for the exhibition Taíno: Native Heritage and Identity in the Caribbean | Taíno: Herencia e identidad indígena en el Caribe.
See if you're shown on this map of places that recognize Indigenous Peoples' Day. If your town or school district isn't listed but has adopted Indigenous Peoples' Day, email zep@zinnedproject.org to put your community on the map as part of this growing movement!
Renée Gokey (citizen of the Eastern Shawnee Tribe of Oklahoma) is the teacher services coordinator at the Smithsonian's National Museum of the American Indian in Washington, D.C.