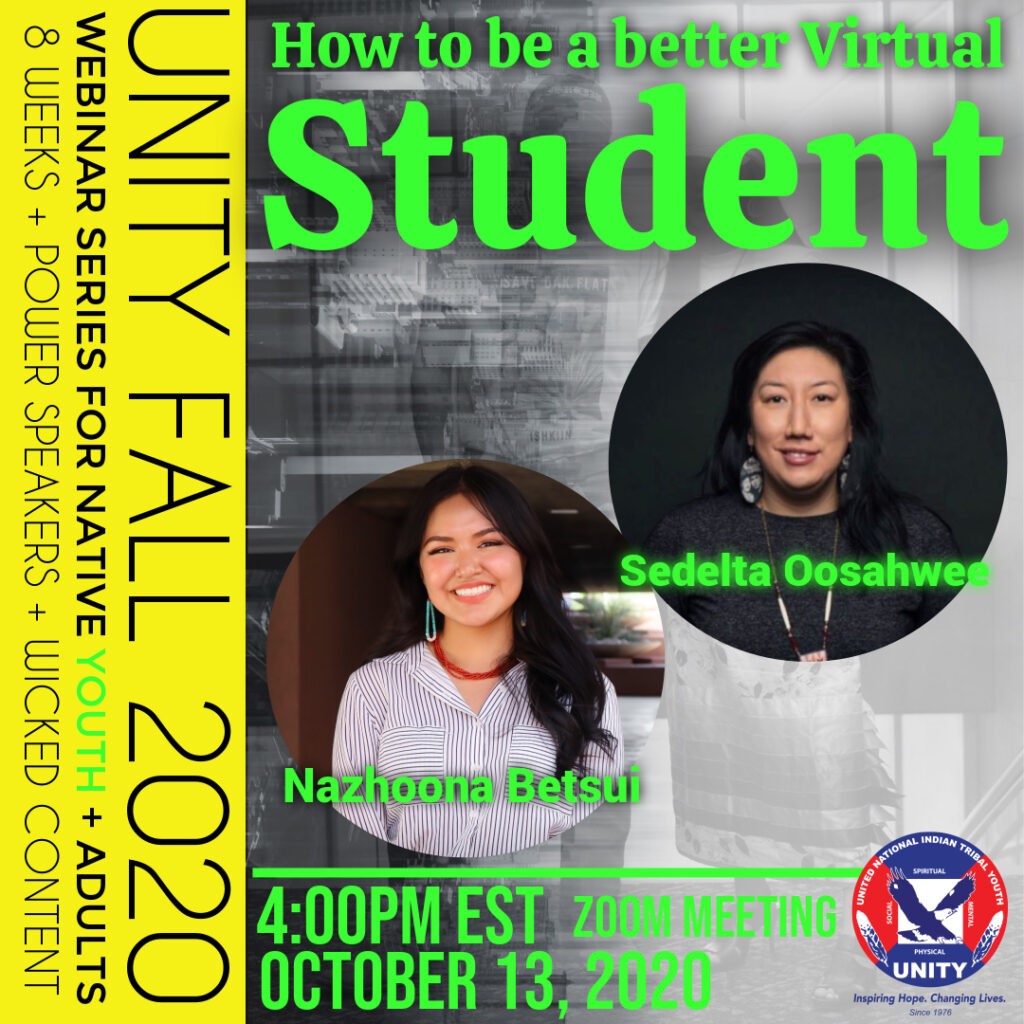 With the increase of virtual activity in all aspects of society, more and more students are learning and interacting online for their education. With this presentation, our presenters will share some tips and advice on learning virtually as well as some online resources that can help students be effective learners. Our presenters are Nazhoona Betsuie (pictured above) and Sedelta Oosahwee.

Nazhoona, is a student at Arizona State University majoring in environmental sciences. Sedelta Oosahwee is currently a Senior Program/Policy Analyst/Specialist with the National Education Association where she manages the American Indian/Alaska Native portfolio and serves as a lead on racial justice in education. Previously, she served as Senior Advisor and Acting Deputy Director for the Office of Tribal Relation in the US Department of Agriculture; before that she was the Associate Director of the White House Initiative American Indian and Alaskan Native Education.
The eight-week webinar series will be sponsored in part by Comcast NBCUniversal and Nike N7. A November webinar will be sponsored by Nike N7 as part of their commitment to National Native American Heritage Month. The remaining webinars will take place on Tuesdays (youth-focused topics) at 1 p.m. PST or 3 p.m. PST, and Thursdays (adult-focused topics) at 12 p.m. PST, and will be conducted via Zoom or Instagram. Click below to Register for the upcoming online learning opportunities.
Upcoming Youth Webinars 
Tuesday, October 20, at 3 p.m. PST / 6 p.m. EST– Water Protection and Water Rights on Instagram
Tuesday, October 27, at 1 p.m. PST / 4 p.m. EST– Applying Traditional Knowledge in STEM Fields click to register in advance
Tuesday, November 3, at 3 p.m. PST / 6 p.m. EST– Engaging with Native Youth Through Social Media on Instagram
Tuesday, November 10, at 3 p.m. PST / 6 p.m. EST – Taking Your Game to the Next Level – Tips and Advice on Becoming a Collegiate Student Athlete click to register
Tuesday, November 17, at 3 p.m. PST  / 6 p.m. EST– Nike N7 Collaboration – An Athlete Discussion with Nike N7 Ambassadors – Native American Heritage Month – click to register in advance
Tuesday, December 1, at 3 p.m. PST / 6 p.m. EST – Native Youth Perspectives on the 2020 Elections on Instagram
For more information on this Fall webinar series and the Youth track registration links visit: https://unityinc.org/unity-announces-series