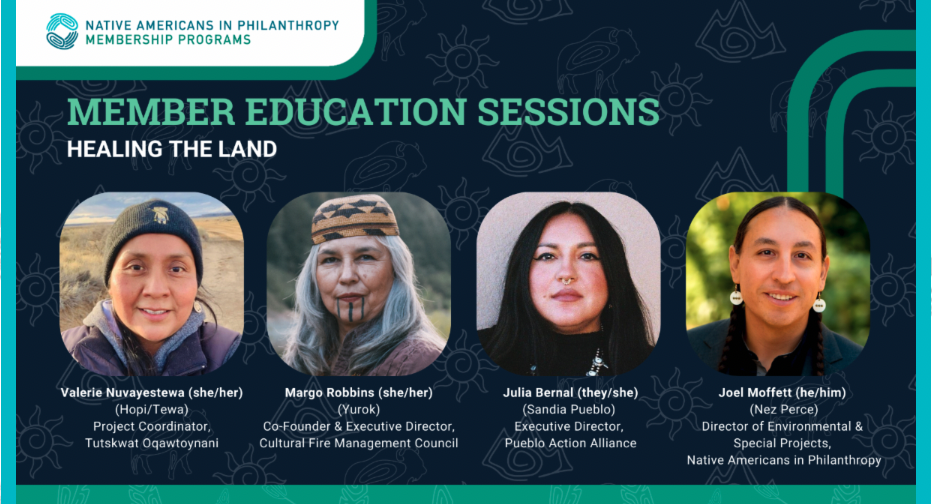 Friends and Relatives,

On April 20, at 1:00 pm (ET), join our moderator, Joel Moffett (Nez Perce), and Indigenous leaders Valerie Nuvayestewa (Hopi/Tewa), Margo Robbins (Yurok) and Julia Bernal (Sandia Pueblo), as they discuss vital healing work and how philanthropy can better support Indigenous-led nonprofits and community organizations.
About the Series:

Native Americans in Philanthropy welcomes you to engage in a gathering of nonprofits, philanthropy, emerging leaders, and Native communities for discussions and collaborative action for building philanthropy rooted in Native traditions and values.

This session is available to the public as a highlight of our member benefits. For more information on NAP Memberships, please email Rod Jacobs at rjacobs@nativephilanthropy.org.

Our curated education sessions of virtual conversations, panels, and speakers represent the diversity of Indian Country and the experiences of Indigenous Peoples in what is now known as America. These sessions are designed for NAP members working in philanthropy and will focus on how philanthropy can operate differently to center Indigenous perspectives.

Through these sessions, NAP is passing the mic to individuals, Tribes, and Native nonprofits who are experts in their respective fields. This platform will foster an informed membership that will lead the shifting of the philanthropic sector in deeper, more impactful ways that serve the people, communities, and causes they care about.

Join us on Thursday, April 20 from 1:00PM to 2:30PM ET!
Valerie Nuvayestewa (Hopi/Tewa)
Project Coordinator
Tutskwat Oqawtoynani
Valerie Nuvayestewa is Hopi/Tewa from the Tewa Corn Clan, Tewa Village, First Mesa, Arizona. Valerie is the Project Coordinator for Tutskwat Oqawtoynani (helping the Earth to gather its strength), a fiscally sponsored, Hopi and Tewa-led environmental, grassroots organization. Her community and family join in this meaningful work as they come together to cultivate awareness of land stewardship within their villages.
An avid environmentalist, writer, forager, mother, grandmother, and student in life, she finds that her most important and fulfilling work comes from spending time in the fields and garden with her family.
Margo Robbins (Yurok)
Co-Founder & Executive Director
Cultural Fire Management Council
Margo (she/her) comes from the traditional Yurok village of Morek, and is an enrolled member of the Yurok Tribe. She is the co-founder and Executive Director of the Cultural Fire Management Council, co-lead of the Indigenous People's Burn Network, and board member of the Indigenous Stewardship Network. She graduated from Humboldt State University in 1987 and resides on the Yurok reservation in far northern California.
Julia Bernal (Sandia Pueblo)
Executive Director
Pueblo Action Alliance
Julia Bernal (they/she) is an enrolled tribal member of Sandia Pueblo and has lineage to the Yuchi peoples in Oklahoma. They are the Executive Director of the Pueblo Action Alliance. They are pursuing dual master's degrees in Water Resources and Community and Regional Planning. She advocates for Water Back, Land Back, the rematriation of all stolen water resources and ancestral lands, and the decommodification of all that is sacred. She has served on the Natural Resources Committee for the All Pueblo Council of Governors, and is the board chair of the Native Lands Institute and board member of the Middle Rio Grande Water Advocates .
Moderator
Joel Moffett (Nez Perce)
Director of Environmental & Special Projects
Native Americans in Philanthropy
Joel Moffett (he/him) currently serves as the Director of Environmental and Special Projects at Native Americans in Philanthropy.
As a former Tribal leader, Joel has served as Vice Chairman of the Nez Perce Tribe Executive Committee. In 2013, he was also elected to lead the Columbia River Inter-Tribal Fish Commission (CRITFC) as its chairman. Most recently, Joel was the Natural Resources Policy Coordinator for the Affiliated Tribes of Northwest Indians (ATNI).
Joel currently lives in Suquamish, WA with his children.
ICYMI: Tribal Nations Conservation Initiatives | Member Education Sessions
On Thursday, March 23, NAP hosted a Member Education Session focused on Tribal Nations Conservation Initiatives!

If you missed all or part of the session – don't worry! You can watch now on your computer, phone, tablet, or smart TV, via NAP's YouTube Channel, or with the link below. You can also share it with your friends!