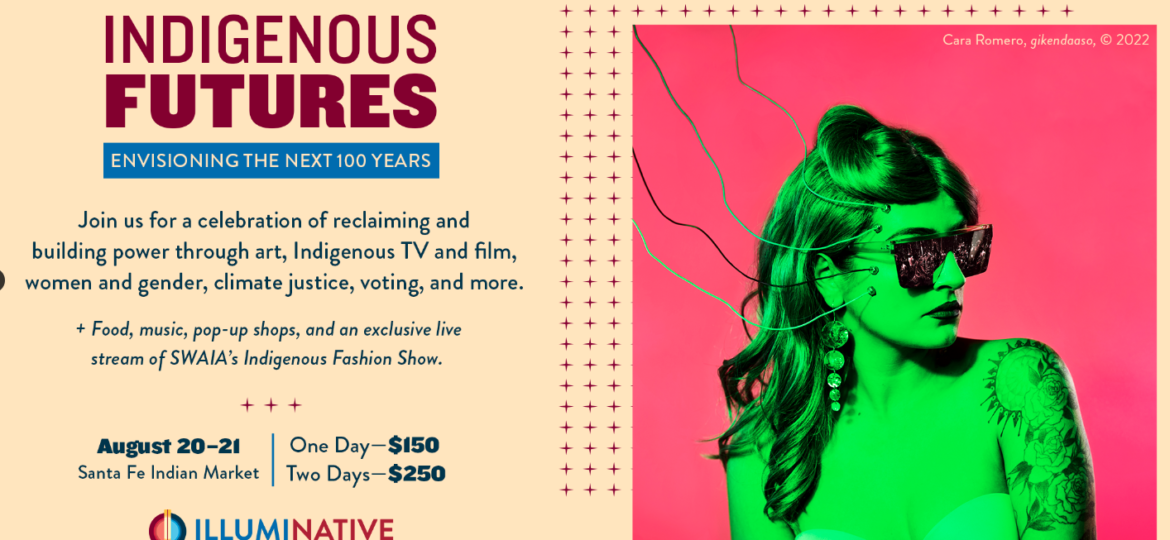 IllumiNative is excited to announce a new partnership with Southwestern Association for Indian Arts (SWAIA), featuring award-winning Chemehuevi artist Cara Romero, Indigenous fashion brand Urban Native Era, and the Sundance Institute Indigenous Program to celebrate Native representation, leadership, visions for the future, and drive the economic impact of Native art at the Santa Fe Indian Market in New Mexico.
Through this partnership, IllumiNative will host an event at this year's Santa Fe Indian Market: Indigenous Futures: Envisioning The Next 100 Years, an exclusive experience where guests can enjoy Indigenous programming and empowering panel discussions, a curated, multimedia art experience centered in Indigenous Futurism, food and beverages from Indigenous vendors, pop up shops, a short-film screening, a Livestream of the SWAIA Finale Indigenous Fashion Show on August 21st, and swag bags and merchandise designed by Urban Native Era.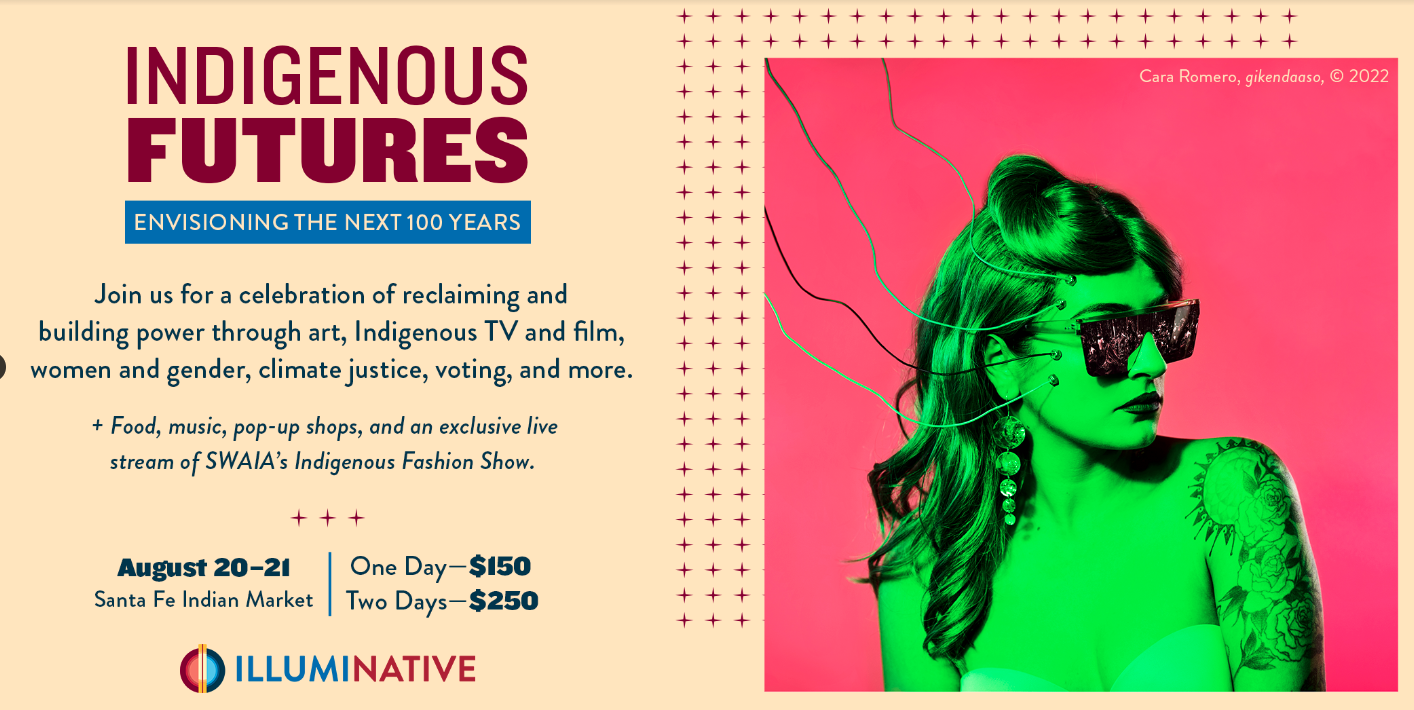 WHEN: August 20th at 12pm-6pm MT and August 21st at 10am-6pm MT
WHERE: La Terraza at La Fonda on the Plaza Hotel
100 East San Francisco Street, Santa Fe, NM 87501
"We're so thrilled to be partnering with SWAIA, featured artist Cara Romero, Urban Native Era and Sundance's Indigenous Program to create an exciting and empowering space to celebrate Native peoples, and our dynamic art, stories, innovation and culture," said Crystal Echo Hawk, Founder and Executive Director of IllumiNative.
"Despite its name, the Santa Fe Indian Market was always driven by non-Natives. Over the course of its history, Native artists were not only exploited and objectified, but in its beginnings Native artists also weren't even allowed to attend, let alone sell there. On their centennial anniversary, we wanted to not only celebrate Native art, cultures, leadership, and the beauty of our humanity but reclaim our narrative and power. We look forward to hosting a space where we can have fun, educate, connect, and come together to discuss important issues and build power and change for Indian Country."
The programming and art will be centered around the themes of voting and building power, climate justice, women and gender, and representation in art, film and TV as a way to envision a new era for Indian Country for the next century.
Artists featured will include:
Diego Romero (Cochiti Pueblo)
Mateo Romero (Cochiti Pueblo)
Povi Romero (Pojoaque Pueblo)
Rose Simpson (Santa Clara Pueblo)
Dyani Whitehawk Polk (Sicangu Lakota)
Kaa Folwell (Santa Clara Pueblo)
Natalie Ball (Klamath/Modoc)
Micah Wesley (Mvskoke/Kiowa)
Terran Last Gun (Piikani Nation)
Leah Mata-Fragua (Northern Chumash)
Geo Neptune (Passamaquoddy)
Adrian Standing Elk Pinnecoose (Navajo/Southern Ute)
Cannupa Hanska Luger (Mandan-Hidatsa-Arikara-Lakota)
George Alexander (Mvskoke)
Tony Abeyta (Navajo)
Orlando Allison (Hopi)
Fawn Douglas (Las Vegas Paiute)
Daniel McCoy Jr. (Mvskoke/Citizen Band Potawatomi)
River Garza (Tongva)
Nani Chacon (Diné)
Steven Paul Judd (Kiowa/Choctaw).
Indigenous Futures will also feature Osage/Potawatomi DJ Emcee One, official DJ for Nike N7/DJ Production for the OKC Thunder.
For more information or if you're interested in attending, please reach out to IllumiNative@sunshinesachs.com.