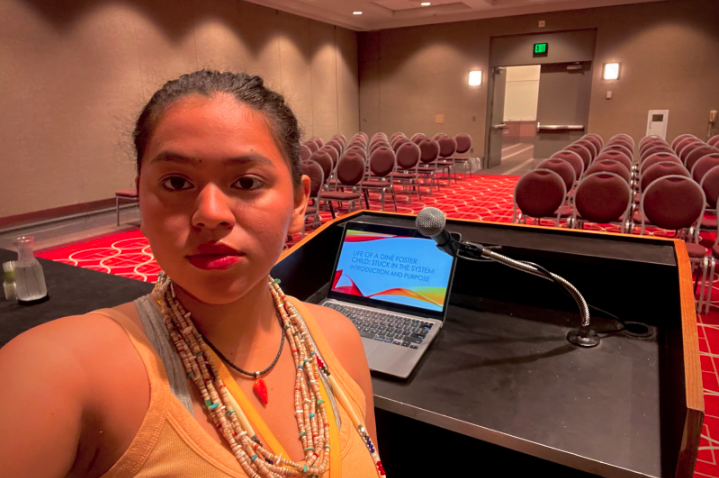 "When you jump off a cliff into a pool of water, the impact can be strong enough to compress your spine, break bones, or give you a concussion. Human tolerance can only survive an impact close to a 186-foot-free-fall" explained  UNITY 25 Under 25 Awadree Ajahrain, "sharing my personal story with a bunch of random youth was my 186-foot-free-fall, and luckily, I didn't break any bones in the process."  Native American and Alaska Native youth and advisors from rural and urban tribal communities participated in captivating educational workshops that emphasized Native American storytelling, culture, and skillsets as well as listened to impactful panels and guest speakers at the UNITY National Conference.
"My workshop affirmed the power of stories for healing, resistance, and survival. It was a space where former and current foster youth could advocate for and become the storyteller of their own stories. It was an emotional session where our experiences were a tool to build connections through exploration of different perspectives about the foster care system." – Ajahrain
Imagine 2,000 Native youth from around the country listening to powerful messages for five days at the National UNITY Conference in Minneapolis, Minnesota, presented by the Fort McDowell Yavapai Nation. That was the goal when United National Indian Tribal Youth, Inc. hosted its annual conference on July 8-12, 2022. "This year's conference was an outstanding success. To see nearly 2,000 Native youth come together for celebration and learning was a beautiful experience," said Mary Kim Titla, UNITY Executive Director. "Everyone who attended came away with not only wonderful memories but also new skills and knowledge that will help them to develop as leaders."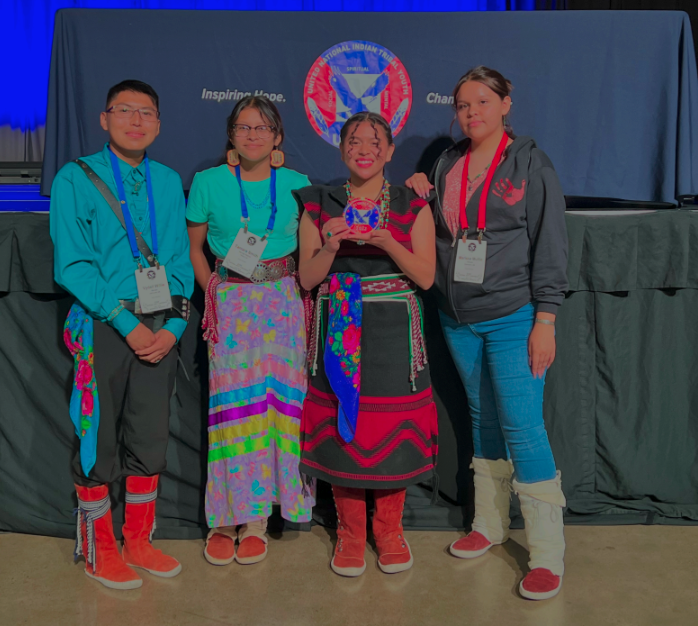 Ajahrain's presentation focused on her experience of living in the Navajo nation's Foster Care system. She courageously gave insight into the structural faults and how the lack of resources impacts Native youth. As part of her UNITY 25 Under 25 platform, Ajahrain  hopes "to help find reliable organizations to donate time and money to give more support to Native Foster youth." Click here to review her Powerpoint UNITY Workshop PPT
Ajahrain shared her  youth reflections on leading her workshop at the National Conference:
"Going into my first session I felt my body getting ready to take the blow, my muscles clenched, and my body became rigid. The pressure to break the surface tension with precision was exhilarating and I was anxious to dive feet first! The native youth in my session not only had the opportunity to learn more about my experiences but were given the podium to share their own. It was truly an honor to be in the presence of such brave young folk who brainstormed about what they thought were the root causes of why so many native kids end up in the system."
"Storytelling has been around for eons and has served well in teaching generations our indigenous ways of life, it is my hope that by engaging with my audience they learned the significance of what it means to share their own stories. And that by exploring the power of their voice, they can reconnect to the land and their people, advance movements, and build relations through different storytelling models. In addition to all those wonderful skills, the native youth who attended my session learned that the spaces where we speak can hold the pain of the trauma we are sharing, so, collective healing is necessary."
"With each inhale and exhale, our parasympathetic nervous system was activated, and we returned to a stable equilibrium. It wasn't always easy for me to voice my trauma, still, it proves a challenge to not get triggered when I speak about it. But, by being okay with being uncomfortable I restored my bravery and hopefully, inspired the attendees in my session to do the same. I cannot wait to see the youth from my session and those I've yet to meet, take their 186-foot-free-fall, or maybe a 60-foot one to begin."
"Whatever height you leap from or wherever you are in your journey, I wish you the best and if you need resources or advice you can reach me at my email; ajahyellowhair@gmail.com or at my Instagram account, ajah.rain, and I will do my best to be a good relative to you. Ahéhee' dóó Hózhó Naashá Doo "
The UNITY 25 Under 25 award is a national youth leadership recognition program honors Native American and Alaskan Native youth leaders who exemplify UNITY's core mission and exude living a balanced life, developing their spiritual, mental, physical, and social well-being. The biennial program, launched in 2014, recognizes and celebrates the achievements of 25 outstanding Native youth leaders under the age of 25 in Indian country. "Our Native youth have a passion for building and bettering their communities. UNITY's 25 Under 25 program recognizes their achievements and encourages these young people to stay involved and further develop their leadership skills," said Mary Kim Titla, UNITY executive director.