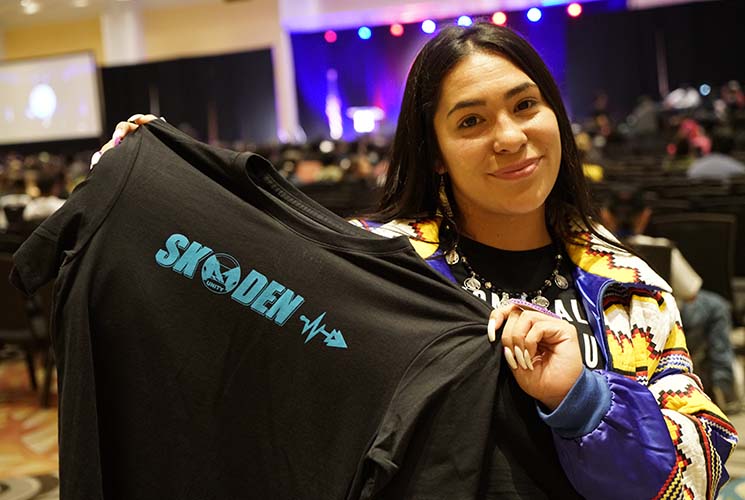 Dynamic speakers encouraged attendees at the UNITY Wellness Warrior Summit to get up and move and to take the high road when facing difficult circumstances like bullying, The UNITY's Wellness Warrior Summit. held in conjunction with the National UNITY Conference and in partnership with the W.K.
Kellogg Foundation, also featured the sharing of
Wellness Warrior community projects hosted by Native youth. 
Guest speakers included Michelle McCauley (Paiute), a music and dance wellness advocate, Martin Sensmeier (Tlingit/Koyukon-Athabascan), an actor and wellness advocate featured in the film Magnificent 7, HBO's Westworld, and Paramount Network's Yellowstone, and Vicky Stott (Ho-Chunk) with the W.K. Kellogg Foundation. Following the general assembly presentations, attendees had the opportunity to go to more than 40 workshops hosted by various health organizations and youth councils. Event sponsor Nike N7 provided youth attendees with Nike dry-fit "Skoden" t-shirts.
McCauley challenged Native youth to get up and moving as she shared modern and traditional dance routines. She challenged youth to hone their talents, whatever it may be, by constantly working at it. Using the "rule of 10,000," which means you have to work hard to be good at something. "There is no shortcut to putting in the work to execute your talents with ease. Believe in yourself and your talents. It does take sacrifice, but your life will never be the same. It'll be better than you ever imagined. Stay healthy so you will be able to take advantage of every opportunity that comes your way. Get up today, put on your favorite song to dance to, blast it and move," McCauley.
"Each every one of you has a lot of power in you. You have the power to either bring someone down or to bring someone up," as message Senseier had for the audience as he elaborated on his journey growing up and experiencing bullying. As a crowd favorite of the conference, Martin shared his story of wellness and path to success in becoming an actor.  "Luckily I found basketball at a young age, that kind of helped me heal, it became a medicine for me," said Sensmeier.
As UNITY Wellness Warriors program neared the end of its 3 year project, it was important for youth councils to highlight and share their projects and community activities in wellness. Like any conference, sharing effective ideas and methods with conference participants is what makes UNITY powerful. Youth Councils, alumni and health organizations had the opportunity to share and teach during the second half of UNITY's Wellness Warrior summit. From drumming workshops, led by UNITY alums Michael Killer and Junior Sierra, to The importance of Food Sovereignty in Indigenous Communities. 


Special Thank you to the W.K. Kellogg foundation, the keynote speakers, 4 Directions Media, NikeN7 and all workshop presenters  who came together share their knowledge and make this event possible. Living and promoting healthy lifestyles for Indian country will always be a big part of UNITY's mission. "Overall wellness impacts lives. Spiritual, physical, mental and social wellness are embedded in the teachings of our ancestors. The summit speakers and workshop presenters all did an amazing job sharing their messages of living a balanced life by being well in all aspects of life," said Mary Kim Titla, San Carlos Apache, UNITY Executive Director.