Healthy Native Youth – NPAIHB
Talking to teens about sensitive topics is never easy, but it's important to talk to them openly and honestly. Most teens say their parents or caregivers are their biggest influence when it comes to making decisions about healthy relationships. You don't need to have all the answers, you just need to be there for them.
For a weekly text messaging service offering positive culturally appropriate coaching tips and resources, text the word "EMPOWER" to 97779 and be the influencer in your teens life they want you to be!
List of Resources for Parents and Caring Adults: Talking is Power
•    Talking is Power – One Pager
•    Three tips for Talking about Sex
•    Grab the Moment
•    The Talking Journey
•    Goal Setting
•    Setting Limits Together
•    My Self-care Plan
•    STI Facts
•    Condoms
•    Talking About Masturbation
•    Talking is Power – Resources
Click 
here
 for complete list of resources.
Healthy Native Youth's goal is to provide Native parents and caring adults with support and resources to begin talking about sex and sexual health with their youth towards eliminating health disparities. Join the movement! Text EMPOWER to 97779!
It's Okay To Talk About Difficult Topics
Knowledge is Power
#TalkingIsPower Month is a national effort to spark meaningful conversations between young people and the champions who care about them most. Check out their toolkit, conversation prompts, and social media assets, at: 
Power to Decide
Teens report that their parents have the greatest influence over their decisions about sex and are more likely to delay having sex and to use condoms when they do have sex.
Listen to a Native educator who works with native youth in her community share a young adult perspective and advice to caring adults about talking about sensitive topics with your youth!
Click 
here
 to hear her 1 minute video.
Words of Wisdom from Native STAND Elders
When parents and teens were asked why sex is so hard to talk about, they described embarrassment, uncertainty, and lack of information. Traditionally, our communities relied on family members and relatives to help guide our children through coming-of-age ceremonies. In contemporary times, talking openly about sensitive topics can be difficult. Hear from two elders who offer their words of wisdom.
Tips for Talking with Your Youth
Native Female Elder: Don't Be Afraid, Just Listen & Be Present
A Native Community Health Educator and Elder shares her collective wisdom offering encouragement to supportive, caring adults to not be afraid of sensitive topics when approached by a young person. 
Click to hear
 her tips.
Why Talking to Your Child Matters
Native Male Elder: You Have A Voice, Use It
A Native Behavioral Health Professional and Elder shares his collective wisdom offering encouragement to supportive, caring adults to use their voice when talking with youth; they are listening. 
Click to hear
 his testimony.
Audio and Reading Resources for Talking With Youth About Sex
The Birds And The Bees
How To Talk To Children About Sex
Sex, genitals, consent, self-touching — it's tricky to talk to younger kids about these topics. This episode helps parents get past the confusion and embarrassment around sex education so they can raise healthy, responsible kids. Read or listen to the NPR article here

or simply listen to the video to get informed.

What Your Teen Wishes You Knew About Sex Education

No matter how prepared you think you are as a parent, few subjects can catch you off guard more quickly than sex. Here's what your teenager wishes you knew about it. Read or listen to the NPR article 

here

 (Listening time, 27:07).

Back by Popular Demand! Teen Slang
What your kids are really saying
Every generation has its own secret language. Check out this list of 90 slang words and expressions

 that will help you stay woke.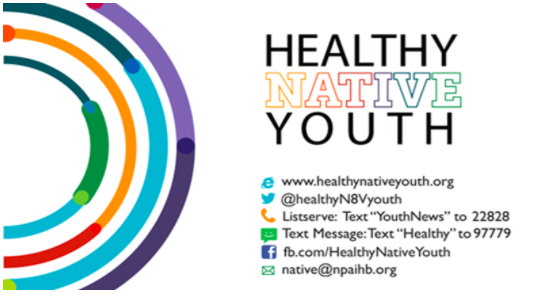 We Are A Community of Practice
We welcome you to join Healthy Native Youth's Community of Practice virtual gatherings held the second Wednesday of every month at 10-11 am PST. Sessions include new resources and opportunities to engage with topical experts. As a community, we share our strengths and expertise about how we will improve the lives of Native youth. Who should attend? Tribal health educators, teachers, parents, prevention specialists; people who share a passion for improving the lives of Native youth!
Remaining 2019-2020 Schedule and Topics:
5/13/20:  Youth Identity and Healthy Relationships
6/10/20: Prevention: Emerging Topics & Challenges Youth Face
7/8/20:   Raising Healthy Native Youth: Creating Positive Pathways