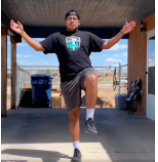 NB3FIT stays connected with youth and families through at-home workouts and providing healthy recipes.
NB3FIT Flexibility Exercises
Fun, effective stretches to loosen up before or after a workout.
NB3FIT Healthy Eats & Treats: Oatmeal Energy Bites Recipe
Easy, quick healthy recipe your kids will love.
NB3FIT Abdominal Workout
Great ab workout families and children 9 and up!
NB3FIT High-Intensity Interval Training
NB3FIT HIIT workout for families and youth.
NB3FIT Healthy Eats and Treats: Berry Parfait
Notah Begay III Foundation | 290 Prairie Star Rd, Santa Ana Pueblo, NM 87004