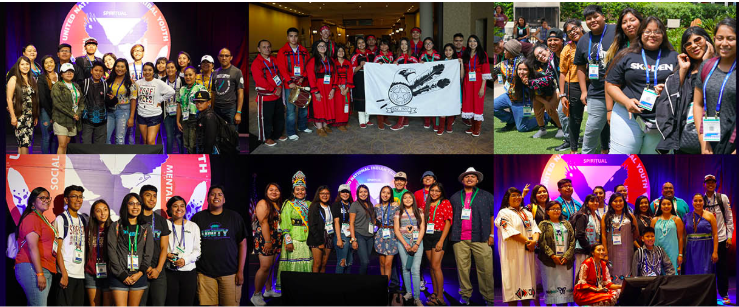 Did you know Youth Council members can and should stay connected during this time of social distancing? It is very important for groups to gather together, grow relationships and continue working towards goals and project plans.Meetings can continue to happen using technology. Each Youth Council is unique and has a purpose. Keep that UNITY Fire burning by fanning the flame of each member.
Meeting purposes can vary. Business meetings are important to discuss and develop plans and activities.  A Talking Circle meeting will provide a platform for members to voice their concerns, encourage and support one another. Social meetings provide a relaxed atmosphere to get to know one another with a focus on a topic of discussion or an activity. 
Some meeting activity ideas are team building, storytelling, making music, beadwork or a movie review. Think about reaching out to youth in your community. Plan a Social meeting, choose a topic or activity and Invite them. Host a joint meeting with another Youth Council from another region.What are your ideas? 26 Team Building virtual activity ideas. 
There are several methods and platforms to host meetings.  Advisors and Youth Council Leaders will need to plan a meeting, write an agenda, schedule and set it up. Once the meeting is set up, Invite members to the meeting. Stay Connected as a Youth Council. Use the ways listed until in-person meetings can resume.
Host Virtual Online Meetings:

Google Hangouts (Free), BlueJeans ( Free 14 day trial)

or read about

82 Virtual Meeting Tools

article

Host Conference Calls:

https://www.freeconferencecall.com/

 

Stream live on Facebook, Instagram, YouTube 

Speak to member comments while streaming

Facetime on Facebook, other video shares 

Record video messages to share  

Create a Facebook Group or Facebook page

Create a Facebook Messenger Group 

Create a Group Text 

Use Google Doc for agendas, action plans and writing documents

Use Email for meeting invitations, agendas, documents, eNewsletters
Stay Connected, Be Together, UNITY!   
Please share with UNITY, Inc. about your innovative ways you are staying connected.  Write an article and share pictures or videos. Send to LorenAshley Buford, la.buford@unityinc.org. 
"The heart of UNITY is its affiliated youth councils, which are sponsored by tribes, Alaska Native villages, high schools, colleges, urban centers, and others. Youth Councils engage in annual projects in four areas – cultural preservation, environmental awareness, healthy lifestyles, and community service. UNITY has a growing number of affiliated youth councils, which currently stands at 320 in operation in 36 states. UNITY is the only organization to have a formal network of youth councils.