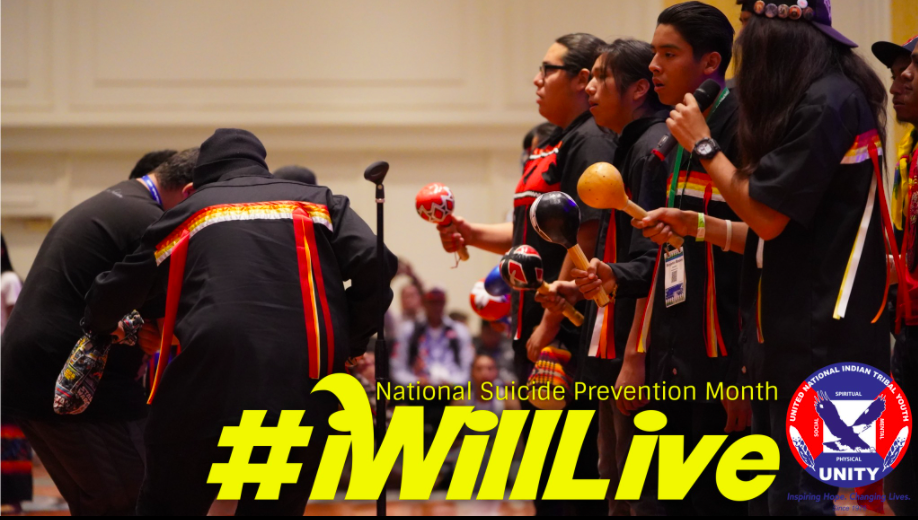 On October 14, tribal and youth leaders gathered virtually and adopted a resolution supporting A National Native Youth Suicide Prevention Initiative called "I Will Live" during the closing general assembly at the National Congress of American Indians (NCAI) 2021 Convention.
As part of the UNITY leadership experience, the National UNITY Council (NUC) Executive Committee filed the resolution through the NCAI resolution process. The executive committee members attending included Co-President Audriana Mitchell (Southern Cheyenne/Navajo), Vice President/Northeast Representative, Rory Wheeler (Seneca), Secretary/Northwest Representative, Jonathan Arakawa (Lower Elwha Klallam), and Western Region Representative, Steve Harvey (San Carlos Apache). The executive members attended the Human Resources and Health Committee meetings virtually to advocate for the resolution and address concerns and answer questions by the NCAI committee members.
The NUC Executive Committee recognizes the need to advocate at a national level for a suicide prevention initiative in an effort to seek the support and resources from our tribal leadership through NCAI.
NCAI Resolution SAC-21-008: the UNITY "I Will Live" Initiative works to bring further attention to the American Indian/Alaska Native suicide epidemic in the midst of the global COVID-19 Pandemic. SAC-21-008 endorses the implementation of the UNITY "I Will Live" Initiative and identifies updated resources in an effort to reduce youth suicide in Indian Country was adopted unanimously by the NCAI membership.
Attached is an NCAI signed resolution: