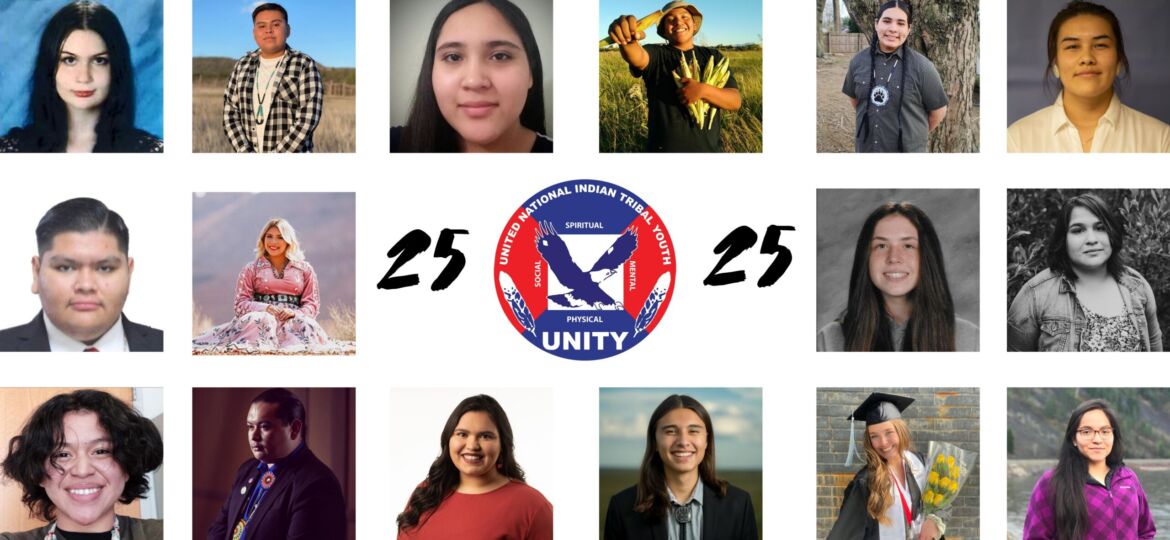 The honorees will be recognized at UNITY's National Conference in Minneapolis this July
Mesa, Arizona – United National Indian Tribal Youth (UNITY) is pleased to announce the fifth class of 25 Under 25 Native Youth Leaders. This national recognition program honors Native American and Alaskan Native youth leaders who exemplify UNITY's core mission and exude living a balanced life, developing their spiritual, mental, physical, and social well-being. The biennial program, launched in 2014, recognizes and celebrates the achievements of 25 outstanding Native youth leaders under the age of 25 in Indian country. A big thanks to the Shakopee Mdewakanton Sioux Community for sponsoring this program. 
"Our Native youth have a passion for building and bettering their communities. UNITY's 25 Under 25 program recognizes their achievements and encourages these young people to stay involved and further develop their leadership skills," said Mary Kim Titla, UNITY executive director. 
In addition, each awardee will receive a unique handmade beaded medallion and special training by UNITY for seven months geared to assist them in building on their individual achievements. Recipients will be recognized at the National UNITY Conference, which will take place in Minneapolis, July 8-12, 2022. Visit the website for more information on past and present awardees.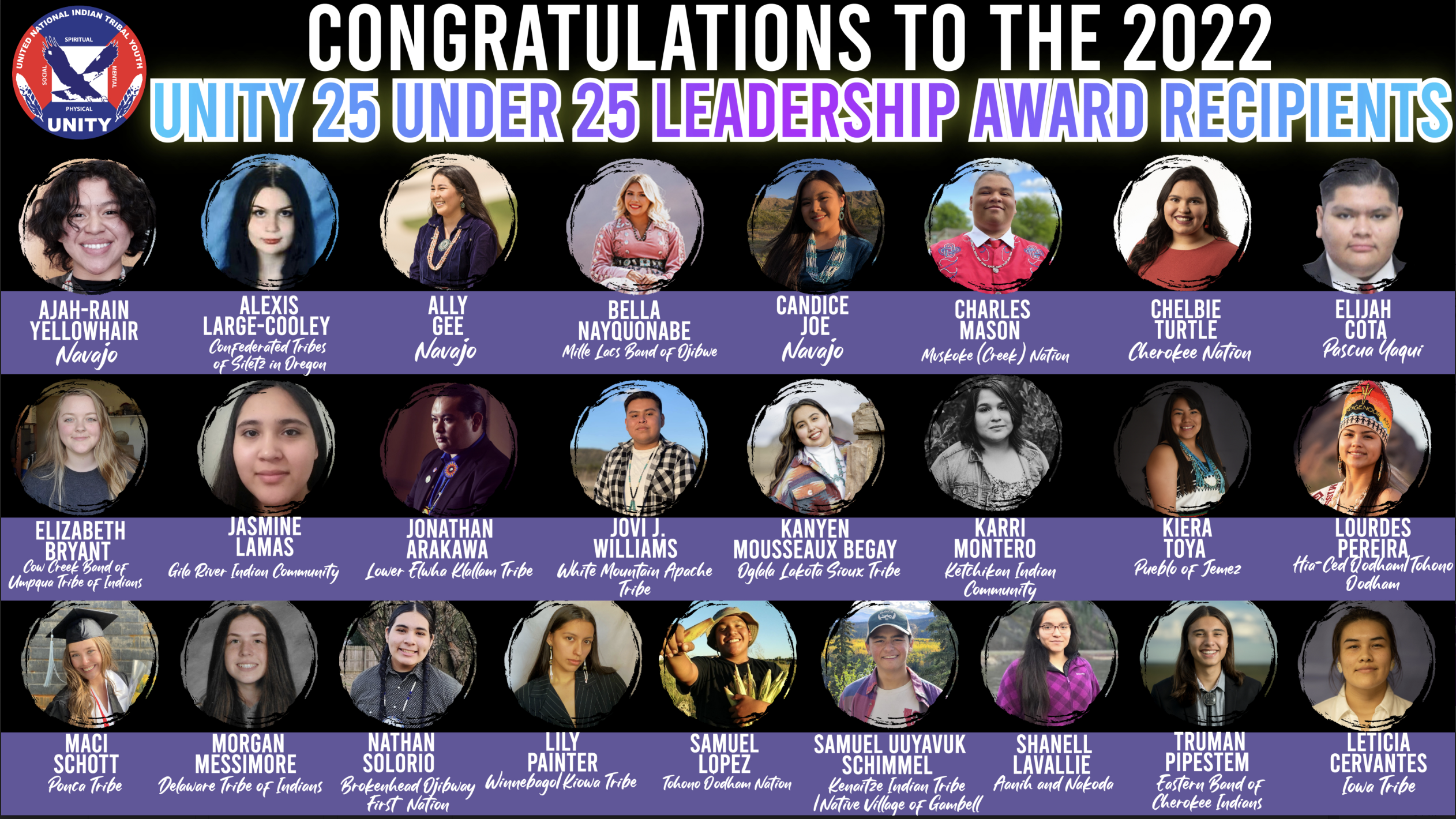 The 2022 class of 25 Under 25 Native Youth Leaders are: 
Ajah-Rain Yellowhair, 17, Navajo, NM
Alexis Large-Cooley, 17, Confederated Tribes of Siletz, OR
Ally Gee, 22, Navajo, CO
Bella Nayquonabe, 17, Mille Lacs Band of Ojibwe, MN
Candice Joe, 19, Navajo, AZ
Charles Mason, 18, Mvskoke (Creek) Nation, OK
Chelbie Turtle, 21, Cherokee Nation, OK
Elijah Cota, 20, Pascua Yaqui, AZ
Elizabeth Bryant, 20, Cow Creek Band of Umpqua Tribe of Indians, OR
Jasmine Lamas. 18, Gila River Indian Community, AZ
Jonathan Arakawa, 22, Lower Elwha Klallam Tribe, WA
Jovi J. Williams, 17, White Mountain Apache Tribe
Kanyen Mousseaux Begay, 17, Oglala Lakota Sioux Tribe, SD
Karri Montero, 21, Ketchikan Indian Community, AK
Kiera Toya, 21, Pueblo of Jemez, NM
Leticia Cervantes, 20, Iowa Tribe, OK
Lilly Painter, 20, Winnebago/Kiowa Tribe, OK
Lourdes Pereira, 21, Hia-Ced O'odham/Tohono O'odham, AZ
Maci Schott, 22, Ponca Tribe, NE
Morgan Messimore, 18, Delaware Tribe of Indians, OK
Nathan Solorio, 15, Brokenhead Ojibway First Nation, PA
Samuel Lopez, 19, Tohono O'odham Nation, AZ
Samuel Uuyavuk Schimmel, 22, Kenaitze Indian Tribe /Native Village of Gambell
Shanell Lavallie, 23, Aanih and Nakoda, MT
Truman Pipestem, 20, Eastern Band of Cherokee Indians, OK

This program is brought to you in part by the generous support of the Shakopee Mdewakanton Sioux Community. Through their ongoing partnership, Native youth are able to travel to the national recognition awards ceremony and attend vital leadership training during the Native youths' term.
##
ABOUT UNITY
Founded in 1976, United National Indian Tribal Youth, Inc. (UNITY) is a national network organization promoting personal development, citizenship, and leadership among Native youth. UNITY's mission is to foster the spiritual, mental, physical, and social development of American Indian and Alaska Native youth ages 14-24, and to help build a strong, unified, and self-reliant Native America through greater youth involvement. UNITY's network currently includes 320 affiliated youth councils in 36 states. Youth Councils are sponsored by Tribes, Alaska Native villages, high schools, colleges, urban centers, and others.