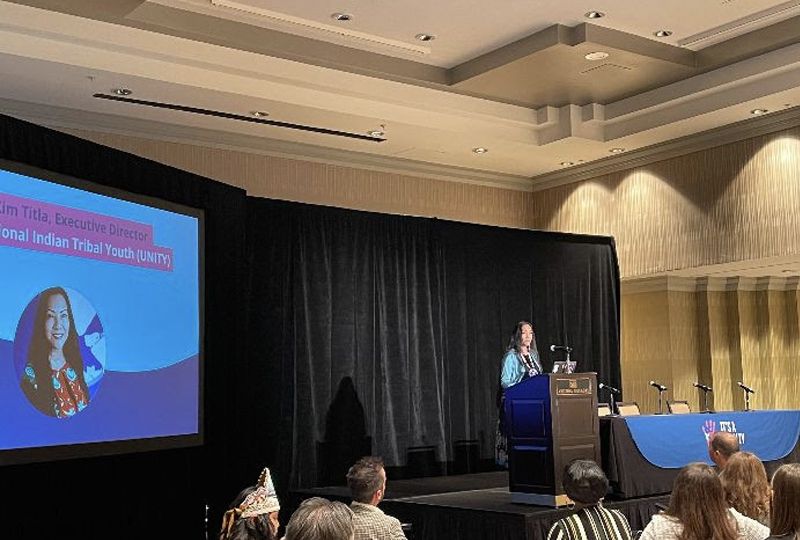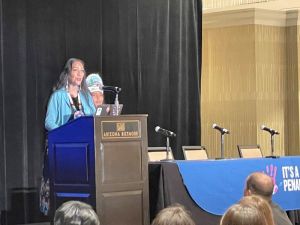 Mesa, Arizona – Indigenous people comprise only 1.1% of the United States population, yet they account for nearly 25% of human trafficking victims. This imbalance – and the plight of Missing and Murdered Indigenous Women (MMIW) – was the subject of UNITY executive director Mary Kim Titla's remarks at the It's a Penalty event held at the Arizona Biltmore on January 25. She was one of several speakers who attended the kick-off of the organization's annual anti-human trafficking public awareness campaign ahead of Super Bowl LVII, which will be hosted in Phoenix, Arizona.
"In the United States, marginalized communities, primarily people of color, are victimized at higher rates. Racism and the historical mistreatment of marginalized communities leave minority and low-income youth vulnerable to sex trafficking," said Titla. "We must not turn a blind eye to what's happening under our noses. We must protect our community."
UNITY has been fostering the spiritual, mental, physical, and social development of American Indian and Alaska Native youth, and helping build a strong, unified, and self-reliant Native America through greater youth involvement since 1976. Recently, Native American youth involved with UNITY have passed a resolution to bring awareness to the MMIW initiative. UNITY has also partnered with organizations to bring attention to human trafficking.
It's a Penalty aims to use significant events that bring thousands of people together, such as the Super Bowl, as an opportunity to inform the public on not only how to identify exploitation and human trafficking but also how to take action and report these breaches of freedom. The organization is partnering with big names in the hospitality and tourism industry, such as Hilton, IHG, Airbnb, G6 Hospitality, Southwest Airlines, and American Airlines, to display signage providing public resources for identifying and reporting suspected human trafficking and abuse before, during, and after the big game in February.
| | | |
| --- | --- | --- |
| (Left to Right) It's A Penalty advocate Collette Smith, the first Black female coach in the NFL, with Shatalya Titla, Miss White Mountain Apache Princess and UNITY Executive Director Mary Kim Titla. | (Left to Right) Shatalya Titla, Miss White Mountain Apache Princess with Arizona Cardinals #43 Jesse Luketa accompanied by UNITY Executive Director Mary Kim Titla at the "It's A Penalty" awareness campaign launch. | UNITY Executive Director Mary Kim Titla Speaks About the Plight of Missing and Murdered Indigenous Women (MMIW). |