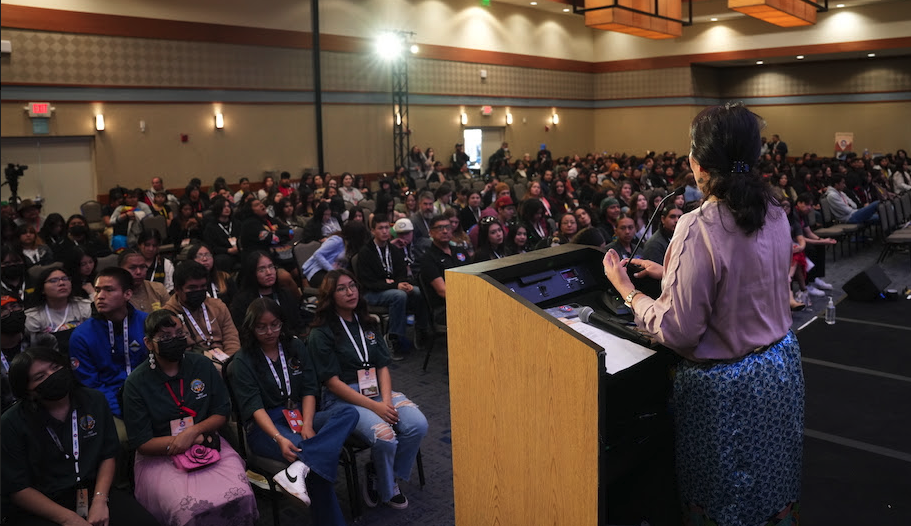 FOR IMMEDIATE RELEASE
Media Contact: Melissa Kaszuba melissa@uriascommunications.com
UNITY Wraps Up a Successful Sold-Out Midyear Conference
Highlights included appearances by Native American celebrities and influencers, cultural sharing, and learning opportunities.
Mesa, Arizona – UNITY hosted its annual midyear conference February 23-26 at the DoubleTree by Hilton Phoenix-Tempe, bringing together more than 600 participants from Tribal communities throughout the United States. The sold-out event included presentations by motivational speaker James W. Anderson, actress and activist Amber Midthunder, casting director Angelique Midthunder, and filmmaker Jhane Myers. Douglas Miles Sr. and the Apache Skateboard team demonstrated their skateboarding skills and talked about their success as artists and as the longest-established Native skateboard brand in the country.
"Every year, our youth councils and speakers raise the bar with their attendance participation at the Midyear Conference," said Mary Kim Titla, UNITY executive director. "It's so inspirational to see so many young people from across the country sharing experiences, learning, and bonding positively."
Native American and Alaska Native youth and advisors from rural and urban Tribal communities across the U.S. came together for learning, cultural sharing, and collaboration. Following a powerful opening presentation from Anderson, the Arizona Coyotes – NHL team – facilitated a street hockey clinic for the youth attendees; the evening concluded with UNITY's first O'odham Cu:dk (O'odham Social Dancing).
Day two of the conference included a welcome message by Governor Stephen R. Lewis of the Gila River Indian Community, a panel on Indigenous women in film, 38-speed workshops, and the annual UNITY round dance. Doug Miles and Apache Skateboards brought an exciting conclusion to the event on day three, showing off their skills and giving away shoes and skateboards. Native youth produced UNITY News video segments that were shared each day of the conference. On the final day, a highlight for many participants is when selected youth participants shared their final advocacy projects after completing the "Lighting the Fire" ten-step curriculum. Youth shared their ideas on how to address challenges in their tribal communities.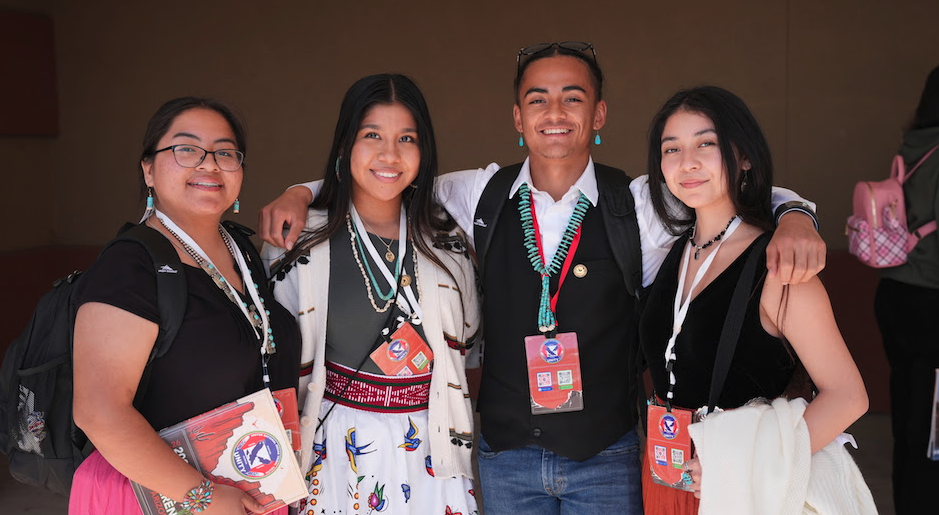 The event also included a variety of career and college exhibitors and Native American artisans. Major sponsors for the midyear conference included the Agua Caliente Band of Cahuilla Indians, the Gila River Indian Community, the Salt River Pima-Maricopa Indian Community, San Carlos Apache Tribe, Mohegan Tribe, Poarch Creek Indians, The Squamish Tribes, APS, Arizona Coyotes, ASU Walter Cronkite School of Journalism and Mass Communication, Bank of America, National Education Association, National Center for American Indian Enterprise Development, Titan Facility Services LLC, National Indian Education Association, REDW Advisors & CPAs, the Vadon Foundation, Mr. and Mrs. Marquez Quintero, Gila River Broadcasting Corporation, and the Tohono O'odham Gaming Enterprise.
Registration and rooms are now available for the National UNITY Conference in Washington, DC, from June 30 to July 4, 2023. Early bird registration ends on April 30. For more information about the upcoming conference and to learn more about UNITY, visit www.unityinc.org.
###
About UNITY
Founded in 1976, United National Indian Tribal Youth, Inc. (UNITY) is a national network organization promoting personal development, citizenship, and leadership among Native Youth. UNITY's mission is to foster the spiritual, mental, physical, and social development of American Indian, Native Hawaiian, and Alaska Native youth ages 14 -24, and to help build a strong, unified, and self-reliant Native America through greater youth involvement. UNITY's network currently includes 320 affiliated youth councils in 36 states. Youth Councils are sponsored by Tribes, Alaska Native villages, high schools, colleges, urban centers, and others.