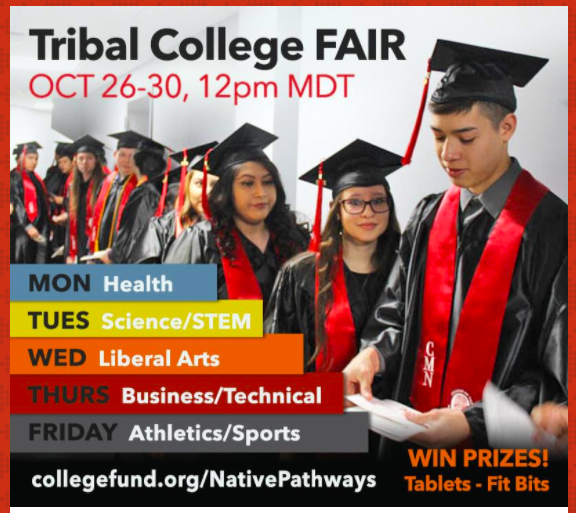 In an effort to support and promote tribal colleges during this time, the Student Success Services Department at the American Indian College Fund is hosting a virtual tribal college fair to give community members and high school students an opportunity to learn about the programs offered at tribal colleges.
The TCU fair is October 26-30, from 12-1:30pm, highlighting a program area of focus on each day of the fair:
Monday, Oct. 26th: Health majors
Tuesday, Oct. 27th: STEM majors (includes, IT and hard sciences)
Wednesday, Oct. 28th: Liberal arts (includes Native American studies and social sciences)
Thursday, Oct. 29th: Business majors and Career and Technical Education (CTE) programs
Friday, Oct. 30th: Athletics/Sports programs
During the 1.5 hour time, we will host a panel of various tribal college representatives and College Fund ambassadors to share about the programs offered based on the area of focus each day.

Other Native Pathways Fall Education Events
We want you to be prepared for all of the challenges you'll face this year, so we've scheduled a calendar of webinars and videos to assist you with everything from working with your professors to applying for scholarships. Add the events to your calendar, and sign-up for notifications here.